The TikTok community continues to inspire creators to share their passions online and connect with their peers. The next creator on our Creator Spotlight Series found community on TikTok by sharing her talents, and now helps motivate other creators to do what they love.
Check out @elenashinohara, a rhythmic gymnast on the USA National Team that shares videos of her jaw-dropping performances. Elena shows off her flexibility and her passion for the sport in each video, engaging and encouraging her audience to pursue their interests and join in on the fun. Read more from Elena below as she discusses how her Japanese heritage has shaped her and how she has built a supportive, welcoming community on TikTok!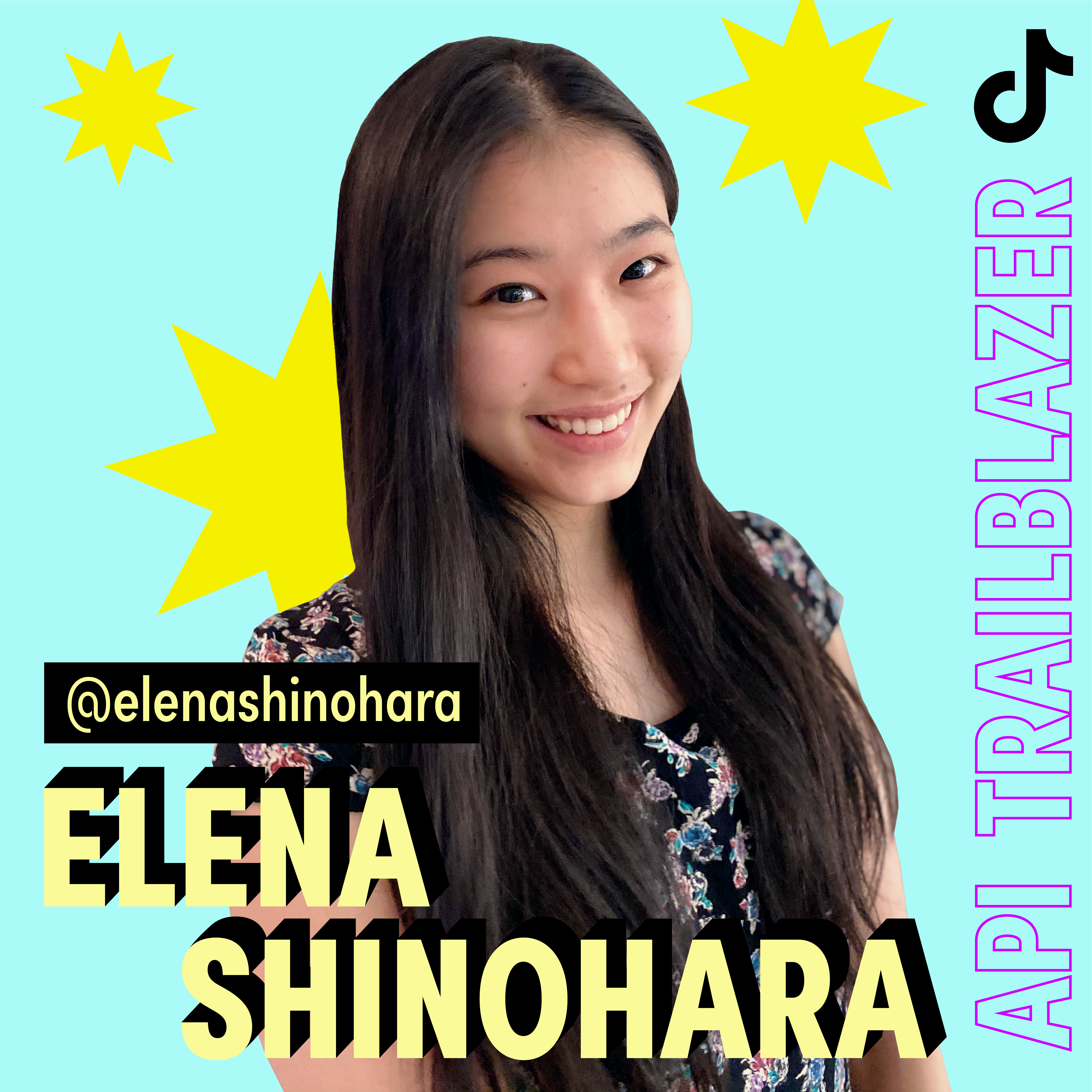 How has your culture influenced or shaped you?
As a Japanese-American, my Japanese culture has had a great influence. Since both of my parents are Japanese, at home, I would only speak Japanese. At school and with friends would be the only time I would be more "American". As a Japanese girl, I've been brought up to respect people and to not bring too much unwanted attention to myself, so I tend to get shy and quiet in front of others. I love the importance of respect in my culture, however, I would like to become more confident in talking and interacting with others. Now I'm trying to break that shell and become more confident with myself as I'm creating more content!
How do you celebrate the diversity and strength of the API community?
With so much diversity within the API community, I like to learn about the unique cultures within the community. There is a large API community in my area, and I like to support the small businesses owned by the community. Additionally, with recent events, I have been donating to organizations and people in the community.
What Does API heritage mean to you?
As the only member of my Japanese family having an American upbringing, I felt out of place and different from them. However, I feel like I have another family that understands what I've been through as an Asian-American. Although our backgrounds may differ, having similar experiences allows us to connect even more. There's so much diversity in the API community, it's exciting to celebrate our cultures together!
How has the TikTok community inspired you?
TikTok has helped me grow my platform as well as connect with other creators. Every time I get to talk to another creator, they give me more motivation to continue doing what I love. By seeing how much fun and creativity they have, those vibes flow my way, and I start to have more energy and creativity to think of new content. Even my followers bring out the best in me to think of fun videos for them to enjoy and get inspired! Watching duets/stitches to my videos is always fun and inspires me even more.
How do you support other creators in the API community and who are some API creators that everyone should be following/watching?
I like to watch content made by my fellow API creators! There's so much diversity in content that I never get bored watching. I also try to communicate with creators and suggest content ideas or simply hype them up with all their success. I think celebrating accomplishments are one of the great ways to support creators. @marstruck has videos on Asian fashion and I love @sulheejessica videos making lunch for her kids! If you want to learn some Korean check out @korean_hamin and if you're a big fan of anime, follow @billyhan_.