Danny Freeman is the creator behind @DannyLovesPasta, where he's known for his colorful and creative take on fresh pasta and Italian cooking. He's a lawyer-turned-chef who pasta in every color of the rainbow and creative patterns, from animal print ravioli to striped spaghetti, and shares it with the TikTok community. In addition to his cooking, Danny is a gay stay-at-home dad who uses his platform to showcase life with his husband and their two-year-old daughter. Danny is currently working on his debut cookbook.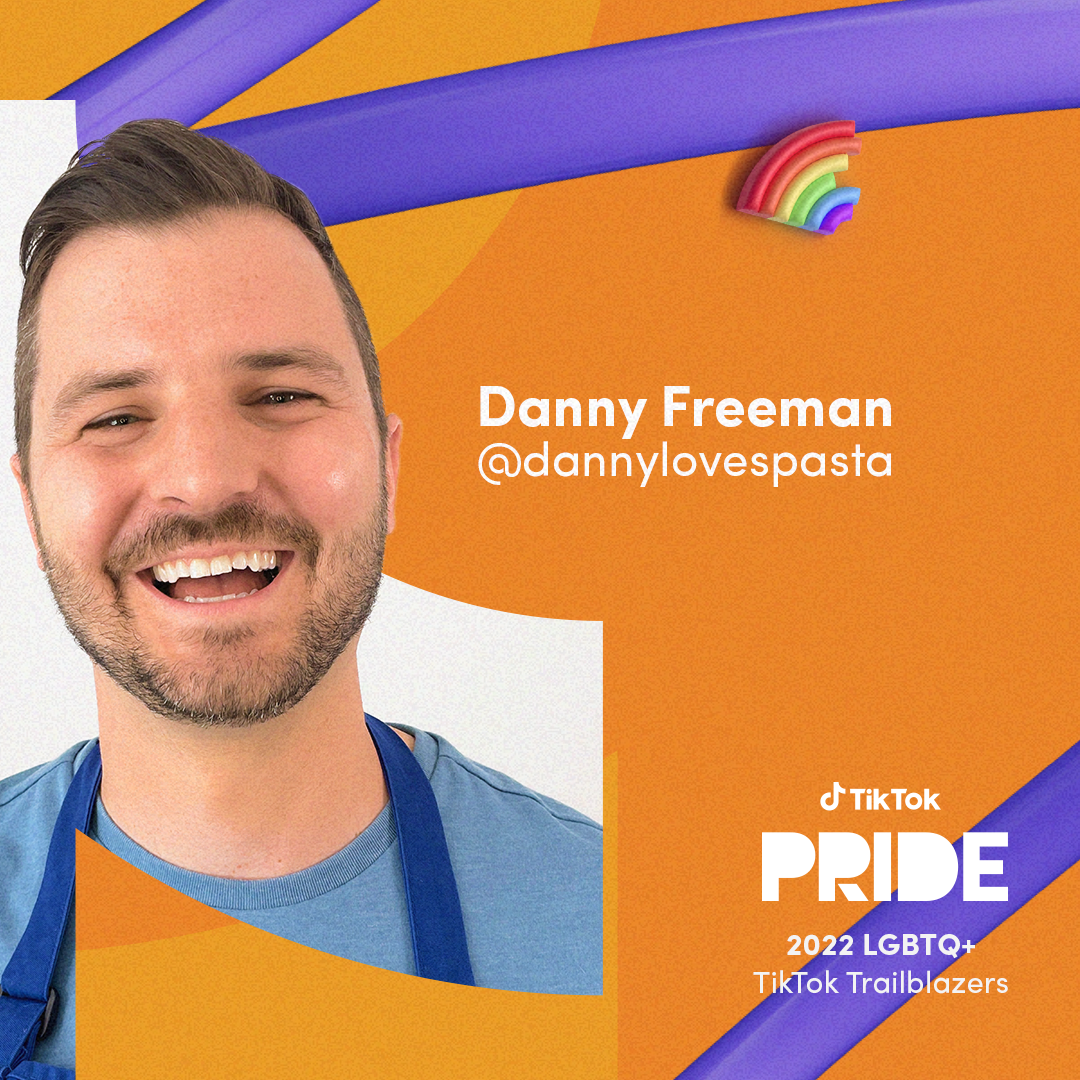 What does it mean to you to be part of the LGBTQ+ community?
When I first came out over 15 years ago I felt scared and alone. After a very religious upbringing, I didn't know what my life as a gay person could be like. But it turns out I had no reason to be afraid. The LGBTQ+ community was extremely welcoming, and it gave me everything I could ever ask for: friends, passions, a partner, and my daughter. I feel incredibly blessed to be part of this community that has given me a home in the world. I sometimes worry about what sort of bullying my daughter will face for having two dads, but I feel grateful knowing there is an amazing group of people in the world who will have her back.
How has the TikTok community inspired you?
So much of the food that I create has been inspired by my TikTok community, and it has given me so many opportunities. The TikTok community has pushed me to be more creative, and inspired me to experiment with more colors, patterns, and shapes in my pasta. This community has also pushed me to share more of my personal story, which has led to deeper connections with my followers.
How have you built and maintained a community on TikTok?
I try to jump in the comments section on every video so I can answer questions and talk with my followers. I also do a lot of reply videos, and many of the pastas I make are directly inspired by an idea from a follower. Most importantly, I want my followers to feel like they are a part of my content, and to make sure they know that any success I have is really due to them!
What is your favorite TikTok video that you've created and why?
My favorite video is the first time I shared my personal story about why I started making pasta, and why it means so much to me. I started making pasta after my grandmother passed away last year, and it helped me through a very difficult time in my life. I was so nervous posting this video, because I wasn't sure how people would react or if it would be well received. I'm so happy it resonated with so many people.
What advice would you give to someone who would like to start sharing recipes or cooking content on TikTok?
My advice would be to share why you're creating and what your recipes mean to you. I think people on TikTok really love hearing your story or learning if a recipe is important to your family or where you're from. It's a great way to pull someone into your content.