Daviana Mercedes believes that hair is a big part of people's identities. Throughout her more than six-year natural hair journey, she has acquired the skills and knowledge to show people of color how to care for and love their textured hair.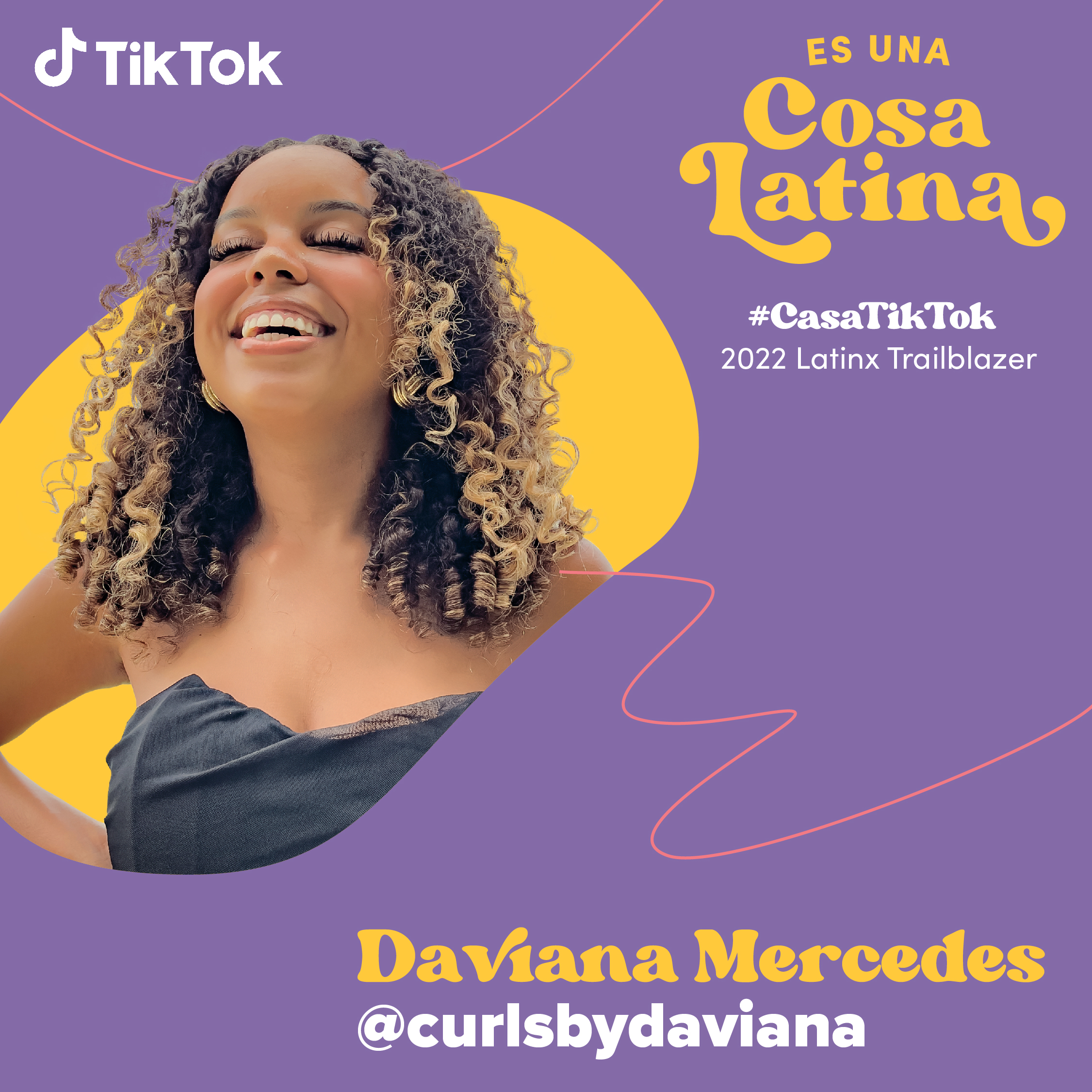 What does it mean to you to be part of the Latinx community?
When I think of 'Latinx', I immediately think about independence and diligence. That's what this community is all about. We are hard workers and have persevered through all of life's obstacles. Being Afro-Latina is everything to me. I am a first-generation Latina and the first in my family to graduate from college. Being 'the first' in so many areas of my life has shown me that nothing would be possible without the sacrifices of those that came before me. I'm forever humbled to be a part of this trailblazing community!
How has the TikTok community inspired you?
I'm so grateful that TikTok allows me to share natural hair education with the world. As a Latina who grew up hearing that curly hair was "pelo malo," changing this narrative and helping others love their own crowns is a huge deal to me. On TikTok, I have so many people rooting for me and looking forward to my content, which has helped get me through tough times. My community inspired me to get my hair license in 2023 with the hopes of creating curly hair salons that will be able to help even more people.
How do you share your culture on TikTok?
When people go on my profile, the first thing they see is I am an Afro-Latina creator. It's the first thing in my bio, and something I don't shy away from in my Spanglish content. As my platform continues to grow, it's been a priority of mine to be loud and proud of my culture. I want people to know that Afro-Latina's exist!
Natural hair is still not widely accepted within the Latinx community. I try to break the stereotype that "curly hair is ugly" by sharing and simplifying my hair journey on TikTok. Whether that's by sharing the products I buy and use, or showing viewers how to style their curls, I want Latinx people to know that someone from their own community can look like me and still fit in.
What inspired you to start creating on TikTok?
Growing up I hated my natural hair. I'm half Dominican and half Columbian and naturally curly hair isn't something you're told is beautiful. I started my natural hair journey because I was forced to. After years of trying to hide my natural hair, it was very damaged and I needed to take care of it. From then on I became very passionate about all things natural hair, but I made a lot of mistakes that could've been avoided if I had someone to look up to. When the pandemic hit, I started making videos on TikTok and everyone kept asking me what I put in my hair to make it look like that. People were listening, buying my product recommendations, and decided to be the person I wish I had growing up and telling me to embrace my curly hair.
What have you learned from the TikTok beauty community?
Be authentic and be yourself. There are so many trends on TikTok that you can get lost in trying to follow. Authenticity can really take you places. You always have to remember your 'why' and that will keep you grounded.
Do you have advice for someone currentrying to embrace their natural curls?
No matter what society says, you look beautiful. I know it will take time for you to see that on your own but be patient, take care of your hair and really try to learn about what makes your hair unique. The beautiful thing about a natural hair journey is it's also a journey of self-love. You're learning to love yourself as you are.