Berenice Castro (@benulus), also known as "Benulus," is a fashion stylist with an affinity for maximalist and vintage fashion. She is unapologetically authentic and encourages others to wear clothes that make them feel their best. Her infectious smile, magnetic personality and energy radiate off the screen and are the key accessories in how she approaches fashion.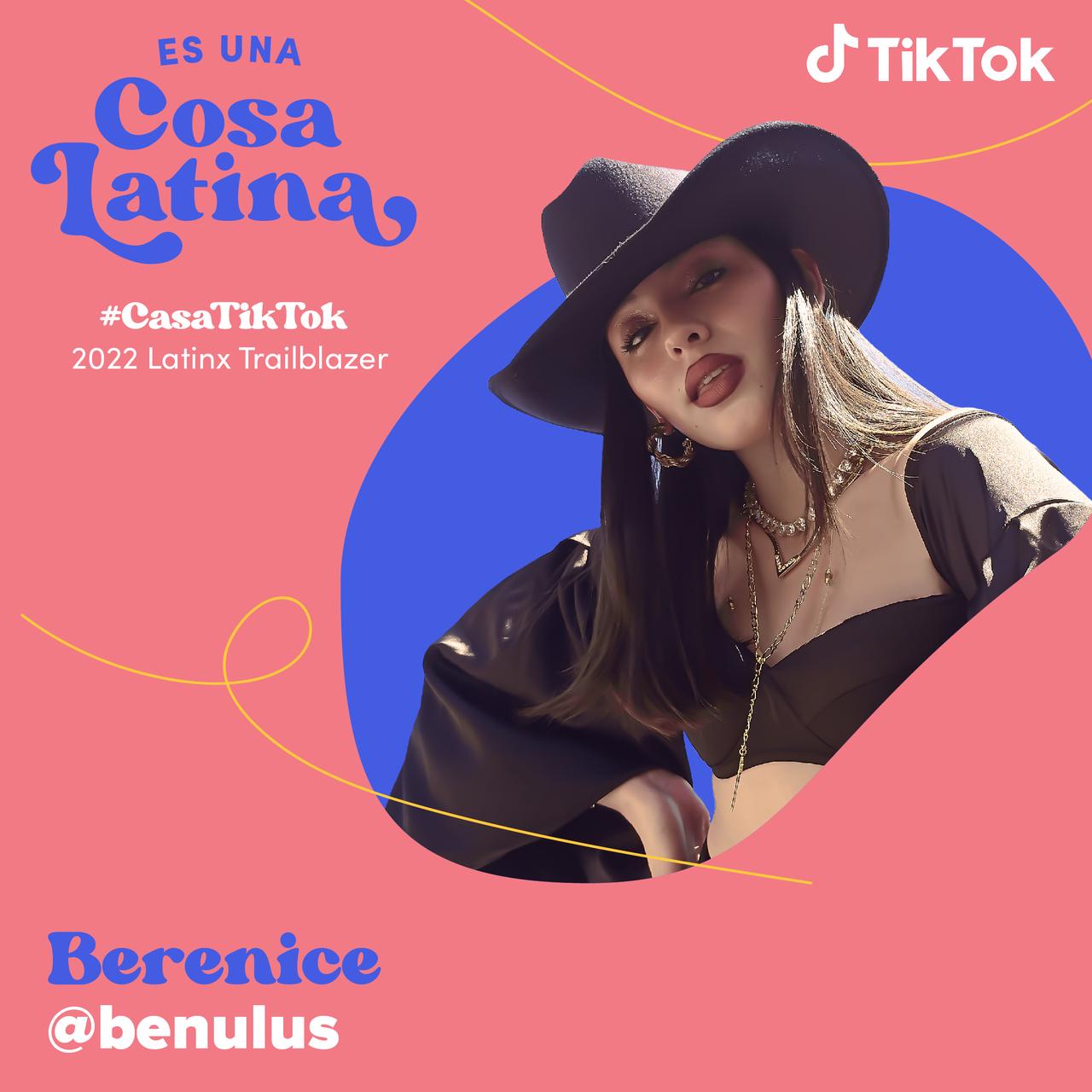 What does it mean to you to be part of the Latinx community?
To me, el ser Latinx is about a beautiful language that connects us, and deeply understanding the many countries that belong to LATAM. No matter what, we all connect through colorful cultures full of history, authentic recipes with native crops, music that feeds the soul, and our family. My parents have taught me the meaning of love, family, and union. Being Latina is about taking pride in your humble roots and background as well as understanding the social conflicts that exist within our community and standing up for them. To say that I am proud of being Latina isn't enough to express how I feel about belonging to such an amazing and unique community.
How has the TikTok community inspired you?
TikTok is where I learned how to use my voice. It has allowed me to find community, regardless of growing up as a minority. I always felt like society told me my opinion wasn't as important or that I had to lower my voice because my culture was just "too loud." The TikTok community has inspired me to be unapologetic, embrace my loud, happy voice and stand up for myself, my culture and my beliefs.
How would you describe your style?
Bold, maximalist, and free of judgment. I grew up afraid of what people thought about me. When I went to college I decided to be my true self, which is reflected in my style. Be yourself — if you like to be looked at, make bold fashion choices.
How do you share your culture on TikTok?
Fashion is a big part of who I am and how I like to express myself, on and off TikTok. I try to incorporate a little bit of Mexico into all of my outfits like Mexican artesania, gold jewelry, and by supporting Latinx small businesses. My style is also heavily inspired by the Mexican Revolution era, the brave Adelitas, and the infamous Frida Kalho.
What are some of your passions on and off of TikTok?
Growing up in a humble Mexican household with four siblings meant having to share everything and typically purchasing secondhand clothes. Although I was embarrassed at the time, I am so grateful I was taught to appreciate my parents' hard work and the value of goods regardless of if they're brand new.
My biggest passion is to educate people on how to reduce their carbon footprint. Thrifting is a huge part of that. I am able to achieve an amazing outfit with fully thrifted clothes, and I encourage my followers to find their personal style and to stop overconsuming by purchasing things sustainably. I believe it takes courage to decline brand partnerships that don't align with my beliefs, especially when my biggest financial income comes from collaborations. Spreading awareness and being authentic to my audience is much more important to me.
Why is sustainable fashion important?
I'm a very empathetic person. I feel deeply about world events and issues. I've always wanted to take care of the earth and think about the environment. It's important to me that I reduce my carbon footprint. Even if I'm the only one doing it, at least I'm trying my best.