At TikTok, we embrace creativity and celebrate our diverse community. We are driven by a passion to provide a welcoming space for people around the world, where they feel comfortable expressing themselves and being there for each other. This has inspired us to launch #CreateKindness, a global safety campaign and creative video series, as we continue to encourage everyone to choose kindness in their everyday lives.
This month we are also spotlighting the six creator-animators we partnered with to help bring the campaign to life. These talented creators wrote, animated, and lent their voices to their videos, which infuse their distinctive style with their personal experiences with online bullying.
Today, we recognize Rosie Maharjan (@rosie.gif), who describes herself as "a product designer by trade and illustration artist by heart." This self-taught artist uses illustration to illuminate her personal experiences and amplify underrepresented voices, and thereby give a voice to those who wouldn't otherwise have one.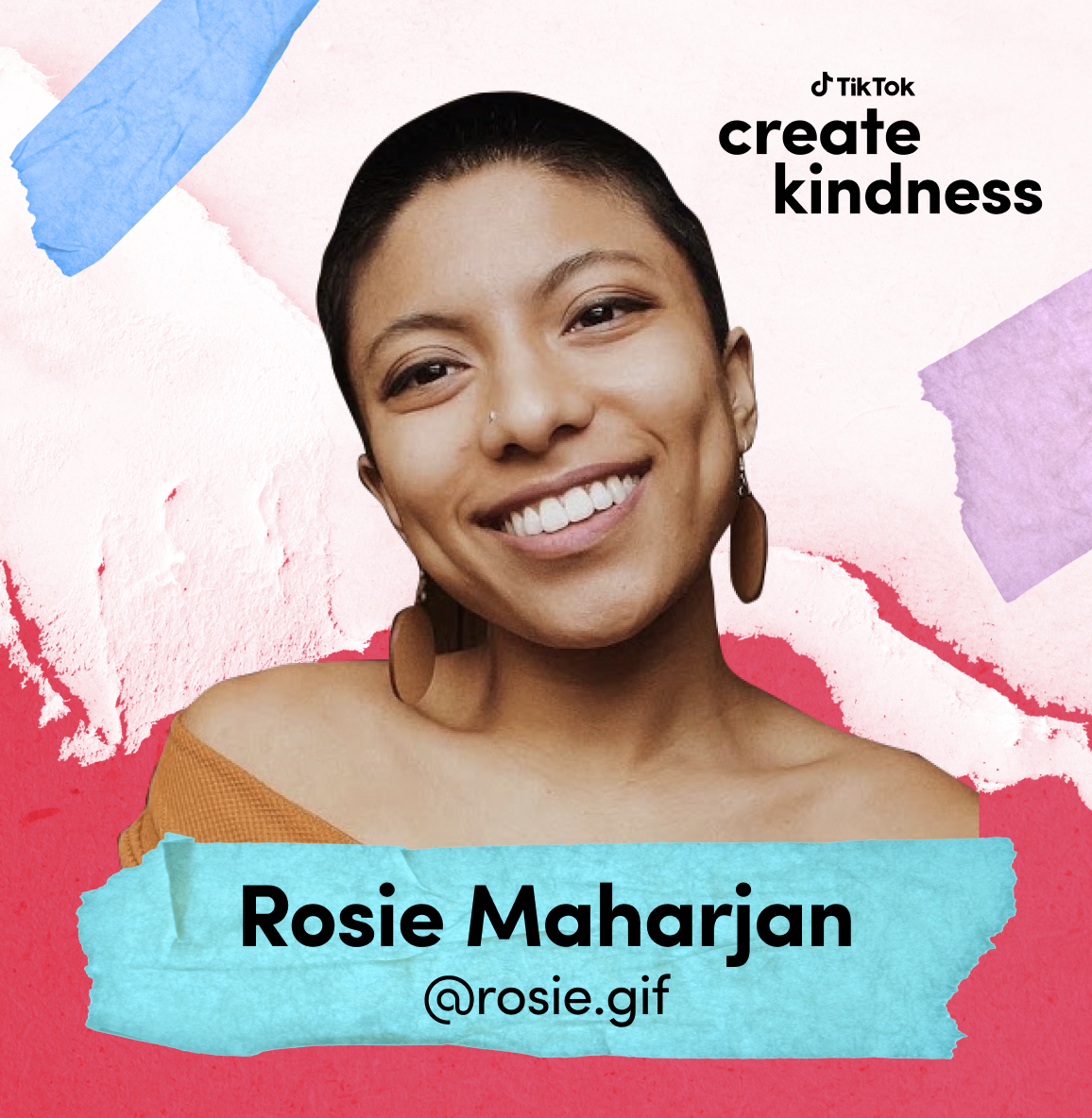 How would you describe your art style?
Pop Art minimalism
How has the TikTok community inspired your art? What makes you continue to create and share your art on TikTok?
I love scrolling through my FYP and seeing the outcome of so many hours of hard work condensed into 60 seconds. The art community is so talented and supportive, and I always feel very inspired by its creativity. It encourages me to post my own work, explore new styles, and try new forms of art I never would've thought of (i.e. rug making TikTok??)
What's the kindest comment (about your art) you've received on TikTok?
"This is so inspiring!" I love the idea that my work could invoke that same inspiration that I get from artists that I admire.
If you had to illustrate kindness, what would that look like?
Watering a plant 🌱 because one small act of kindness is all it takes to help someone feel loved and grow.
Why do you think people bully or try to hurt one another, especially online?
Being online is a veil; so, it's a lot easier to be insensitive if you can't see the immediate impact of your words and actions. Especially online, when thousands of other people are doing the same thing — you can easily fall into the masses of mob mentality.
What do you think can people can do in their own way to make the internet a kinder, more inclusive place?
Empathizing with each other! It takes a lot of emotional maturity to admit you might have hurt someone — even if it wasn't intentional. But the internet could be a much more inclusive place if we all take a step back and try to understand where someone might be coming from.
What do you want people to take away from your video?
There is not one big bully who altered my life, but rather, a collection of insidious comments that — whether intentional or not — devalued me and my identity. I wanted to visually represent what it's like to internalize comments that are too small to be deemed offensive, but big enough to hurt and remind you that you don't belong. I hope this animation gives anyone who's ever felt that way permission to process those feelings, and brings awareness to those who may not realize how harmful their words might be.
You can find Rosie's video for the #CreateKindness campaign below, all month within our Discover page as well as permanently on @TikTokTips.
We also invite you to share the kind comments you've received and inspiring moments you've experienced by joining our #CreateKindness hashtag challenge.
New to TikTok? Find out more and simply download the app for free via the Apple App Store, Google Play or Amazon.