At TikTok, we embrace creativity and celebrate our diverse community. We're driven by a passion to provide a welcoming space for people around the world, where they feel comfortable expressing themselves and being there for each other. This has inspired us to launch #CreateKindness, a global safety campaign and creative video series, as we continue to encourage everyone to choose kindness in their everyday lives.
This month we're highlighting the six creator-animators we partnered with to help bring the campaign to life. These talented creators wrote, animated, and lent their voices to their videos, which infuse their distinctive style with their personal experiences with online bullying.
Today, we also celebrate Edmond Anirah (@recokh), an animator whose videos combine humor and music to give his followers insight into his life and experiences.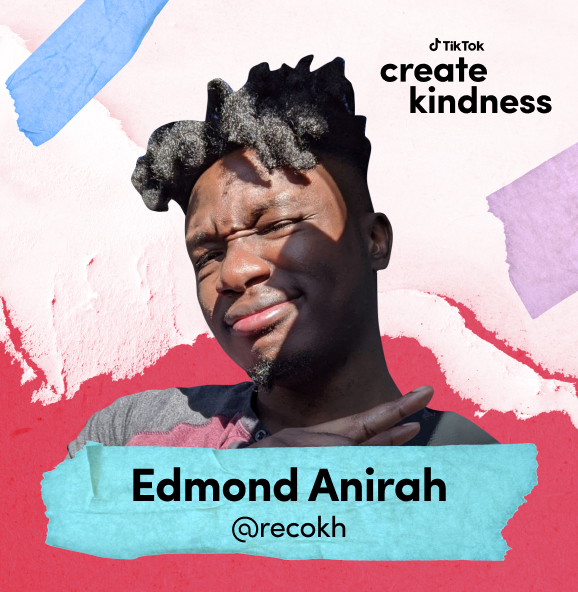 How has the TikTok community inspired your art? What makes you continue to create and share your art on TikTok?
A lot of my art now is actually based around content I watch on TikTok that relates to something that I've personally experienced.
What's the kindest comment (about your art) you've received on TikTok?
"Why aren't you on Cartoon Network!" has been the best comment I've ever received.
If you had to illustrate kindness, what would it look like?
For me, kindness would look like the Little Angel character, from my video for the campaign, with a big bright smile and a sweet drawl to the way they talk.
Which TikTok creators do you admire or inspire you?
I am inspired by many creators, but the ones that stand out to me most are @felleanimated, @KallmeKris @ItskingChris, and @zobeebop.
What do you think makes the TikTok community so special?
For me, the magic lies in just how accepting the platform is towards new creators.
Why do you think people bully or try to hurt one another, especially online?
I think people bully for two main reasons: the first being because of the negative things they're experiencing in their lives, and the second being because they believe the people they are bullying won't see the comment.
What do you think can people can do in their own way to make the internet a kinder, more inclusive place?
I think simply responding back to others with kindness can go a long way.
What do you want people to understand about your video for the #CreateKindness campaign?
When I heard about the campaign, I was going through a moment with a career shift where I was doubting myself constantly, but for some reason there was always a voice in my head telling me you will be just fine. So, in my video I decided that I would like to be that voice for others, and let them know everything will be okay. That's where the Little Angel and Little Devil characters were first born, but the first thing I designed for this animation was specifically the Little Angel's voice, which is a voice I use to brighten up my friends' days. I thought it was a perfect fit for the sweet loving voice in people's head that reminds them that all will be well.
You can find Edmond's video for the #CreateKindness campaign below, all month within our Discover page as well as permanently on @TikTokTips.
We also invite you to share the kind comments you've received and inspiring moments you've experienced by joining our #CreateKindness hashtag challenge.
New to TikTok? Find out more and simply download the app for free via the Apple App Store, Google Play or Amazon.