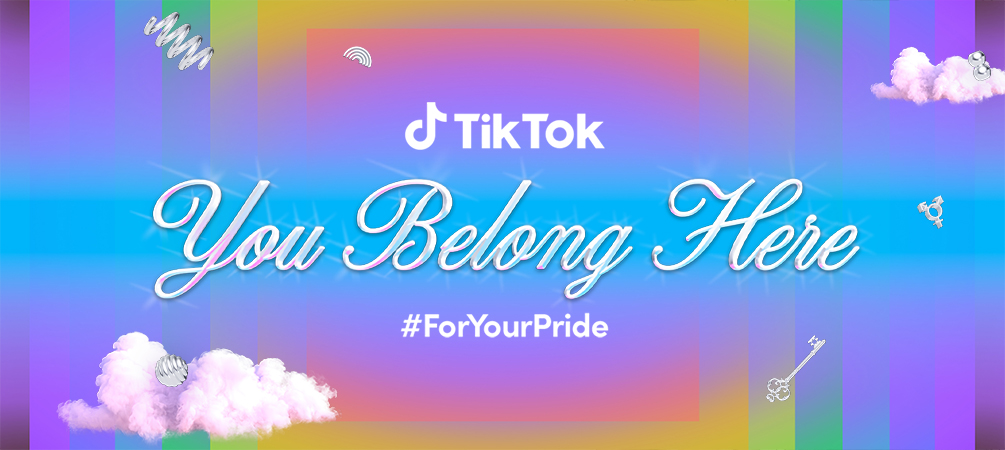 Every day, people from all walks of life show up on TikTok to build connection and community, showcasing their happiest and funniest moments, along with the most raw and authentic parts of their lives. As a place where everyone belongs, we are honoured to empower our community with a safe and inspiring space to express themselves freely and embrace their identity fully.
As a platform that is committed to inspiring creativity and bringing joy, at TikTok we bring together our incredible LGBTQIA+ community, who inspire over 1 billion people around the world through their creativity, passion, and advocacy. In honour of Pride Month, we are celebrating and recognising the collective visibility and power of our LGBTQIA+ community by introducing You Belong Here, our 2023 Pride campaign.
Join us as we celebrate LGBTQIA+ creators and we encourage our global LGBTQIA+ community to boldly take the spotlight, celebrate their most authentic selves, and embrace their unique and personal journey to Pride.
Celebrating #ForYourPride on TikTok
At TikTok, we're committed to amplifying the voices of our diverse community of LGBTQIA+ creators as they reach new audiences, build careers, and drive a positive impact.
From @stuartandfrancis spreading the love, to @spencerrfreitas sharing queer reviews or @solanathagreenfairy advocating how we can all make this a Pride Month worth celebrating, we are proud that the TikTok LGBTQIA+ community continues to inspire and support one another while mobilising millions in the process.
Popular hashtags such as #lgbt and #pride have garnered 66 billion and 10 billion views in the past year respectively
Our community is passionate about celebrating LGBTQIA+ artists and musicians using #QueerSounds and #QueerOwnedBusiness, a popular hashtag to discover and support LGBTQIA+ businesses, has garnered 55 million views to date.
From passionate content creators to stunning cosplayers, #Gayming celebrates our community of LGBTQIA+ gaymers around the world, generating over 113 million views to date. This Pride Month, we're also partnering with @GaymingMag to amplify #Gayming on TikTok with special Pride-themed LIVEs, creator spotlights, and more.
Amplifying and empowering our LGBTQIA+ community
At TikTok, we're proud to stand in solidarity with this incredible community not just during Pride Month, but every day. Join us throughout the month as we celebrate Pride and our LGBTQIA+ community both on and off TikTok with in-app programming, LIVE events and community celebrations.
To kick off Pride 2023, we invite and encourage our community to be part of the movement and celebration by using hashtags #ForYourPride, #QueerSounds and #Drag and Pride creative effects. Discover how our LGBTQIA+ creators show up to share their Pride stories and connect with changemakers and organisations who are at the forefront of LGBTQIA+ advocacy.
Join us as we celebrate Pride with our community members through our You Belong Here Hub featuring our LGBTQIA+ #TikTok Unpacks series, #QueerSounds Playlist and more.
To celebrate Pride 2023 TikTok UK will also be partnering with @Gaytimes to create the 'For Your Pride' TikTok Unpacks series that will span from June through to August. #TikTokUnpacks will spotlight the creators you know and love and explore multiple queer calendar moments and the personal LGBTQIA+ experience, to empower and educate the queer community.
Creating a safe and inclusive environment for all
You Belong Here is more than a campaign—it's our commitment to the LGBTQIA+ community on TikTok. We believe that people should be able connect with one another, express themselves authentically, and thrive on the platform. And we know that fostering an inclusive space requires prioritising their needs by investing in measures that empower them to define their online identities and experiences.
The LGBTQIA+ community on TikTok sets trends, drives culture, and serves as a source of inspiration, and we're focused on maintaining a safe and supportive environment for them to continue to do so on the platform. They pour their hearts into their content and deserve to do so without fear of harassment or hate. We strive to protect the LGBTQIA+ community on TikTok by taking action, including removal, on content and accounts that engage in harassment, bullying, hate speech, and hateful behaviour, such as deadnaming or misgendering—as explained in our Community Guidelines.
We also empower people to create the best TikTok experience for themselves by providing a range of safety features, such as confidential ways to report potentially violative content and accounts, and privacy settings to choose who can engage with their content. Comment filtering tools also enable our community to manage the conversation about their videos, for example, the Filter all comments tool gives creators the ability to approve which comments are displayed, and the Filter keywords tool enables creators to select key terms that they do not want to see in their comments.
For this year's Pride, we're reflecting on how we can better uplift and recognise these creators, both on and off the platform. As we develop policies and features that centre the well-being of our community, we also continue to collaborate with organisations and nonprofits around the world to raise awareness and advocacy for LGBTQIA+ rights and champion causes that matter to the LGBTQIA+ community.
We are honoured and humbled to be part of our global community's path to Pride, as we continually look for ways to build an inspiring and inclusive space for everyone on TikTok.