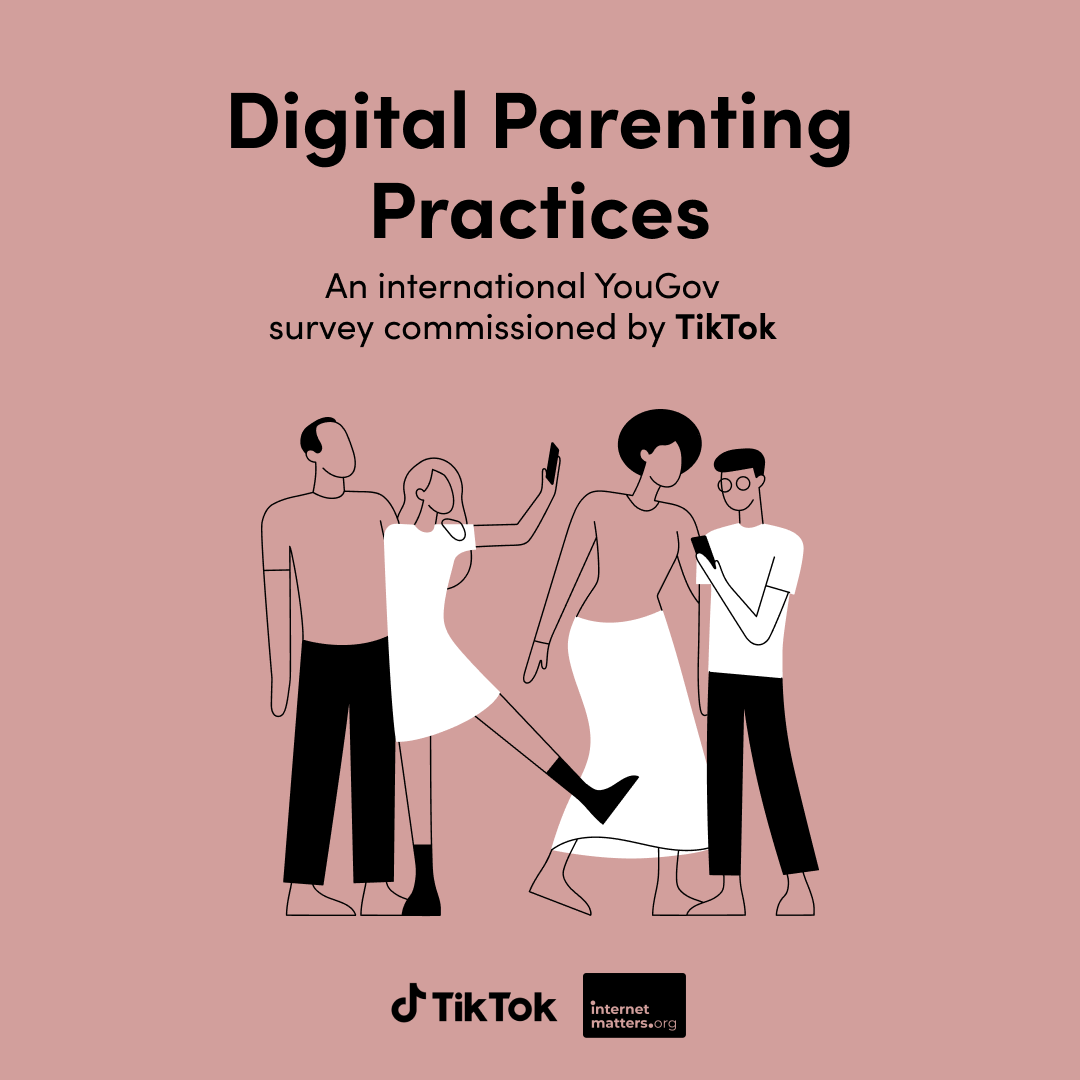 At TikTok, we believe that our time spent online should bring us joy, be educational and entertaining. Whether it's the Kabs Family sharing holiday moments to Myleene Klass creating music with her daughter, we're proud to be a platform where creators from across generations come to share authentic moments.
We know these moments can't happen unless our community feel safe, which is why safety underpins everything we do at TikTok. This is especially true for our teenage users. It's why we're committed to being a partner to parents and caregivers and to fostering important conversations between the young people that use our platform and their parents to allow this enjoyment to take place safely and responsibly.
We know talking to teens about their online experience is not a one-size-fits all approach, so we commissioned research, in the UK in partnership with Internet Matters, to understand how parents approach these conversations.
The research shows that UK parents recognise how important these conversations are and a desire to learn more about the positive steps they can take to keep their children safe in the digital world.
As a result of the research, TikTok is launching a new set of tips, in partnership with Internet Matters to equip and empowers parents to speak to their teens about online safety and wellbeing.
Understanding parents' approach to safety conversations
We surveyed over 2,000 parents of 13 to 17 year olds to help us better understand the different ways they tackle conversations about online safety and well-being with their teens. We sought to identify how often parents talk with their teens about online experiences, how comfortable they are discussing safety topics, and which safety measures they employ in their own households.
The research reveals a high level of confidence amongst parents when it comes to talking to their teens about online safety; in fact 92% of parents surveyed said they feel confident talking to their teens. Parents are also avid users of online platforms and social media themselves; almost all parents surveyed (91%) are on at least one online or social media platform, with nearly a third of these parents (31%) on TikTok.
Yet despite UK parents showing high levels in confidence, they often hesitate to proactively initiate conversations. In fact, a third (33%) of parents speak to their teens about online safety on a weekly basis, while 16% only speak to their children about the topic every few months. Furthermore, parents are taking a reactive rather than proactive approach to discussion around online safety: three quarters of parents surveyed (74%) wait until their child encounters a problem and comes to them to talk about it before they'll open up a dialogue. 72% will wait until they see a change in their child's mood or behaviour, whilst only a quarter (28%) will proactively start a conversation when their child opens up a new online account.
The findings also reveal emerging trends on how parents approach safety conversations within their families:
Mums are more likely than dads to have the passcode for their teens phone (35% vs 25%)
Dads are also less likely to follow their teens on online platforms (22% vs 37%)
Dads are also less likely to ask their children to show them their online accounts (17% vs 26%)
Half of parents (49%) will discuss body image with their daughters, whilst only 29% will discuss it with their sons
Similar patterns are also seen across the topic of sex and sexting (44% will discuss with daughters vs 40% with sons) and bullying and harassment (58% will discuss with girls vs 52% with boys)
Parents are more likely to discuss graphic content with their sons though (38% vs 33%)
TikTok and Internet Matters call for open conversations
We want to empower more parents to proactively talk to their teens about online safety. Our research shows that 75% of parents think it's important for them to spend time using the same online platforms as their teens to better understand or facilitate conversations about their experience on that platform. Furthermore, four in 10 parents (39%) use in-app tools like Family Pairing, Comment Filters and Content Controls to help manage their child's online safety. We want increase parents' usage of our safety tools, which is why together with Internet Matters we're launching new tips to support parents as they facilitate open and honest conversations about online safety with their teens:
Create a welcoming environment for teens to talk - To help establish online safety as a topic that your teen can feel comfortable speaking to you about, start by asking open-ended questions about their online presence. When they start talking, hold off with questions and really listen, it's important for them to feel listened to, rather than cornered.
Initiate conversations - It's fantastic if your teen feels like they can come to you for help when things go wrong, but don't wait for this moment to have conversations about online safety. Instead, choose to talk when you are due to spend time together, like over a meal or during their bedtime routine, and start to bring their digital world into normal, everyday conversations.
Don't worry about being an expert - Your teen won't expect you to be an expert on every online platform out there, but they will value your support in setting up their accounts. Just by sitting down with them, going through the privacy and safety settings together, and talking about what a good social media profile looks like, can help to set boundaries.
Familiarise yourself with parental controls - Most online platforms have tools available which allow parents and teens to customise their safety settings based on individual needs. TikTok's Family Pairing feature allows a parent to link their TikTok account to their teen's and set controls, including screen time management to control how long your teen can spend on TikTok each day. Becoming familiar with these tools can help both your understanding and confidence when it comes to online safety.
Respect their privacy - Striking a balance between a teenager's expectation of privacy and ensuring they are safe is one of the trickiest aspects of parenting - both on and offline. It can be tough when a teen tells you they'd rather you didn't follow them on a platform. It's natural to worry they're up to mischief when really it's likely they just want some space to hang out with friends without being monitored.
Carolyn Bunting MBE, CEO, Internet Matters, added: "It's vital that teens are helped to develop their critical thinking skills to navigate their online world, and parents play a hugely important role in teaching them those skills. Having regular open and honest conversations, talking about the different things that they have seen or experienced online, provides the perfect opportunity to develop strategies for different situations. But we all know parents are busy people, so we hope to help parents feel better supported and more confident to have those conversations."
Tracy Elizabeth, Head of Family Safety & Developmental Health, TikTok: "The research suggests that whilst most parents feel confident discussing online safety with their teens, parents would also appreciate additional support approaching these conversations. What's encouraging to see is a curiosity from parents to learn more about the positive steps they can take to keep their children safe in the digital world.
"At TikTok we want to help facilitate open and meaningful conversations between caregivers and teens to bring a sense of trust and agency to both parties. There is no one size fits all approach to child safety, which is why we think carefully about the unique needs of teens and families when developing our features and safety tools. Features like Family Pairing feature and Screen Time Management put young people's wellbeing at the heart and are customisable based on individual needs."
Empowering teens
The survey also identified screen time as a topic 61% of parents talk to their teens about. To support those parents who aren't regularly speaking to their teens about screen time and to help further this conversation, TikTok has launched new screen time management tools. After spending a certain amount of time on TikTok, teens will now see a prompt on their feed that shows an overview of the time they have spent on TikTok and encourages them to check out our screen time management tools. This proactive prompt in-feed will continue once a week until teens either review the screen time features available to them or reduce their screen time to under 100 minutes each day.
Building a safer future
We hope these new tips and screen time management tools for teens will continue to support our community. Over 81% of parents surveyed say they believe it is their responsibility to talk to children about online safety, over teachers, friends and tech platforms, but we want to keep playing our part, too. From our Community Guidelines to our work with experts including Internet Matters, we will continue to invest in protecting the wellbeing of our community.