At TikTok, we want to create spaces where people can be their authentic selves and create communities where they feel listened to and heard. With Disability Pride Month underway, we're profiling some incredible creators who will be sharing what it means to them. To kick things off, meet this week's Creator Spotlight, furry friend and all-round good girl, @guidedogava!
We love watching her navigate the London Underground as a guide dog for her blind hooman, Amy. From a day at the Tate Modern and trips to the Circus, to giving exclusive TV interviews, Ava and Amy are living their absolute best life. On her days off, catch this self-proclaimed "professional good girl" getting dirty at the park, eating treats, and getting some well-deserved beauty sleep.
As if this isn't wholesome enough, Amy is also helping to break down barriers by having open conversations on TikTok around life as a blind woman. Sensitisation and empowerment are hugely important to Amy, whose quick clips on avoiding pavement obstacles, travelling on the tube, and interacting with guide dogs have amassed between 200k to 700k likes each.
Beyond just #blindtok, Ava's 178k following proves just how much her job as a guide dog, and Amy's advocacy for equality, matters to our community.
In this week's spotlight, we spoke to Amy (with a few tail wags from Ava) about what Disability Pride means to her, what she loves about creating on TikTok, and her favourite TikTokers. Unsurprisingly, Ava was the centre of attention!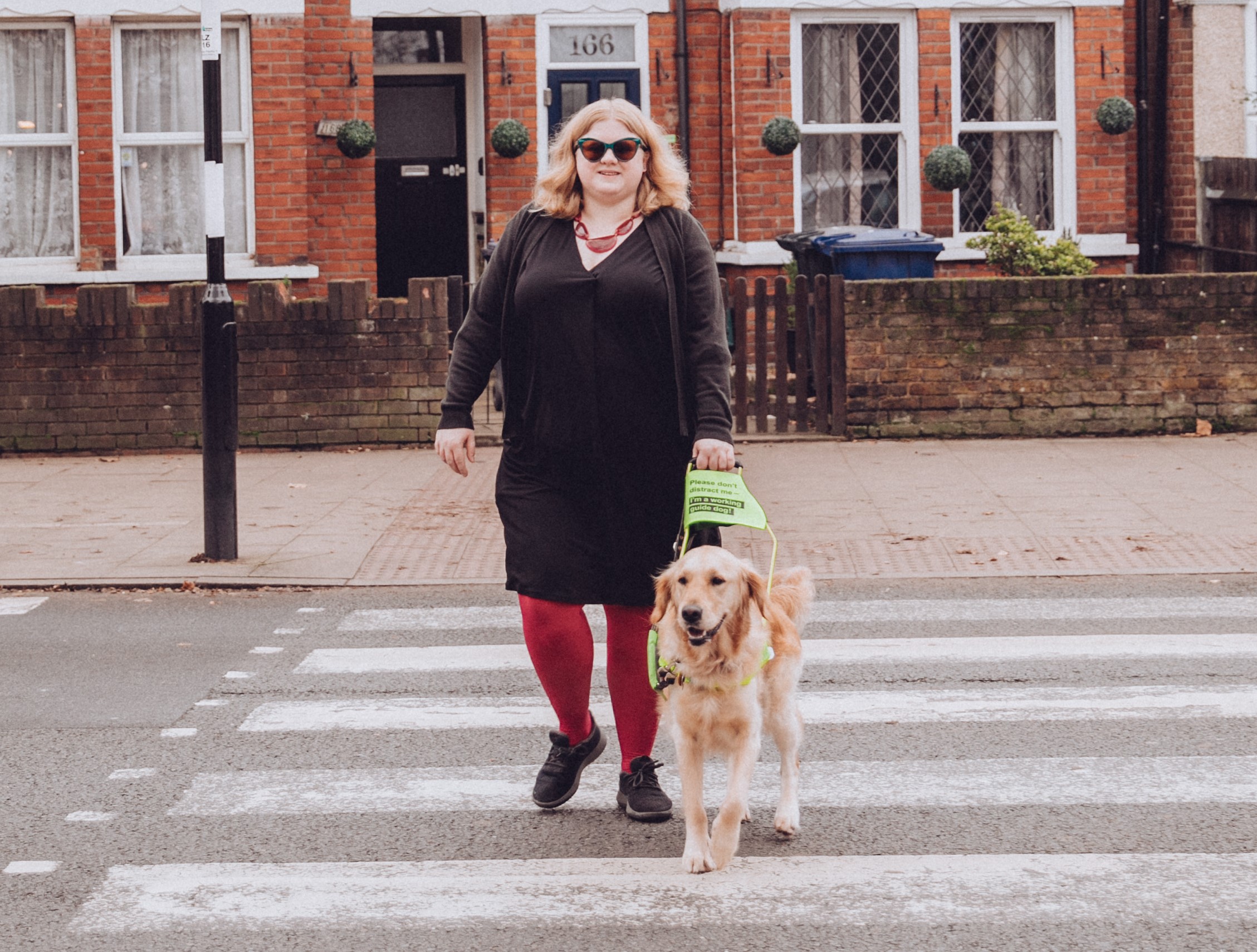 Firstly what does Disability Pride mean to you?
Disability Pride means celebrating disabilities, impairments and health conditions. Disabled people are often represented in the media as sad or tragic, so Disability Pride gives us an opportunity to celebrate our disabilities, bodies and lives. It's also a great opportunity to educate non disabled people, including highlighting the inaccessible barriers that stop disabled people achieving equality.
Have you been surprised by the reaction to your content on TikTok?
People are fascinated by how I do every day things as a blind guide dog handler, they have so many questions for me about my life and about my guide dog Ava. I do feel like it shows how little awareness there is about disability and perhaps why we need Disability Pride Month. For example, I'm probably asked about a dozen times a day how I film, type or use technology as a blind person (I have a pinned video which explains if you're wondering. Just a hint, Text To Speech wasn't invented by TikTok!)
What do you love most about the TikTok community?
I love learning about different lives, skills and experiences. It feels like a space where you can offer a glimpse into your passions, your creativity or share your knowledge with others. My community is very passionate about Ava getting lots of treats and cuddles! They love seeing her days off when she gets to do all her dog stuff.
What first inspired you to create on TikTok?
Honestly, my phone was full of videos of Ava. My life was changing so much because of her and I wanted to share it with other people. Even though we trained for 7 weeks together she still surprises me every day with the amazing problem solving skills she has.
What is your goal on TikTok?
To teach people about guide dogs, how they support blind and visually impaired people, the amazing skills they have and the life changing independence they give their handlers. I also want to educate people about the challenges I face as a blind guide dog handler, like the impact of people distracting Ava or how it feels to be refused service by a business .
Which other creators inspire you on TikTok?
Obviously, my fellow BlindTok creators are amazing, BlindTobes, Lucy Edwards and Molly Burke. Also I love Shelby's content because of her confidence and style and I'm obsessed with Nina Tame's passion for disability rights and her mission to smash stereotypes about disability.
What is your favourite TikTok you have made to date and why?
It's probably the TikTok video of Ava guiding me through the London Underground on a route that we did independently for the first time.
It was such an important milestone for us both. We had just had our 1 year qualification anniversary, and although we had learned all our local routes, it was the first time doing a journey with so many complicated steps by ourselves. Ava was so totally confident and happy strutting her stuff through a busy central tube station, finding lifts, finding the trains and finding the exits for me. Her tail was wagging so hard it was thumping on my leg and she nearly pulled my arm off she was so excited each time she found the right way to go. I really cried when we got to our destination because it was such an incredible feeling.
The video is also important because it shows firstly how amazing guide dogs are at learning routes, but also that blind people can travel independently. There's often an assumption that I don't know where I'm going or that I'm lost all the time. The video showed that with the support of a guide dog and learning the right skills a blind person can do a really complicated journey on public transport all by themselves!
And what does Ava make of her new found fame. . .?
She's very tolerant of me constantly filming her at work, the fame hasn't gone to her head and she stays totally focused on the job. Also, she does enjoy the treats people send her, she's convinced every parcel that gets delivered is for her and she's very proud of her growing collection of fancy collars, bandanas and bowties. She also likes meeting her TikTok fans, as long as people respect her pawfessionalism and wait until she's off duty before cuddle time! Once that harness is off though, she'll roll over for all the tummy tickles people can give!
New to TikTok and keen to learn more about Disability Pride Month? It couldn't be easier, simply download the app for free via the Apple App Store, Google Play or Amazon!