TikTok Shop UK shines a spotlight on small businesses this Black Friday
This Black Friday period, TikTok Shop UK is championing small and medium businesses (SMBs) by spotlighting them and their products in a special Black Friday event which will run in the UK from the 21st to the 28th of November.
From hashtags like #AsSeenOnTikTok and #TikTokMadeMeBuyIt to #SmallBusiness, TikTok is fast becoming the go-to platform for discovering new small businesses and buying their products. Around three quarters (73%)** of SMB marketers believe the platform has helped them reach new customers and a third (34%)** of SMBs on the platform say that they have increased sales of their products or services as a direct result of advertising on TikTok.
This Black Friday we will be furthering our support of SMBs by promoting them on LIVE streams throughout the week, and helping them to be discovered by our community. With data showing that almost 80% of people are likely to buy on social platforms if they've watched a LIVE or participated in conversational commerce*, LIVE streams play a key role in driving engagement with products.
Each day from 21st until 28th November, SMBs from a range of verticals including beauty, home and leisure, fashion and electronics will feature on a dedicated Black Friday homepage when our community searches for Black Friday, TikTok Shop Sale or the #TikTokMadeMeBuyIt hashtag, with discounts of up to 50% available across selected products.
Small businesses including Sumayah, Pink Honey, MadeByMitchell, Maters And Co, Baked In and Wax And Unwind will be featured prominently through an in-app H5, and have particular products highlighted on vertical-specific days. A whole host of discounted products will be available to purchase entirely on-platform via TikTok Shop, ranging from Made By Mitchell's Blursh Liquid Blusher to Uten's Airfryer.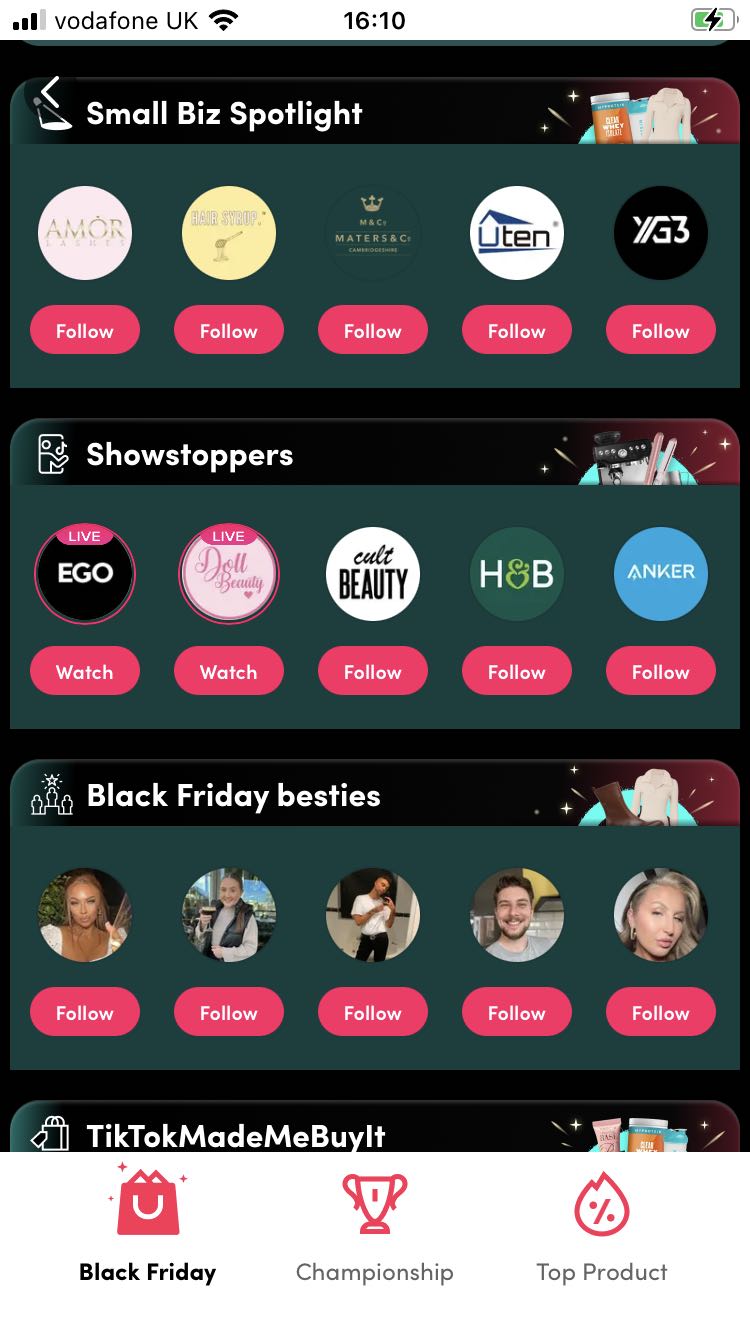 TikTok Shop Senior Director of eCommerce Patrick Nommensen, said:
"TikTok Shop is a great place for SMBs to thrive, as our creative tools make it easy to quickly create fun, authentic and engaging content which drives real world results for merchants of all sizes, and our seamlesscheckout experience means our Community can watch entertaining content and make purchases without ever leaving the platform.
"Part of the joy of shopping on TikTok is in discovering products and trends which you may not have otherwise found, and we're proud that merchants and creators are able to find so much success on the platform, regardless of size. We're excited to continue helping SMBs and empowering our Community's discovery of trending products, creators and more."
How to shop Black Friday on TikTok Shop
TikTok Shop is all about discovering new products, trends, merchants and Creators. That's why, during the event, our community will be able to search for the top trending creators, merchants and products across categories like BeautyTok, ViralonTikTok, HomeTok, FashionTok and more.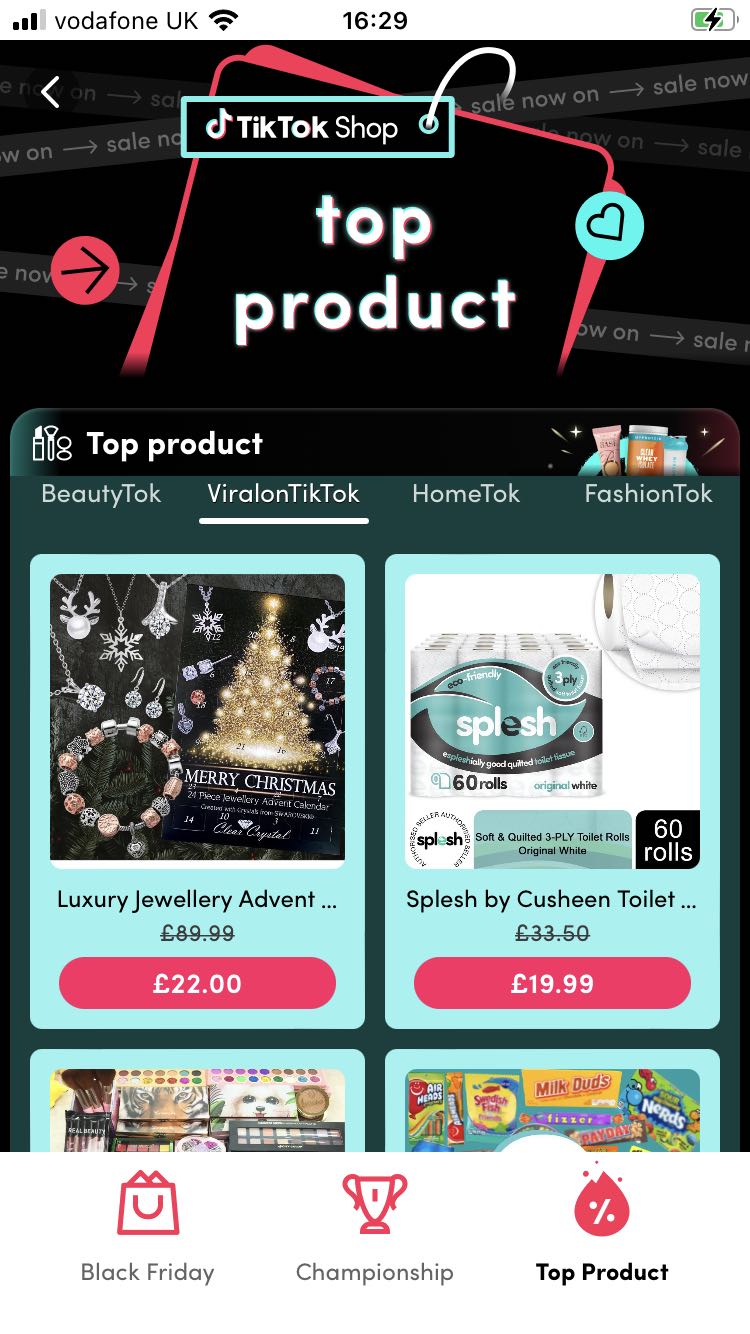 Our community can access Black Friday LIVEs either through their For You feed as they scroll on TikTok, in the Discover page, or by using the search function to look for 'Black Friday Sale', 'TikTok Shop Sale' or the #TikTokMadeMeBuyIt hashtag and access our dedicated Black Friday H5.
Black Friday shopping days run from 21-28 November, with products being sold by retailers and brands directly on-platform. When you see a Black Friday LIVE, you can click on the yellow shopping icon in the bottom left corner of the LIVE to see more about that product and options to buy. You can also click on the host page's profile to access the Shop tab directly in their account and browse all products for sale.
You must be over 18 and have a valid credit or debit card to purchase products on TikTok. Click on the products you wish to buy to add them to your basket. Enter your shipping details, followed by payment information using either a credit/debit card or Apple Pay.
*Source: Social Commerce: Meeting Customers where and how they shop
**Source: TikTok Marketing Science EUI SMB Advertiser Research 2022 conducted by Advertiser Perceptions (UK Data n=100)