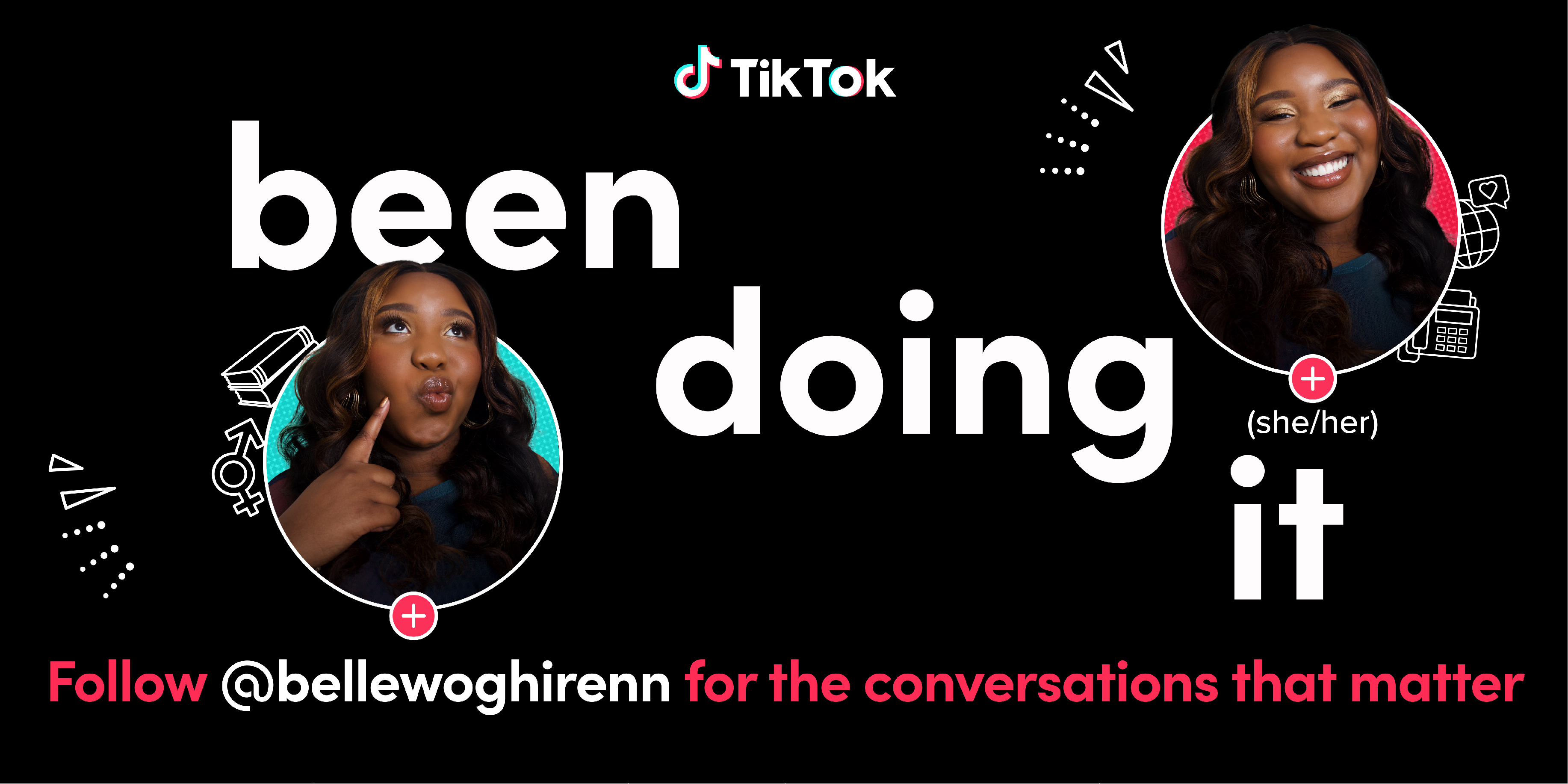 October marks #BlackHistoryMonth in the UK and we couldn't be more excited to celebrate our trailblazing Black creators.
At TikTok, throughout the month we'll be spotlighting Black stories, art, music, fashion and literature in-app and beyond. We'll also be providing educational resources to encourage everyone to be a better ally to the Black community, and to raise awareness of Black heritage and culture.
So, what better way to kick off our series this month than an interview with one of the stars of our upcoming Black History Month campaign. The incredible Annabelle, aka @bellewoghirenn, is a social responsibility educator and activist whose content focuses on diversity and inclusion, human rights and anti-racism.
Far from heavy, her content is filled with joy and optimism, celebrating anti-racist allies, and educating the community on how to become one. From giving anti-racism lessons, to advice on becoming an ally, it's safe to say she's made herself an irreplaceable part of the anti-racist educational movement in our community.
With 169k followers and counting, it's clear that our community can't get enough of Annabelle, and neither can we. We sat down with her to chat about everything Black History, her favourite Black creators, and learn a little bit more about her educational content.


What does Black History mean to you?
For me, Black History is my identity, it is my story, and the way I came to be who I am. It is about understanding the beauty of the African diaspora and understanding the way in which our identities are all inter-connected. Black History is powerful, it effortlessly empowers us and the way we view our world.
As history has shown, Black people are resilient, we are powerful, we are creative, and stubborn. Black History is about us telling our stories and passing it down for to the next generation to use as a foundation for their liberation. Black History tells me that my freedom has been fought for. It tells me that my life is precious. The hair on my head is like a crown of resistance. Black History is the story of resistance, empowerment, creativity, and liberation! Although we are still on our journey to amplify more aspects of Black History, its power and impact is undoubtedly recognised and valued.
Why does TikTok work well for sharing educational content?
TikTok works incredibly for sharing educational content because it is an everyday platform, which takes the hierarchies and inaccessibility out of traditional education. You're not here to be tested, but you are here to self-reflect and better yourself.
As an anti-racism educator, I understand how a lot of people who are doing anti-racist work or learning are afraid of getting things 'wrong'. I believe that sharing educational content on TikTok allows for a safe space for people to learn within, a collective responsibility atmosphere for people to hold themselves to account, and it's an accessible way to learn through the use of multi-media! It's personal, it's fun, and it's an app which allows you to take agency over yourself! Education is fundamental to the creation of a better society, and as TikTok is already a culture pioneer, sharing educational resources on there is such an important avenue to make such important education accessible!
What first inspired you to create on TikTok?
I started educating on TikTok as both a healing process from the Black Lives Matter movement and a way for me to translate my own lived experience into education. Through my desire to engage, I was able to turn my emotions, experience, and insight into anti-racism education. Creating on TikTok was something that came naturally to me. As someone who loves to speak and communicate with others, telling my story on TikTok and using it to bring powerful education to the forefront has been such an amazing journey!
TikTok has allowed me to convert my ideas, experiences and insight into content, which I am now able to share with my community. I have always thought that although anti-racism should be world-wide, there are UK-specific issues which need to be addressed and educated on. Carving a space for myself as an anti-racism and Diversity and Inclusion Activist on such an amazing app has allowed me to spread awareness on these issues and educate! Ever since I began my TikTok in January 2021, my life has changed in ways that I can't even describe!
What is your goal on TikTok?
My goal on TikTok has never been around the numbers or the size of my community because to have one at all is something that I am forever grateful for! TikTok allowed me to find my purpose, which is around educating people on the issues dearest to my heart, and my goal is to continue to do that for the rest of my life. As a Law and Politics University Student right now, education is a focal part of my life and lifestyle, but as a future Race Equality Scholar-Activist, education is key to the pursuit of an equal world! Education is something so important to me and I would love to continue to be an educator for the rest of my life!
Therefore, my aims on TikTok are to continue to grow and expand my reach, to continue to serve my community and to continue to theorise and advocate on the issues most important to me. TikTok allows me to be creative, experimental, and authentic - my goal is to harness these and continue thinking of different ways to engage my community and progress the practice of anti-racism in the UK.
Learning does not have to be done within the classroom! My goal is for more people to learn effortlessly through this app, and for it to fill the gaps that may be left after traditional education. This is so important to me because the gaps that are often left in education are the lived experiences of marginalised communities. TikTok serves a unique purpose here by giving those who haven't had a voice for a long-time the platform to teach and spread cultural awareness. My goal is to continue to do this, alongside the other amazing educators in this app!
What other Black creators are on your For You feed?
I have been loving content from @HadealSpeaks, @Benjy_LookBook, @KayneKawasaki, @Joris_Explains, @marygraceolu, @_marshaldn and @a.ndrewola!
What do you love most about the TikTok community?
The TikTok community are so active and engaged! They are so willing to learn, ask questions and support my content! It is one of the best feelings to know that what you are educating on, people are taking in and using it in their own day to day life! My comment section is filled with discussion and conversation around the content of my videos, as well as check-ins with me to ask how I am doing and thanking me for my work.
The TikTok community are also unique in the sense that their impact is so widespread. As a Diversity and Inclusion Advisor and public speaker, people from my TikTok community have recommended me to give sessions at their companies or used my videos as educational resources! This not only supports me, but it also helps to do some amazing anti-racist work through amplifying my voice and my work! It also shows me how my community are genuinely supportive of my work not just within app, but externally also!
TikTok are like a family, and they engage with so much love, passion and understanding! It is unlike anything I have encountered before! The community are truly driven in the change they aspire to make and naturally fall into sync with me and my aspirations. Not only am I teaching them, but they teach me so much every day. I couldn't have asked for a better community to be a part of!
What is your favourite TikTok you have made to date and why?
One of my favourite TikToks is my 'Welcome to the Anti-Racist side of TikTok' video! It was a simple video intended to show people what my content is about, and it was one of the first times I was able to really express myself and what I stand for through a TikTok Trend. Although I am not saying anything in the video, the use of questions through the 'text to speech' feature created a really engaging video! I think this video really helped me to understand the beauty of TikTok! It's not the most extravagant video that performs well, but videos that showcase yourself and your energy. I was astounded to see how so many people could resonate with my videos and use it as a starting point to spur them to begin their anti-racism journey!


New to TikTok and want to explore more Black History Month content? Getting involved couldn't be easier, simply download the app for free via the Apple App Store, Google Play or Amazon.