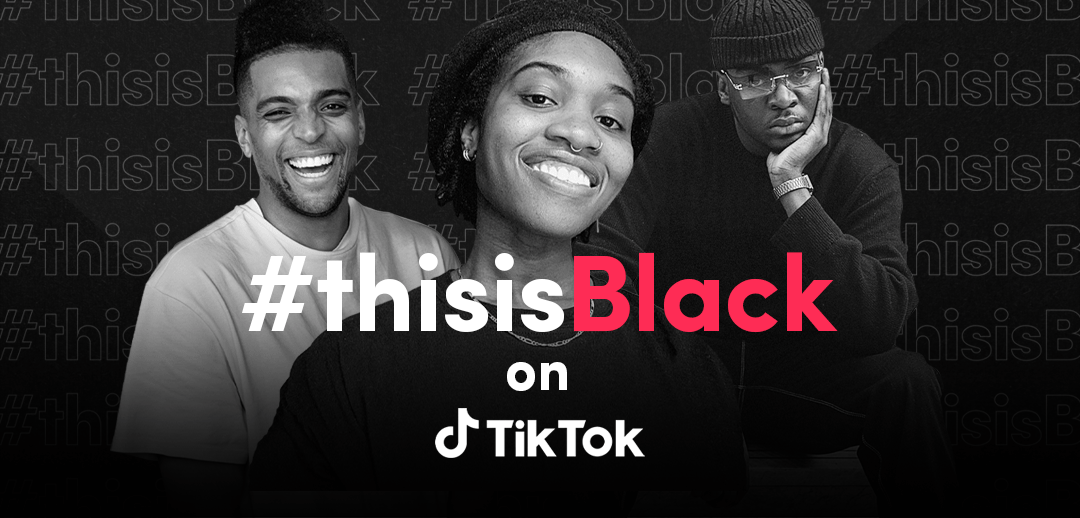 At TikTok, we take great pride in the diverse community we hope to nurture. We feel this pride all year round and we are committed to celebrating the people that make TikTok the inclusive and vibrant place it is.
October marks Black History Month in the UK, an important opportunity to share, celebrate and understand the impact of Black heritage and culture.
At TikTok we'll be honouring some of our trailblazing Black creators, spotlighting Black stories, art, music, literature and food, and providing educational resources in-app to encourage everyone to be a better ally to the Black community.
Here's what's coming up over the rest of the month…
#ThisIsBlack
Appearing now on billboards across the country - #ThisIsBlack - our new advertising campaign spotlights nine Black creators throughout October and November. Featuring much-loved figures and black trailblazers @djkrystallake, @thegrubworkskitchen, @itsjustnifee, @_ehiz, @lukevernon_ , @scarysappho, @bonbonod14, @kaynekawasaki, @benjy_lookbook and @itsjustnifee #ThisIsBlack highlights many elements of Black culture on TikTok, ranging from history and fashion, through to food and comedy. Look out for them in London, Birmingham, Brighton, Bristol, Cardiff, Edinburgh, Glasgow, Manchester, Nottingham and Sheffield from today!
TikTok Unpacks
Check out our brand campaign that aims to raise awareness and increase our community's understanding of important societal terminology. TikTok Unpacks will showcase educational and inspiring videos, boundary pushing creators and incredible organisations that are dedicated to evolving important societal conversations.
The first TikTok Unpacks LIVE will be focused on Microaggressions and is happening on 14th October with Benjy and Annabelle. You can find out more about the TikTok Unpacks here.
#ThisIsBlack music
During the month, we'll be running a series of #ThisIsBlackMusic branded playlists to celebrate and promote the many Black artists and songs that continue to drive the most viral moments on TikTok. There will also be guest playlists from artists including Nile Rodgers (live now) and Darkoo, as well as hashtag challenges allowing fans to get closer to their favourite Black artists and Black Music.
#GoodMoodFood
On the 8th October we launched the #GoodMoodFood hashtag challenge with the legendary Ainsley Harriott, will be sharing his #GoodMoodFood recipes to make your heart sing, and we're inviting you all to share the food and recipes that put you in a good mood too.
Speaking about Black History Month on TikTok, creator Violet Ezedimora said:
"Black history month is a time for people to come together to celebrate black communities and black heritage, which is often times ignored. It is important to preserve our culture especially as Africans in the Diaspora. Love and support will always uplift each other. This is what has made me find my voice on Tiktok - we are not just celebrated, we are highly supported. However, I believe there is always room to do more."
UK British History creator Kayne Kawasaki added:
"Being included in the #ThisIsBlack campaign was humbling. I joined TikTok last Black History Month, so it's crazy to think what can happen within a year! Especially because I didn't think my content mattered. To me, TikTok was the place for Gen Z and Viral Tiktok dances, I didn't expect to find an audience intrigued about UK Black History and Cultural Commentary - but I did!
To me, UK Black History Month is a time to highlight and celebrate the achievements of Black British trailblazers. Growing up, in school I was taught US Black History such as, Martin Luther King, the Jim Crow Laws and US Slavery. Now, my hope moving forward is that the next generation are also taught about our own trailblazers - if not, I hope they find my videos! I intend to talk about UK Black History until it's seen as British History; not restricted to one month but as a staple."
TikTok's Head of Diversity and Inclusion Priscilla Baffour said:
"We're incredibly proud all year round of the diverse community we have fostered on TikTok. It was important for us to mark Black History Month by celebrating our Black community and putting their stories and experiences front and centre. Through the #ThisIsBlack campaign we will be doing just that, and I'm proud to be a part of a team that is honouring Black people and culture in the UK."
That's just a taster of things to expect on TikTok throughout Black History Month, but keep your eyes peeled for more activity we'll be announcing later in the month…