Theo Bertram, Director of Government Relations and Public Policy, Europe
TikTok was created to bring joy and inspiration to our community. This has come to life through the playfulness of our creators who've brought dance challenges, funny performances, creative memes, and delightfully unique moments. It's been mainly about having fun. Covid-19 gave us a new perspective, and in the face of the unprecedented crisis, we have been committed to playing our part in the global outpouring of mutual support and giving.
In June, the European Commission asked members of the Code of Practice on Disinformation to voluntarily share data on Covid-19. In addition to sharing our update with the Commission, we wanted to provide an update today to help our community understand more about the results we are seeing from our efforts, and what our focus is for the future.
Pledging $250m globally to support frontline healthcare workers, educators, and local communities
In April, we pledged $250M globally to support front line medical workers, educators, and local communities deeply affected by the global crisis. As part of this commitment, €62M will support healthcare workers, educators, and local communities in Europe, while €18M in ad credits will help businesses in Europe to rebuild.
TikTok Health Heroes Relief Fund
Health care workers are the heroes of this global battle and deserving heroes within the TikTok community. So far in Europe, we have donated:
£5m to the Royal College of Nursing to support the establishment of a new subsidiary charity, the COVID-19 Healthcare Support Appeal (CHSA). The CHSA focuses on providing hardship and medical relief for health and social care workers and their families. To date, CHSA has provided funding to support 2,125 nurses, midwives, and low paid health and social care support workers. Grants will continue to roll out over the coming weeks.
€5m to Hopitaux de Paris-Hopitaux de France to purchase first-aid medical and paramedical equipment, and support caregivers in addition to patients and their families.
€5m to Schwesternschaft vom Roten Kreuz Frankfurt/Main v. 1866 e. V. to support frontline healthcare workers and caregivers.
€2.5m to Protezione Civile, the national department responsible for all activities aimed at preventing risks and assisting the population affected by disasters. €2.5m to FNOPI - the body representing all nursing professions in the country - to support all nurses affected by Covid-19 and their families in Italy.
#LearnOnTikTok
Last month, we launched a new programme in Europe in partnership with leading educators, experts, real-world skills creators, and NGOs to bring together entertainment and learning on TikTok. Starting with a €13M investment across Europe, we're using our platform's power to help educators everywhere share their talents and knowledge to our diverse community of users. From life hacks to science tutorials, motivational tips to quick cooks - we want to help people access a wide-ranging experience of learning that is personal, local, and specific to their everyday lives.
Donating prominent in-feed ad space
Throughout the pandemic, we have continued to donate prominent in-feed ad space to trusted organisations and local health authorities to provide credible information to help our community stay safe. We're particularly proud of our work with the Irish Health Service Executive. We donated four "TopViews", one of our most prominent ad formats, and the advertisements ran once per week over a period of 4 weeks. In total, the four ads had 6.8 million views.
Providing authoritative information
Throughout this crisis, we have focused on supporting our community by providing access to accurate information, in partnership with trusted and authoritative sources.
We're hosting an informational page in our app that provides credible information from the World Health Organization. It contains answers to common questions, offers tips on staying safe, and dispels some of the myths around COVID-19. This informational page has been visited more than 52,436,056 times across our five main European markets (UK, Germany, France, Italy, and Spain).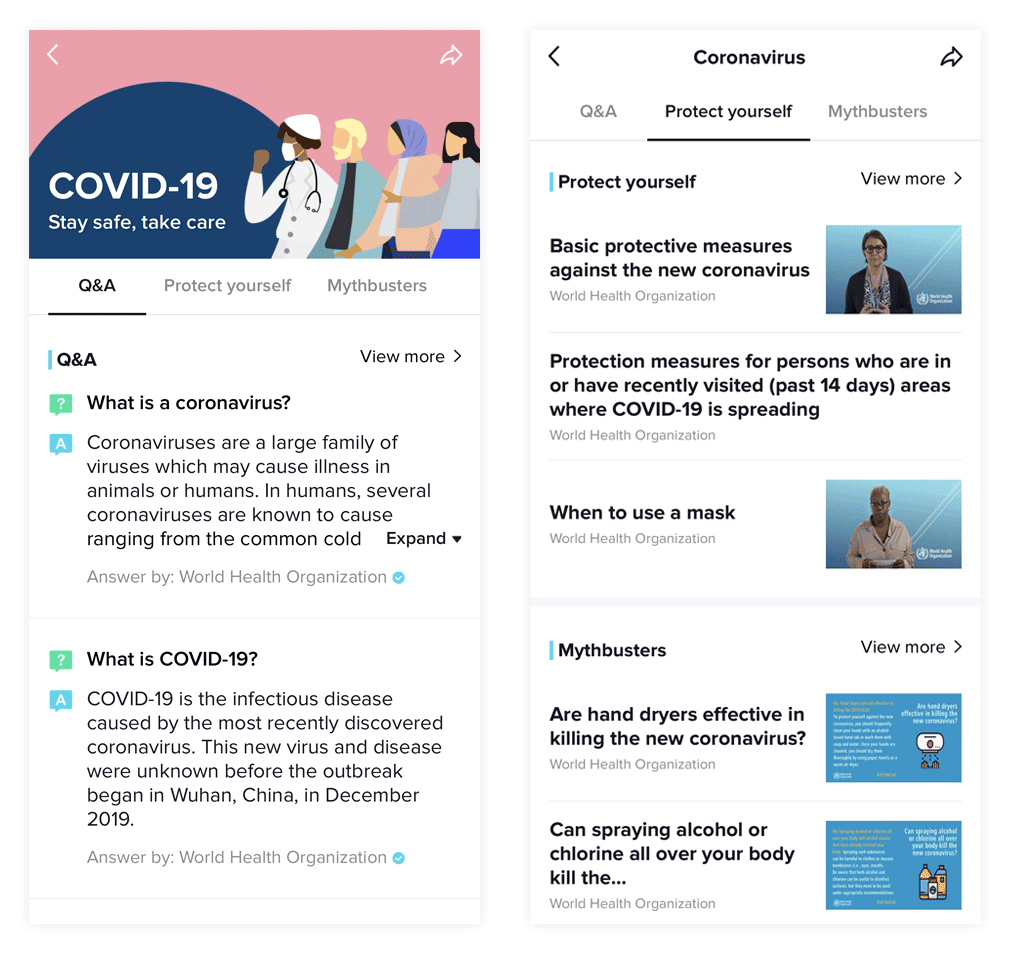 To answer questions from our community, we have also hosted a series of live streams, led by the World Health Organization, that feature experts from the WHO sharing information on protective measures and taking live questions from our users. WHO videos have been viewed more than 70 million times since the organisation joined TikTok at the beginning of the crisis.
Across all markets in Europe, we detect and tag videos that have words, hashtags, or music related to Covid-19, and we attach a 'banner' to those videos with a message 'Learn the facts about Covid-19'. This redirects the user to verifiable, trusted sources of information.
Since January, we've applied this banner to over 7,000,000 videos in Europe. Specifically, the top five countries that we have most frequently added the banner to includes:
+ 700,000 videos in the UK
+ 600,000 videos in France
+ 600,000 videos in Italy
+ 600,000 videos in Spain
+ 500,000 videos in Germany
Looking ahead, we will be actively seeking ways to contribute, including identifying new ways to allocate our remaining relief funds to support ongoing community needs. We understand that this continues to be a challenging time for everyone. Alongside businesses, governments, NGOs, and ordinary people across the globe stepping up in this critical moment, we are committed to offering the very best that we can to help out humanity.
Together, we will persevere through this time of crisis and emerge a better community and part of a world that we fervently hope will be more united in common purpose than before.