Julie de Bailliencourt, Head of Product Policy, EMEA
At TikTok, we want every member of our community to feel comfortable and confident expressing themselves exactly as they are. Being true to yourself is not only encouraged but celebrated on our platform, and this week we're rolling out new features to encourage body inclusivity and support users who may be struggling with an eating disorder.
New in-app support resources
People come to TikTok to express themselves authentically and find community. We're constantly inspired by stories of our community members lifting up one another and supporting those who are affected by body image and eating disorders. To aid these conversations, we're introducing new resources to provide access to help from expert organisations directly from our app.
Starting this week, when a user searches for #edrecovery #proana or other phrases related to eating disorders, we'll provide access to the BEAT Helpline where they can find help, support, and information about treatment options. We'll also provide tips we developed with eating disorders experts on how to identify negative self-talk, think about one's own positive attributes and strengths, or support a friend who may be struggling.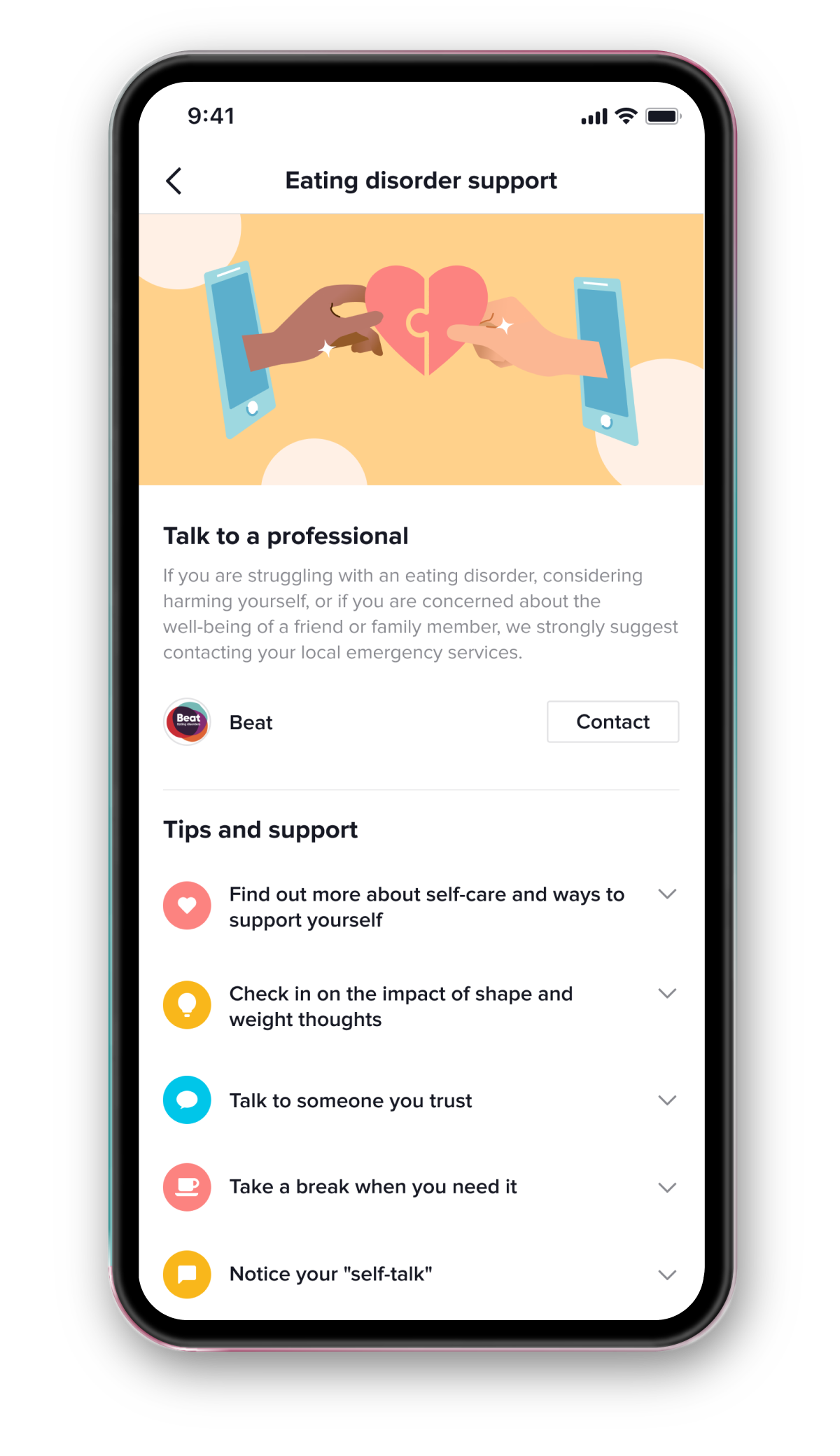 Promoting Eating Disoder Awareness Week and body inclusivity
To support our community all year, over the coming weeks we'll introduce permanent public service announcements (PSAs) on hashtags like #whatieatinaday #emotionaleatingtips #bingerecovery and others aimed at driving awareness or fostering support around recovery and those affected by eating disorders.
Celebrating our community
We're proud to recognise creators who are sharing their stories and lifting up others along the way, like @thisisiona who is recontextualising food to aid recovery, through her delicious recipes inspired by cuisines from around the world.
Commenting on these changes, Iona said:
"This is a great step for TikTok to take because so many people who deal with disordered eating don't know where to turn and don't know that there is help available! As a society we still have some way to go in understanding EDs; there's still a lot of stigma around them, and some disordered eating behaviours have become so normalised through diet culture that many of us don't realise they're a problem.
More and more people (especially teenagers) are turning to social media to find support nowadays, which is one of the reasons I started sharing my own journey with ED recovery, but it's great to see TikTok realising this and providing tips and signposts to help guide people in a safer direction!"
Always striving to improve
Going forward, we will continue to develop new ways to support our community. We aim to bring compassion and support to survivors and others who may be struggling or looking for community on our platform. We will keep working to refine our policy against content promoting or glorifying eating disorders, improve our ability to identify harmful content so that it can be quickly removed, and develop creative ways to advocate for our community. We're grateful to learn from experts and our community along the way.
Tom Quinn, director of external affairs, Beat, said:
"We know that the past year has been especially difficult for people affected by eating disorders, with requests for our support rising by 173%. We're grateful for TikTok's support in promoting Beat's Helplines to their users to ensure those who need help can find it rapidly.
"This Eating Disorders Awareness Week we would like to encourage anyone struggling to take that first step and reach out for help. Beat's services are available 365 days a year by phone, social media, email, webchat or through online support groups."