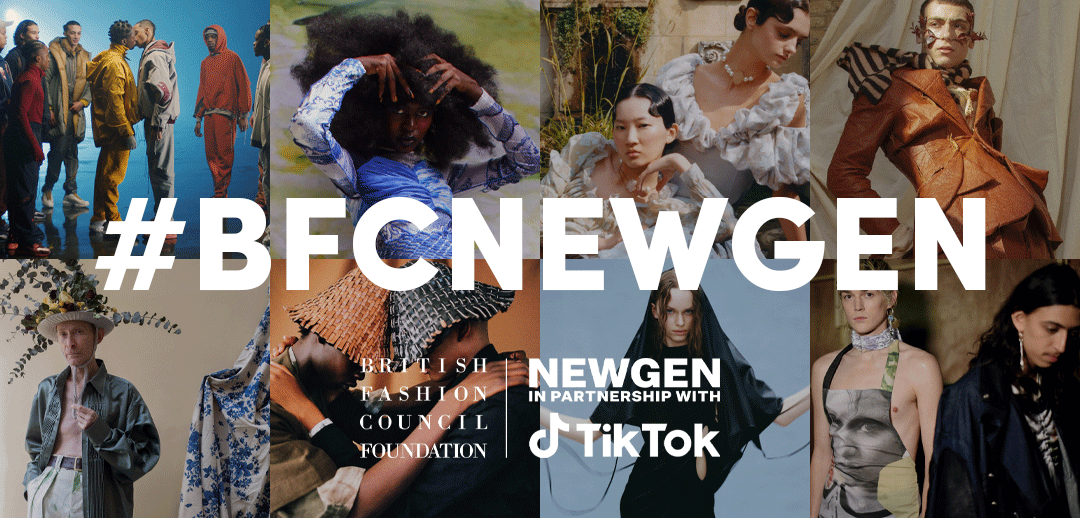 Creativity sits at the heart of TikTok, which has given rise to some inspiring fashion trends, stories and ideas over the past few years. From cottagecore and crocs, to fashion upcycling and even Harry Styles' JW Anderson cardigan kicking off a knitting sensation, TikTok is fast becoming a home for fashion creators, designers, and stylists to find their voice and share their unique style.
With the impact of the pandemic still being felt on fashion runways and design rooms around the country, it is now more important than ever to use the power of our platform to give back to the growing fashion community that has been flourishing on TikTok.
That's why earlier this year, we announced that we would work with the British Fashion Council (BFC) as the Principal Partner for NEWGEN, to support the next generation of British design talent. NEWGEN is the BFC's longest standing and most internationally celebrated talent programme, that aims to support future excellence in design and aims to build global, high-end fashion brands of the future.
Caroline Rush, BFC CEO comments;
"As we bring back London Fashion Week to a physical format and welcome the international fashion industry to London, being able to give the NEWGEN designers a home in central London to showcase their new collections is an incredible opportunity. What is unique about the TikTok Show Space is that is has been designed with a digital mindset, and with the ambition to support our designers amplify the content of their collections. We, at the BFC, always understood the changing nature of fashion and led the way in technology and innovation. We are extremely proud to be the first international Fashion Council to partner with TikTok to support emerging talent and we look forward to welcoming everyone into the TikTok Show Space."
As part of this collaboration, we're bringing the thrills of London Fashion Week presented by Clearpay (LFW) to the TikTok community, giving emerging fashion talent and creators a platform to share their creativity, style and ideas.
But it doesn't stop there. We will be hosting the TikTok Show Space at The Old Selfridges Hotel - where some of the most exciting emerging designers across the fashion industry will make their runway debuts.
The TikTok Show Space will offer guests a fully immersive digital experience, engulfing them in each designer's own unique aesthetic. Floor to ceiling screens and a vast presentation space allow for a complete venue transformation with each show, which can also be fully experienced through the lens of TikTok creators LIVE from the FROW.
Alongside the designer showcases, The TikTok Show Space will also host an array of bespoke in person and in app events, as the creativity of LFW will be shared with the vibrant TikTok community.
Here's how you can get involved in all the action of LFW on TikTok:
Tune in 🎧 to The Style Files LIVE series hosted by Henry Holland with guests including TikTok creators Fashion Boy and Abby Roberts.

Check out 🔎 The Fashion Hub on TikTok, which will showcase all the NEWGEN talent and runway action live from LFW, along with behind the scenes content from our creators and designers, giving you unprecedented access to what really goes on before a show. Follow #BFCNEWGEN for your daily fashion fix . . .
Keep your eyes peeled 👀 for exclusive content from some of the hottest TikTok creators, LIVE from the FROW, including Rikki Anshu, Violet Ezedimora & Tega Alexander, who will each be doing a TikTok takeover during LFW.
Want to share you own signature look or fashion designs? Why not place yourself on the NEWGEN runway, or channel your favourite fashion capital with our exclusive fashion-week ready AR effects and share with #TikTokFashionMonth.
Explore some of the NEWGEN designers taking part in LFW and get a sneak peek of what to expect on the runway:
Flirting with class ideologies, Daley, a working class boy from Liverpool, explores the theatricality of British elitism, which his romantic, quality-first, bespoke garments evoke. Daley works in an ecologically mindful manner, by using donated, dead-stock and end of roll fabrics.
Saul Nash is a Designer and Choreographer from North East London. Bringing luxury to activewear, Nash creates fluid menswear that compromises neither function nor style. Relaxed silhouettes and mesh fabrics enable movement and flow, while asymmetric hems and monochromatic colourways highlight the designer's focus on expression.
yuhan wang (@yuhan.wang)
Yuhan Wang is the eponymous London-based womenswear brand established by Chinese designer Yuhan Wang in 2018. Heralded for its sensitive approach to the portrayal of feminine strength under the lens of romantic nostalgia, the brand has powerfully expanded upon the hyper-feminine offering presented via talent incubator Fashion East, to a burgeoning womenswear business, expertly serving a customer who prioritises whimsical elegance above all else.
EFTYCHIA (@EFTYCHIA.co)
London based brand EFTYCHIA launched in 2018 incorporates facets of classic men's tailoring details into women's garments for an effortless and timeless look.
HELEN KIRKUM (@helenkirkumstudio)
Helen Kirskum Studio was founded by multi-award winning artist and design, Helen Kirkum in 2019. Helen reworks discarded and recycled sneakers, promoting the craftsmanship of handmade footwear.
FEBEN (@its.febs)
Feben is an artist and designer based in London. Drawing on the nomadism of her own background, she takes a surrealistic approach to exploring the visual codes of Black life from all corners
of the globe.
Labrum London (@labrumlondon)
Founded in 2015, Labrum London is a modern-day menswear brand telling the untold stories of West Africa to help bridge the gap between Western and West African culture. A utilitarian approach fused with British tailoring and a touch of West Africa creates a design recipe that is clean, sophisticated, and unique.
Ahluwalia (@ahluwalia.world)
Multi-award winning label Ahluwalia was launched in 2018 by Priya Ahluwalia. The label combines elements from the designer's dual Indian-Nigerian heritage and London roots. It explores the potential of vintage and surplus clothing by giving existing material a new life through various textile and patchwork techniques.
Conner Ives (@connerives)
Conner Ives' collections are a heartfelt exploration of American identity and culture, often containing autobiographical references to his childhood and high school years. The young designer takes a sustainable approach to craftsmanship, sourcing his materials from bulk-clothing recycling retailers.
Richard Quinn (@RichardQuinn)
London born designer Richard Quinn established his eponymous label in 2016. Specialising in womenswear and textiles, his collections are bold and emotive creating a forward thinking unafraid vision.
New to TikTok and fancy exploring more fashion content? Getting involved couldn't be easier, simply download the app for free via the Apple App Store, Google Play or Amazon.