Author: Paul Marvucic
On TikTok, one video can cascade into continuous learning and discovery. When you upload a video or go LIVE, it's only the beginning of spirited conversations that soon spill over into comment threads and lively stream chats.
Questions and answers are a big part of conversations on TikTok. Viewers ask questions to learn more about a creator and dive deeper into content, and creators answer audience questions to connect directly with their communities.
Today, to empower these conversations, we're making it easier than ever to ask and answer questions on TikTok with the release of TikTok Q&A, a new question and answer feature that gives viewers and creators new ways to connect. In videos, users will be able to designate their comments as Q&A questions, which are then labeled as questions in the comments section. This makes it easy for a creator to quickly identify and answer questions in their videos' comments.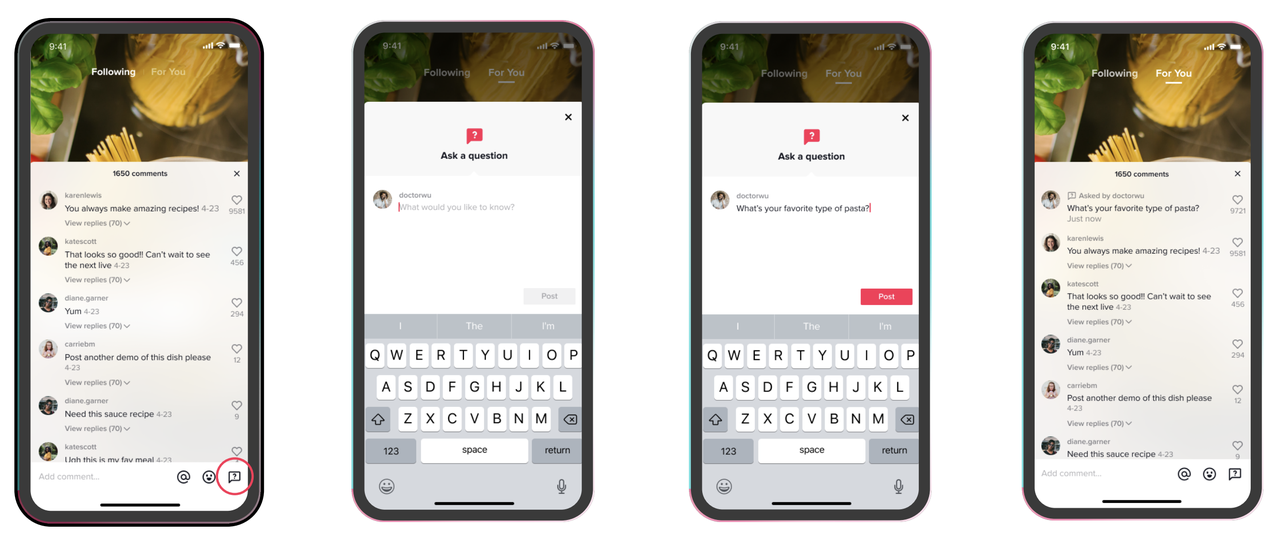 Last summer we launched TikTok's 'reply to comments with video' feature, with the hashtag #replytocomments now on 6.1 billion views. That's a lot of interactions. Questions and answers are a huge part of the TikTok comments experience, so we're taking things a step further with our new Q&A feature.
Creators can then respond to questions with comment responses or video replies, just like they would for other video replies to comments. Creators can then affix the Q&A comment as a sticker in their response video. The new video will link back to the original, where the question was first asked.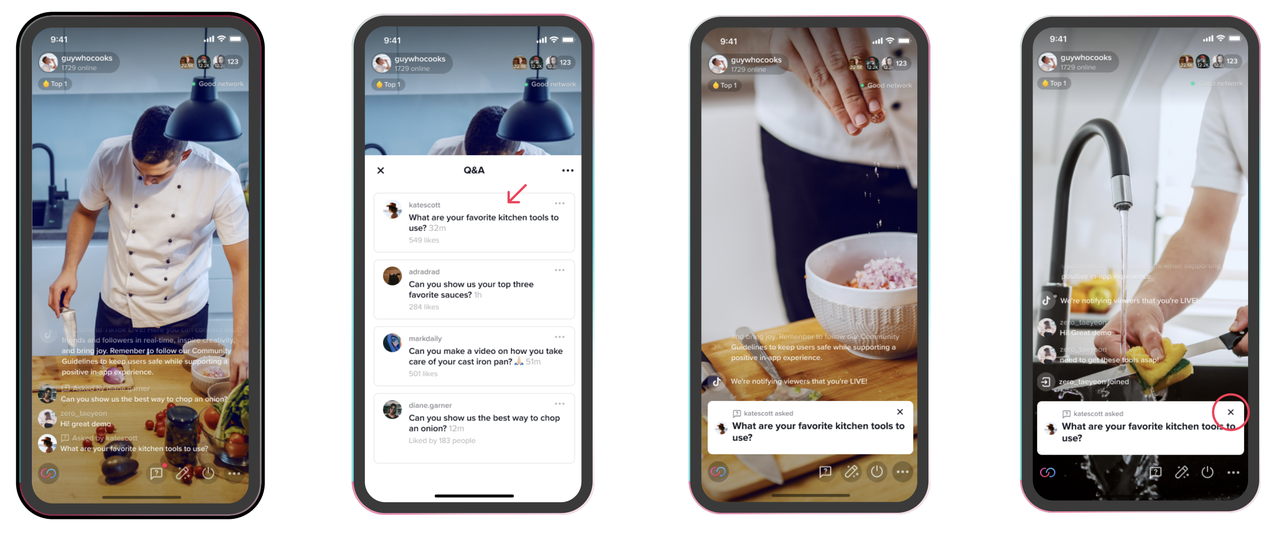 Creators will also be able to add a link in their Profile bios that leads to a separate Q&A page where all questions and answers are aggregated. Users will be able to browse earlier questions and answers and submit new questions directly from the Q&A page.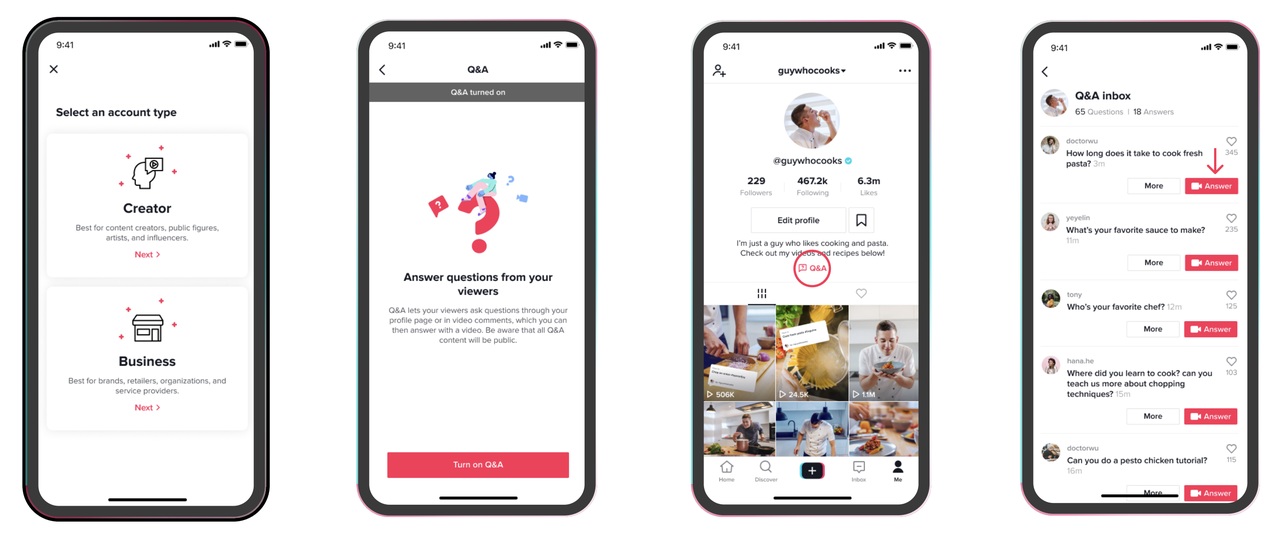 Q&A features will soon roll out to creators on LIVE, giving them the ability to quickly see questions in their chats from a separate Q&A panel.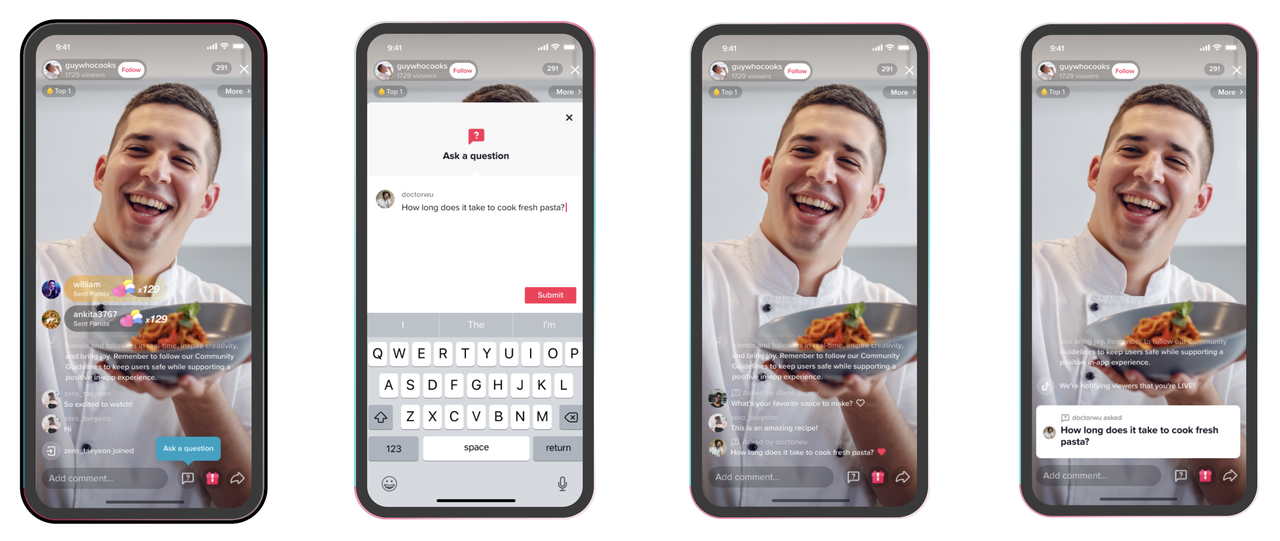 Q&A is available to users with Creator Accounts. To turn on Q&A, go to your Settings and privacy page, select Creator, tap Q&A and hit the "Turn on Q&A" button to activate the feature. To switch to a Creator Account, select "Manage account" in your settings and choose the "Switch to Creator Account" option. Make sure you've updated to the latest version of TikTok to enjoy all that's new with Q&A.
We're excited to see how Q&A empowers conversations and connection on TikTok, bringing our community closer together and inspiring new creativity.
If you've ever wondered how your favourite creators come up with their ideas or want to know more about them as people, what causes do they champion? Or what inspires them or brings them joy to the TikTok community, TikTok's Q&A feature is your chance to ask those questions, or if you're a creator, the time to chat with your community and spill the tea.
From today, with a special event called 'Ask the CEOs', creators from all your favourite corners of TikTok answered your questions. If you missed it don't worry, just follow the hashtag #AskTheCEOs to catch up. Plus, with Q&A here to stay, there'll be plenty of chances to get your Qs in.