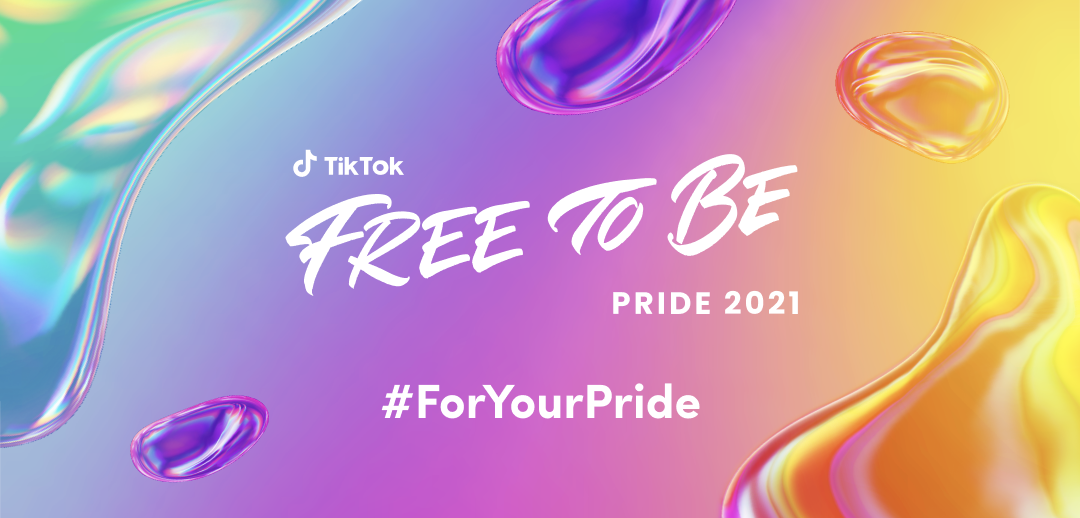 Pride 2020 was history in the making. With a global pandemic set as the backdrop, LGBTQIA+ communities around the world experienced a Pride Month unlike any other in recent memory. Gone were beloved and traditional rainbow-themed events, parades, and parties. However, the inability to celebrate in person provided the community with time to reflect on how far we've come, and how far we still need to go.
This year TikTok is celebrating Pride Month with a unifying, global rallying cry: Free to be. Free to be you in any and all spaces, free to evolve into the person you are supposed to be, free to create content without judgement, free to take the time to understand other people's experiences - free to live authentically you. This Pride Month, we want you to feel empowered and free to be you. This year on TikTok is your year, it's #ForYourPride !
Introducing the next wave of LGBTQIA+ TikTok Trailblazers/Creators
To kick off the celebration, we're proud to debut our second annual LGBTQIA+ TikTok Trailblazers here in the UK. These incredible LGBTQIA+ creators are at the forefront of the next wave of digital entertainment and defining what it means to embrace self-pride and live their lives freely and to the fullest, while making a positive impact on TikTok and in their broader communities.
Throughout the month, get to know these Trailblazers as they share their personal stories on our Creator Spotlight series. We asked each of our incredible Trailblazers what Pride means to them, here's what they had to say...
@Benjy_Lookbook (He/Him)
Benjy uses his platform to connect communities and educate his followers about what life can be like for LGBTQI+ people today. Creating a safe and inclusive space for TikTokkers to ask questions and educate one another about the LGBTQI+ experience, Benjy doesn't shy away from difficult questions but rather uses his signature "straight to camera" move and spoken-word to tackle taboos and bust myths.
"To me, Pride month means freedom - the freedom to live loudly, and proudly. This is when we come together to support everyone's right, to be able to live and thrive as their most authentic self, no matter their gender identity or sexual orientation."
@disabled_eliza (They/Them)
Eliza is a disabled creator who uses their platform to talk about issues facing LGBTQI+ and disabled people in society. They use their sense of humour to tackle societal issues head on, from misgendering to trans rights, as well as discussing what it is like to be a disabled queer person.
"I love Pride because it just shows acceptance and how far we have come. It shows love is winning! Also rainbows!"
@djkrystallake (She/Her)
Krystal takes to TikTok to share her take on life as a gay woman. History fans love her explainer videos that put social history under the microscope, like telling the story of a queer eqyptian King.
"Pride means the celebration of those who paved the way to make the world see that being LGBTQ+ is just as normal as being straight. It is a month that's here to remind us that we are great and have so much to offer in this world. It's our time to continue making positive changes so the next generation can look back and celebrate us."
@beeillustrates (They/Them)
Queer illustrator Bee will take you on their journey as an illutrator, sharing their beautiful artwork and where it takes them! Their vidoes mesmerise with creative and musical transitions, showing the ins and outs of being an artist in Edinburgh.
"Pride month means so many things to me. It is first and foremost a celebration of the LGBTQ+ community, and how wonderful, weird, and unapologetically ourselves we are. Pride serves as a testament to the fact that we can not only survive, but thrive in a society that has for so long tried to prevent us from existing. When celebrating Pride, I encourage myself and others to reflect on the history of the LGBTQ+ community and the people that have gone before us, who have fought for the freedoms we have today. Queer power!"
@belpriestley (She/Her)
Bel will get you with her wit, beauty and charm. Her videos share what life is like as a transgender teen, always with her infectious humour.
"Pride month to me means expressing yourself and being proud of who you - and that goes for everyone and anyone. It's time to show acceptance of each other."
@scarysappho (They/Them)
Onyinye is always sharing their stunning take on life - with stunning make-up and outfits to match. Let them take you on a journey to their very own type of gothic aesthetic.
"Pride means community to me. It means looking within myself and thinking about what I can do to help and uplift those on the fringes of our community. It means looking back and honouring those who made it so I can be where I am today. It means celebrating the present and looking to a brighter future."
@caitlinandleahh (She/Her)
It doesn't get much cuter that Caitlin and Leah, a couple who love to share their love on TikTok. From breaking down gender roles, to talking about life as a gay couple, their videos are always filled with fun and laughter.
"Pride month is so exciting for us!! To us, it means being your true authentic self and it's so lovely to see people from all different walks of life coming together to promote self-affirmation, dignity, and equal rights for us all!"
@jayhawkridge (He/Him)
As an openly HIV positive gay man, Jay tells it like it is and fights stigma on his channel. Sharing the daily barriers he faces, talking about self-acceptance and the ins and outs of having HIV is what his channel is all about.
"Pride Month is the sun shining a little bit brighter, the energy in the air a touch more magical. There's an aura of peace and calm, and acceptance, which fuels introspection and allows people within our community to fully embrace who they are on a new level, which we can carry forwards with us from now, forever."
@dis.__.grace (She/They)
Grace will blow you away with their colourful style and personality. If you didn't have enough rainbows in your life, you do now. Grace will show you how to embrace the pride of the rainbow in everything you do - from breakfast to beautiful hair.
"Pride month to me is a time of both remembrance and celebration. It is important to highlight and uplift the queer trans voices that paved the way for us whist giving ourselves and our chosen family a big old hug."
@vicjamieson (He/They)
Vic takes TikTok along with them sharing their life as a pansexual non-binary musician. They rock their TikTok channel with music, to mental health and makeup, Vic's got it all.
"Pride month to me means paying respect to the origins of our movement! Appreciating how far we've come and owing it to those pioneers, and the rest us, to keep pushing forward to set up a better environment for the future generations."
@maxhovey (He/Him)
Max is on a one-man mission to help you love yourself! The blogger and creator from Kent is busting myths about being Queer today all the while tackling homophobia, racism and promoting body positivity and 'realness' online.
"Pride for me means way more than just a celebration, it's still a protest. We're not just turning up to the parade to celebrate who we are, we're being as loud as we can so that one day we are seen and heard all around the world. When it's illegal to be queer in 71 countries, we're no where near done fighting. Pride helps to give other queer people hope."
Celebrating Pride and connecting communities with a host of new LIVEs
Bringing together music, performance and the best and brightest LGBTQIA+ stars this Pride Month, join us for a special series of LIVEs from musical performances to community-building events on TikTok LIVE
17 June - Tune in to a special Pride concert from @pinknews and @kelsykarter
19 June - Join @abbyroberts and leading creators @nosebleedfitz and @benjikrol for a drag-queen inspired make-up masterclass
21 June - Join musician @Towabird for an exclusive live performance
24 June - Tune in to TikTok's Virtual Pride March! A digital 12-hour TikTok LIVE fundraising event will travel around the globe, dropping in on an LGBTQIA+ trailblazing creator every hour to see how they are celebrating Pride Month 2021
25 June - Experience the fashion of Pride Month 2021 with @pinknews and @sierrakai for an exclusive Pride runway
29 June - @pinknews is joined by @djkrystallake to discuss Pride and things you were never taught
We also have a Sounds Page takeover to celebrate Pride Month, with special curated guest playlists highlighting music by LGBTQIA+ artists who inspired them and influenced their music careers. The playlists have been curated by some of our favourite artists, with this week's playlists by Bimini and Lady Leshurr featuring tracks from the likes of Megan Thee Stallion and YUNGBLUD. Meanwhile, we've already had two incredible playlists from Jazmin Bean and L Devine and there's more to come from different artists each week. You should also check out Queer Sounds, our brand new permanent in-app playlist which showcases a huge spectrum of songs from the LGBTQIA+ community!
New TikTok challenges to challenge us to be our true selves and the best allies we can be
Pride is a moment for us all to pause, reflect and commit to being our truest and most authentic selves, while also making changes to become better and more vocal allies to the LGBTQIA+ community. Join in our celebration this Pride Month and create, express yourselves and show your support for the incredible LGBTQIA+ community using these new Pride 2021 challenges:
#ForYourPride - Pride Month is here, and TikTok is celebrating our amazing LGBTQIA+ community. From trailblazing creators pushing for progress to organisations making a difference, here's to a community where everyone is free to be themselves and create great things.
#GodSaveThisQueen - Style icon and drag sensation Bimini is here to save us all with a Bimini Bon Banger. Not a joke, just a fact. Whether you're he, she or them, fashion is for everyone and we want to see how you express yourself through style and beauty to the sound of Bimini's new track 'God Save This Queen'.
#ComingOut - This Pride month, let's celebrate becoming the person you truly are. Show yourself before and after you fully embraced yourself, and soundtrack your video with a pride anthem that represents you. And remember, wherever you're at in your journey, you're doing amazing 🌈
#QueerSounds - It's Pride month, and TikTok is celebrating our incredible LGBTQIA+ artists and musicians. It's time to share your original music and show the world what you can do.
Launching new in-app creative effects
The TikTok in-house design team was inspired to develop creative effects that looked beyond identity and celebrated the different dimensions of the LGBTQIA+ community. Nine new creative effects will roll out throughout the month to help creators celebrate and share stories of the LGBTQIA+ community, including Rainbow Hair, Rainbow Curtain, Rainbow Trail, Pride Lighting, Pride Time Warp, Pride Rainbow Cheeks, Pride 3D Lashes, Pride Glittery, and Pride Flag Sky AR.
Fostering a welcoming and supportive experience for everyone
At TikTok, we're driven by our passion for creating a safe and supportive space so that everyone in our community feels free to be their most authentic selves.
The LGBTQIA+ community understand in particularly poignant ways how necessary it is to create new ways of seeing and being seen, and we want people to feel safe to express themselves creatively and authentically on TikTok. As we work to foster a welcoming environment, we're committed to removing hateful, anti-LGBTQIA+ content or accounts that attempt to bully or harass people on our platform. And, as hateful behaviors evolve, we'll continue to invest in a range of tools to help people feel empowered over their TikTok experience, including ways to report up to 100 comments at once or block accounts in bulk. We also introduced prompts that ask people to reconsider posting a potentially unkind comment as we actively work to cultivate kindness in our community.
Our goal is for LGBTQIA+ creators to feel empowered to be themselves on and off our platform.
Supporting the LGBTQIA+ community
The community would not be what it is without the tireless work of non-profit organizations committed to advancing LGBTQIA+ causes that support each one of us. That's why we're working with organisations that support the LGBTQIA+ community and inviting our global Pride community to join us in advancing the work of these organisations. Here in the UK we've partnered with Stonewall, Europe's largest LGBTQ+ rights organisation.
Founded in 1989 to fight for equality for LGBTQIA+ people, Stonewall is working in collaboration with TikTok to produce content that will educate and inspire the next generation of advocates and the wider TikTok community. This partnership will see us work together on a programme of activity throughout 2021, tackling topics ranging from inclusive education to sport. As an employer in the UK, we're have also joined their Diversity Champions programme to benefit from their expert counsel and advice to ensure our workplace feels as welcoming and inclusive as possible to our LGBTQ+ colleagues.
The passion and commitment of organisations like Stonewall is a reminder to us all that we are not alone, that we are strong and resilient individuals, and we are even stronger together when standing up for LGBTQIA+ rights.