The TikTok community is a global generation of creatives. Every day, our users share their impressions, experiences, and special moments with each other. We love to see so many people sharing their creativity, inspiring each other, performing together or simply reacting to the engaging content of others.
As part of TikTok's community, you have the opportunity to share the moments that make your day special and memorable. To make sure you have the best TikTok experience possible, we want to give you some recommendations about content choices to ensure your TikTok experience is safe, fun and creatively inspiring for yourself and others.
What to publish
We appreciate you sharing your view on the world and giving people a glimpse into your life via your TikTok content. We do want to make you aware of a couple of recommendations that can enhance your TikTok experience. Everyone should feel safe and welcomed and we encourage you to treat all users with respect. Harassment or cyberbullying, harmful or dangerous content, nudity or sexual activity have absolutely no place on TikTok. Our community guidelines will help you to get a better understanding of our philosophy and give clear guidance about the "don'ts". Please take your time to have a look.
Furthermore, your videos should not include a clear reference to where you live. Make sure that no address, license plate, photo ID or other objects are visible from which viewers can identify your full name, your address or any other personal information. Also, make sure that there are no valuable items visible in the background of your videos. If you have an original Picasso hanging on your living room wall, you probably should not make that information public!
Choose who you share your videos with
Upon registration, your videos are publicly visible, meaning that anyone on TikTok can watch, react to and engage with your content. We are aware that some things you share are only meant for the eyes of special people in your life. This is why you can control the privacy settings not only for your profile itself (private or public) but also for the individual videos you post. If your profile is public, for each video you upload you can opt to make it private or visible only to friends. This way, you can have a public profile while still being able to share special content with select audiences. If you have a private profile on the other hand, you are given the opportunity to share select videos with the global community of creatives on TikTok.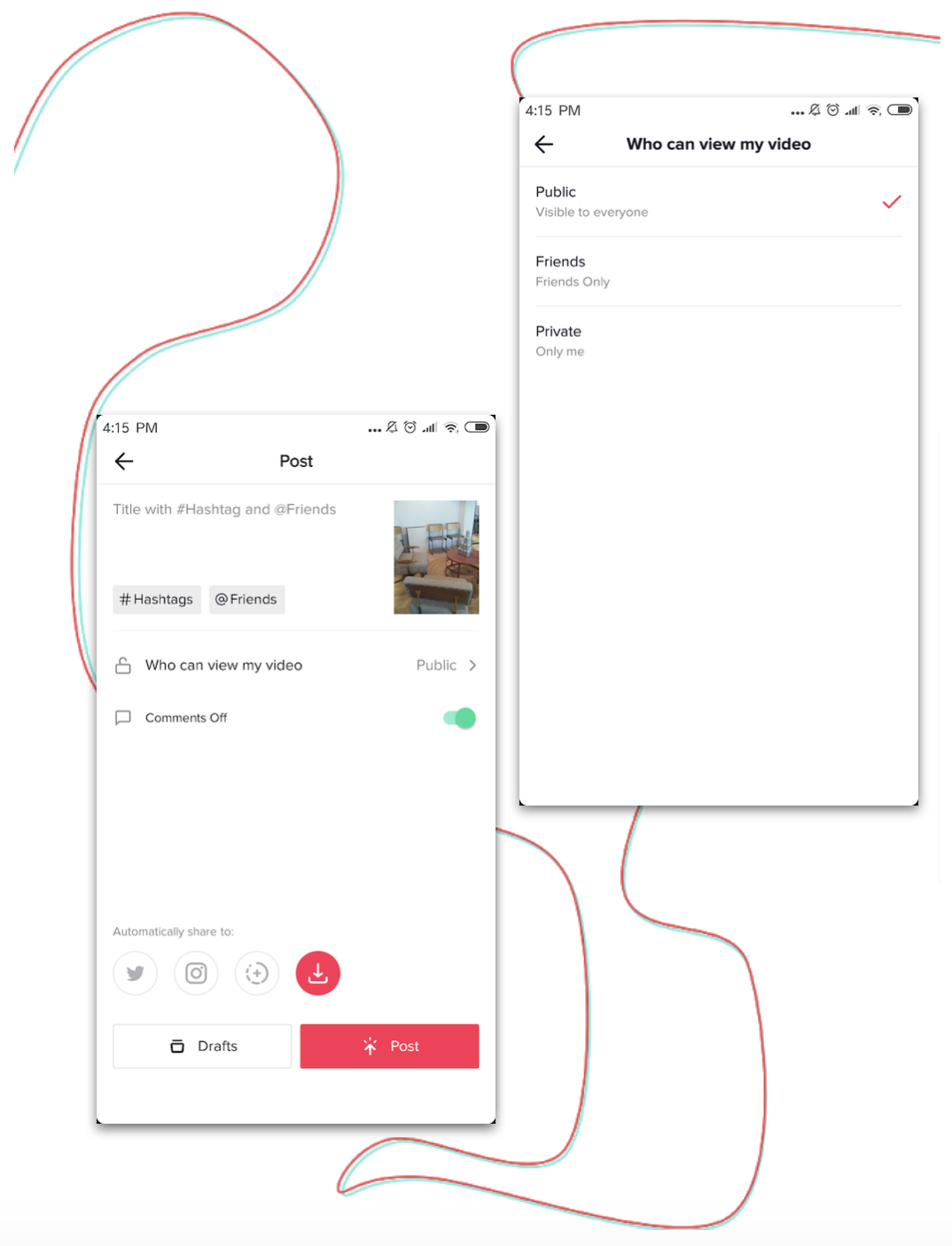 For more information please visit our Safety Center.