‌TikTok ‌‌called ‌for‌ ‌the‌ ‌TikTok‌ ‌community‌ ‌to‌ ‌help‌ ‌crown‌ ‌Lewis‌ ‌Capaldi‌ ‌as‌ ‌the‌ ‌"King‌ ‌of‌ ‌TikTok".‌ ‌Lewis‌ ‌first‌ ‌joined‌ ‌TikTok‌ ‌a‌ ‌couple‌ ‌of‌ ‌months‌ ‌ago‌ ‌and‌ ‌was‌ ‌an‌ ‌immediate‌ ‌triumph‌ ‌among‌ ‌the‌ ‌TikTok‌ ‌community‌ ‌and‌ ‌beyond.‌
‌We pledged to the TikTok community that Capaldi would gain the title of being crowned the King of TikTok if his video received 20 million views — the challenge gained a staggering 30.2 million views when it ended!
"I'm‌ ‌quite‌ ‌new‌ ‌to‌ ‌TikTok‌ ‌but‌ ‌It's‌ ‌one‌ ‌of‌ ‌the‌ ‌best‌ ‌apps‌ ‌I've‌ ‌come‌ ‌across.‌ ‌I‌ ‌find‌ ‌TikTok‌ ‌hilarious‌ ‌and‌ ‌what‌ ‌I‌ ‌love‌ ‌the‌ ‌most‌ ‌is‌ ‌the‌ ‌fact‌ ‌that‌ ‌people‌ ‌don't‌ ‌take‌ ‌themselves‌ ‌seriously,‌ ‌you‌ ‌can‌ ‌be‌ ‌yourself‌ ‌and‌ ‌people‌ ‌will‌ ‌love‌ ‌you‌ ‌for‌ ‌that.‌ ‌I‌ ‌think‌ ‌it's‌ ‌a‌ ‌great‌ ‌platform‌ ‌to‌ ‌connect‌ ‌with‌ ‌others‌ ‌and‌ ‌that‌ ‌is‌ ‌why‌ ‌I've‌ ‌decided‌ ‌to‌ ‌join‌ ‌the‌ ‌fun.‌ ‌I‌ ‌think‌ ‌I‌ ‌have‌ ‌the‌ ‌potential‌ ‌to‌ ‌become‌ ‌the‌ ‌King‌ ‌of‌ ‌TikTok,‌ ‌don't‌ ‌you?",‌ ‌said‌ ‌Lewis‌ ‌Capaldi.‌ ‌
‌This‌ ‌is‌ ‌not‌ ‌Lewis's‌ ‌first‌ ‌collaboration‌ ‌with‌ ‌the platform,‌ ‌he‌ ‌has‌ ‌been‌ ‌working‌ ‌with‌ ‌the‌ ‌content‌ ‌team‌ ‌to‌ ‌create‌ ‌personalised‌ ‌stickers‌ ‌that‌ ‌were‌ ‌used‌ ‌in‌ ‌one‌ ‌of‌ ‌his‌ ‌recent‌ ‌challenges,‌ ‌
#findinglewis,‌ ‌where‌ ‌users‌ ‌were‌ ‌encouraged‌ ‌to‌ ‌create‌ ‌content‌ ‌using‌ ‌Lewis‌ ‌Capaldi‌ 'stickers' ‌ ‌to‌ ‌show‌ ‌him‌ ‌turning‌ ‌up‌ ‌in‌ ‌the‌ ‌most‌ ‌unexpected‌ ‌places..
See Lewis Capaldi's video here!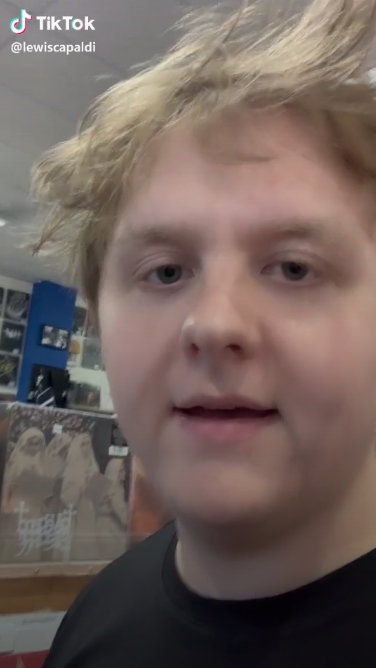 See some of videos as part of the challenge below: