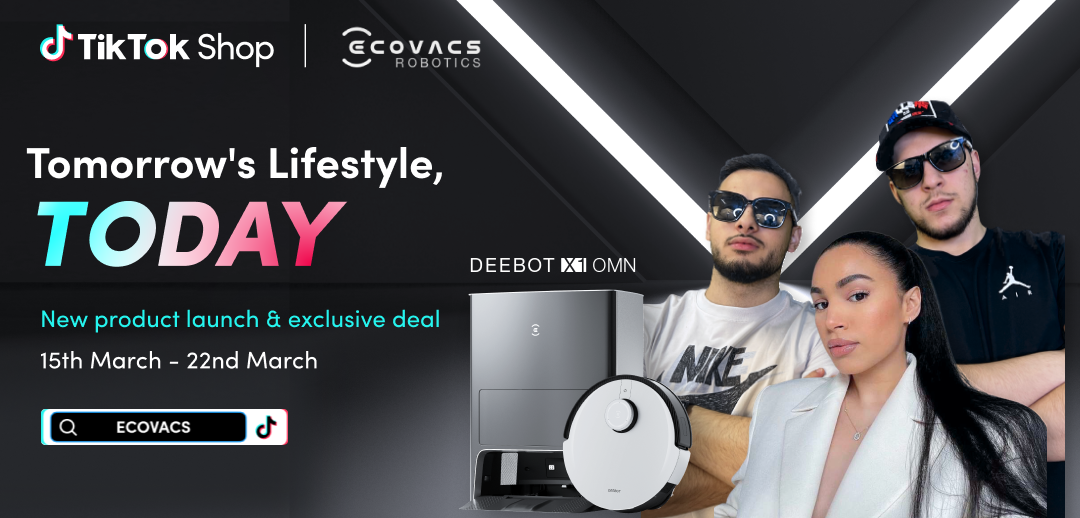 As spring approaches, it is time to get ready for the major cleaning event of the year: Spring Clean!
With over 33 billion views on #cleantok content, TikTok has become the place to find the latest trends and products for everything cleaning-related. With that in mind, a very exciting campaign will be taking place on TikTok Shop UK to celebrate the launch of the ultimate robot vacuum – the Deebot X1 OMNI by Ecovacs.
From 15th March to 22nd March, the TikTok community will be invited to discover the X1 OMNI, one of the most advanced robot vacuum cleaners in the UK, that the #cleantok community will likely go crazy about - and rightly so! Hear this: self emptying, self cleaning and drying functionality, AI-driven navigation, voice control and onboard cameras that can be used remotely!
There will be more than 20 shoppable LIVEs and a multitude of shoppable videos throughout the week, offering incredible deals and discounts for our TikTok community to discover and shop the cleaning robot.
Tune in to discover top TikTok unboxer, Ecovacs campaign ambassador Luke (@lopwert), tech creator heytechman (@heytechman) and Turkish tam (@turkish_tam), lifestyle creator mycozyhomeinuk (@mycozyhomeinuk), rising star creator Dave Anica (@dave.anica), and Richard Sales (@richardsalesofficial). Meanwhile, the brand is also starting a #handsfree challenge on TikTok: creators and the TikTok community are encouraged to post short videos of themselves performing a daily cleaning task, hands-free! Ecovacs will provide customers with the chance to win incentives including cash and extra video exposure.
Exclusive Deals and Offers:
During the week, our community will get access to exclusive discounts and offers from Ecovacs, including promotional prices lower than the prices offered on TikTok Shop for Black Friday for the brand's top sellers and an exclusive offer of £200 off on its new product: X1 OMNI with a retail price of £1,499. The first 30 buyers to purchase Ecovacs' new product on TikTok Shop who also follow @ecovacsuk on TikTok will receive a £50 gift card from the brand, plus additional free accessories, including replacement mop heads for the dual spinning mops and a box of Ecovacs' branded goodie bags.
Search keywords Ecovacs or X1OMNI on TikTok to learn more!
New to TikTok and want to get ready for the shoppable LIVEs? Simply download the app for free via the Apple App Store, Google Play or Amazon.