Spring is in full swing! The days are lighter, the sun is shining more often and blossoms are billowing from the trees 🌿
But as we know, things aren't quite 'normal' at the moment. Under the current social distancing rules, a lot of us are feeling short-changed on quality time that we would usually be spending in the great outdoors around this time of year.
So we've decided to bring the nature to YOU with #NatureAtHome 🌳🌱
What is #NatureAtHome?
Using TikTok LIVEs, amazing animal-themed TikTok filters, effects and hashtags, #NatureAtHome is a celebration of the natural world that will reconnect TikTokkers with its wonders from the safety of their homes. Whether you're confined to your bedroom or your garden, there's something that's bound to brighten everyone's day ☀️
Explore.org, the world's most prominent live nature network brings you TikTok LIVEs of some of the most interesting species from all around the globe. These streams are running constantly throughout the week, meaning you can tune in at any time you like!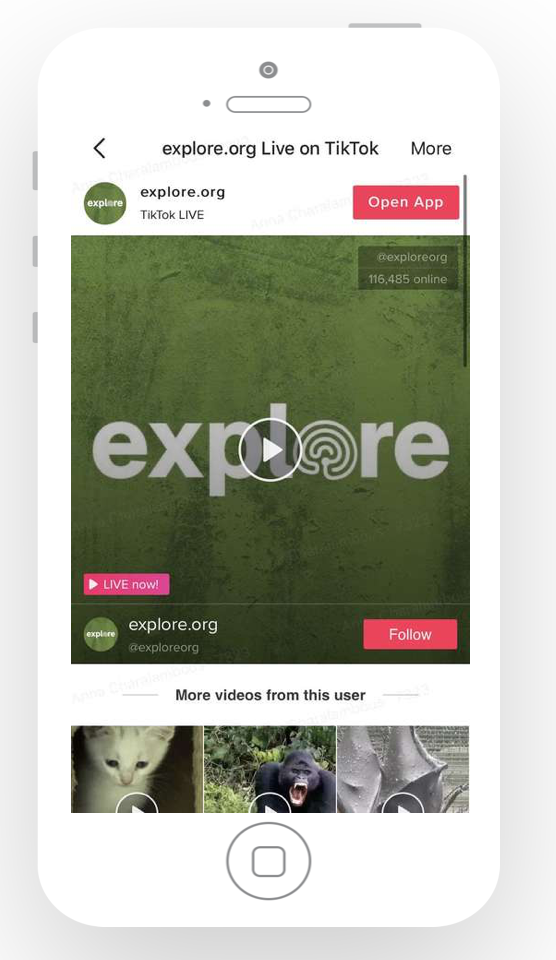 All you need to do is visit our Discover tab or explore.org's TikTok profile. Some of the animals you can expect to see up close and personal are:
🐼 Happiness Village Pandas
🦍 Grace Gorillas
💦 Homosassa Manatees Underwater
🦅 Decorah Eagles
🐘 Tembe Elephant Park
🌌 Northern Lights in the evening if visible
Get Wild!
While you can enjoy watching all these amazing creatures up close, you can also go a step further with our augmented reality (AR) animal filters!
With TikTok's AR technology, you can add a TikTok filter that welcomes extinct or endangered animals like dinosaurs and sea turtles into your very own videos. Here, you can still connect with nature while being tucked away safe at home - a win win!
Looking to get back to nature? If you haven't already signed up, then joining TikTok is incredibly easy to do - simply download the app for free via Google Play, Apple Store or Amazon and set up your account!