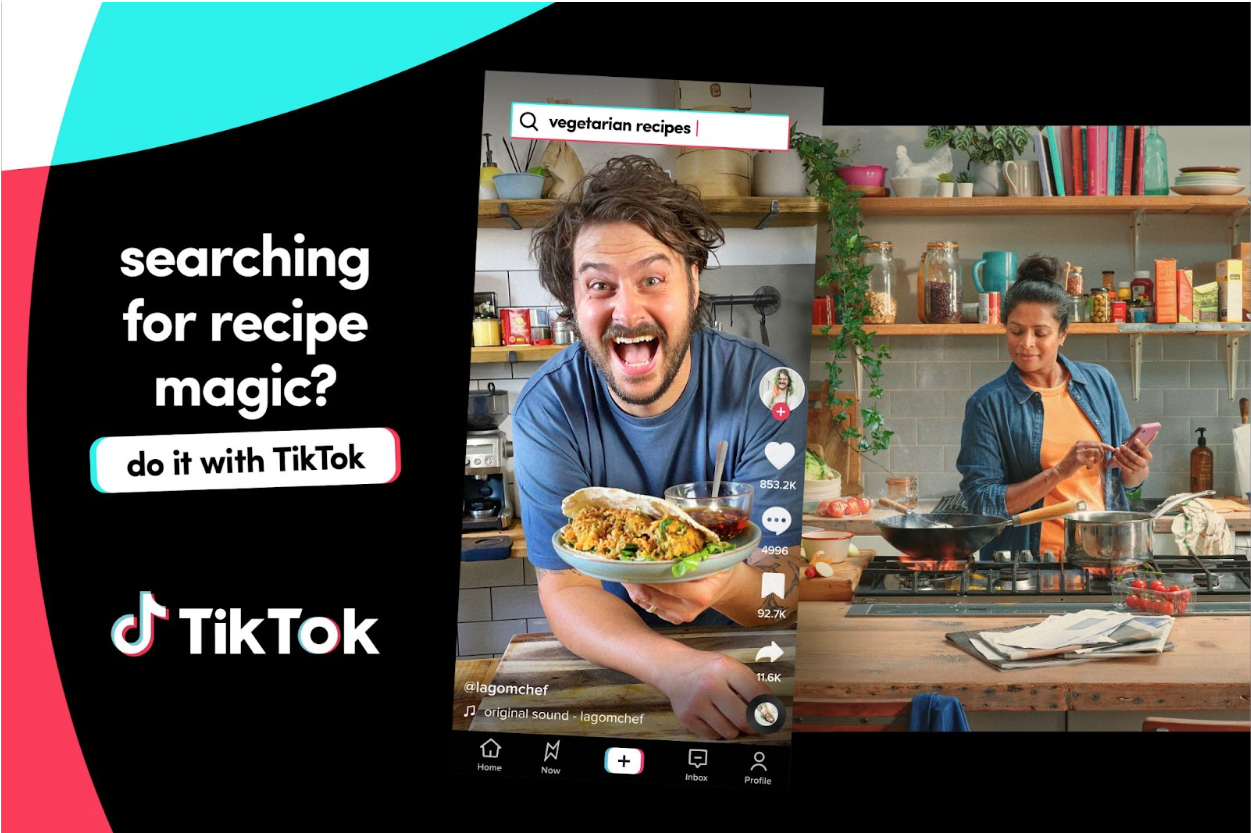 TikTok has become the go-to place for everyday tips and tricks. Whether you're after #diyonabudget tips for a new home, #BookTok inspo for an uplifting read, or just #budgetmeals inspo for a dinner that's affordable without compromising on taste, our community has the answer. So you never have to struggle and do it alone.
To spotlight some of the most useful content on our platform, this week we're launching Do It With TikTok. Now appearing on billboards and TVs around the UK, our new campaign brings to life how a simple TikTok search can come to the rescue in so many different situations.
Featuring #BookTok, #diy, #cleantok, #recipes and more - there really is something everyone will find useful on TikTok! So, next time you're caught in a rut and need a hack, recco, inspo or answer on how to fix something, head to TikTok and search away.
And if you think you've found a hack worth knowing about, don't keep it to yourself! Share it with our community via #DoItWithTikTok.
Speaking about the campaign, James Stafford, General Manager TikTok UK, said
"The TikTok community has always supported each other in creative, helpful ways, and Do It With TikTok celebrates exactly that. Whatever task you're undertaking, there's no need to do it alone when you can do it with TikTok. "We're proud to be a platform where anyone can easily search and find the content that is most relevant to their lives. Whether you are looking to be creative at Christmas, trying to find a simple recipe on a budget or even a new book recommendation; the diverse TikTok community serves endless useful and entertaining ideas, which we are proud to celebrate in this campaign."
Meet the stars of our campaign...
🔧 @bricks.and.disorder aka Olamide and Cullen
Our community has been loving watching the duo as they take on the massive project of renovating their home. They've taught us how to transform a loft into a movie theatre, how to fix a garden and, importantly, how to have a laugh while figuring out building skills.
So whether you are looking to learn how to make shelves, find out all about the mistakes you shouldn't make with your own renovation, or how to insulate your roof this winter, @bricks.and.disorder are the guides for you!
🥗 @lagomchef aka Martyn Odell
Chef Martyn has been inspiring our #cooking community to try their hand in the kitchen with his entertaining passion for food and commitment to fighting food waste.
His tips and tricks include how tos for basic dishes, ideas to elevate the humble potato, and new recipes we all should be trying. All of this while keeping a focus on reducing or eliminating food waste, for example sharing ways to use cheese that's going out of date .
Check out his videos, and you may find inspiration for cutting waste in places you weren't expecting... like pickling veg instead of letting it go off!
🍝 @Chef_Tristan_Welch aka Tristan Welch
A Michelin star chef who's taken to TikTok to share zero waste budget recipes, Tristan's love food, hate waste bio says it all!
Tristan's content encourages people to be #foodwastewarriors - has our community making the most of every last crumb of food. Turning stale bread into a delicious panzanella, making your leftover takeaway go further, creating crackers out of sourdough discards and so much more!
And his #rubbishcooksathome movement has even evolved into a monthly Rubbish Cooks supper club that highlights that reducing food waste can produce delicious meals!
📚 @zai_rambles aka Zai Sylla
Zai is a #BookTok legend, who helps her community appreciate the importance Black representation by spotlighting Black literature and movies. Her recommendations offer easy ways to diversify what you read and watch, and she gives gentle prompts to pick Black-created pieces to help everyone ally the Black community.
Beyond her focus on representation, our community loves hearing her recommendations of what to watch and read - and she even reveals things you may have missed in the hottest new relases, like Black Panther Wakanda Forever!
🧰 @DIYwithemma aka Emma Downer
Emma uses her TikTok to share #diyhacks, tips, Q&As and how tos, to make your work easier - whatever the DIY task at hand! Our community laps up Emma's advice - and she was crowned one of the most popular creators on #tiktoktaughtme in the 2022 Year on TikTok list.
So, if you need to know how to properly use tools like sandpaper or how to paint new plaster, Emma is the person for you! Or, if you want to just watch, not do, you can follow along with her step-by-step coverage of her own garden renovation.
🥐@ThisIsIona aka Iona
Iona has been taking her community on the journey with her, on her personal mission to recontextualise food, helping show what healing your relationship with food one day at a time can look like. She dispels damaging myths, like those around 'bad foods', and shares raises awareness of eating disorders, calling for support and prevention. She also shows how joyful food freedom can be, with delicious recipes ranging potato gnocchi to cheesecake and much more!
💸 @Lara.joanna.jarvis aka Lara Jarvis
Lara is the Queen of money saving tips, helping her community live their best life on a budget. As a Mum herself, she shares advice on how to save money this Christmas without sacrificing on festivities, and how to spread the cost out over time. She also helps us understand the ever-changing politics around money, breaking down news stories from tax changes to energy bills to help us stay informed.
Check out the other accounts taking part too...
The UK's number one bookseller Waterstones is proving it's equally strong in its #BookTok content, which has been going from strength to strength.
They offer amazing book recommendations based on your favourite song from Taylor Swift's Midnights album, and books to read if you loved Fleabag. They even launched launched their own bookshelf challenge filter, which has been taken up by so many of our community.
The iconic magazine Good Housekeeping is bringing its #cleaninghacks to the TikTok community - and we are very grateful!
Ever needed to know the secret to cleaning a burnt pot? Look no further! How about getting oil and grease stains out of clothes? They've got you sorted! And with Christmas around the corner, they're helping us save money while still getting in the festive mood.
Watch the ad...
You can find billboards featuring our campaign and these amazing creators up and down the country. Watch the ad in full here . . .
New to TikTok and want to explore #BookTok or #DIYHacks? Getting involved couldn't be easier, simply download the app for free via the Apple App Store, Google Play or Amazon.