Kevin Morgan, Head of Trust and Safety, EMEA
At TikTok, we take the responsibility of keeping our community safe incredibly seriously. Key to keeping TikTok a safe and welcoming space for everyone is our commitment to updating our approach to evolving behaviours and risks we see on our platform, and putting in place proactive measures to tackle them.
One such area is the issue of human exploitation. We're aware that criminal networks have sought to misuse online platforms to promote human smuggling or trafficking, and to take advantage of vulnerable people trying to escape conflict and poverty. We're committed to tackling this issue and are announcing new proactive steps to keep our community safe.
Our approach to tackling human exploitation
We have a zero tolerance approach to human smuggling and trafficking. We have dedicated significant investment and resources specifically aimed at fighting this kind of content. We remove any content found to violate our Community Guidelines on human exploitation and will permanently ban offending accounts.
At the same time, we know that this challenge is one that extends far beyond our platform. That's why we work closely with UK law enforcement and industry partners to find and remove content of this nature. We also participate in the joint action plan with the National Crime Agency, which facilitates greater collaboration and knowledge sharing between the NCA and online platforms to combat organised immigration crime.
Warning our community of the risks of human smuggling and trafficking
We want to empower people to understand the risks of human smuggling and trafficking, to help them make informed choices. To alert our community to these risks, we are launching a new search intervention on our platform for people that search for terms associated with human smuggling or trafficking.
When someone searches for certain words or phrases, they will now be directed to expert resources from the STOP THE TRAFFIK Group, with information about the dangers of human smuggling and trafficking. These resources will give our community the option to make a report, find safety tips, and provide details of organisations that can help vulnerable people.
The aim of these interventions is to dispel the false promises of these criminals, reminding people that these networks will look to make money from the situation of people escaping conflict, repression and poverty, or seek to put them into future danger. The search interventions have already begun rolling out in countries across Europe, including the UK, France and Albania. While this is the latest step to tackle this issue, we'll continue to update and improve these interventions over the coming months.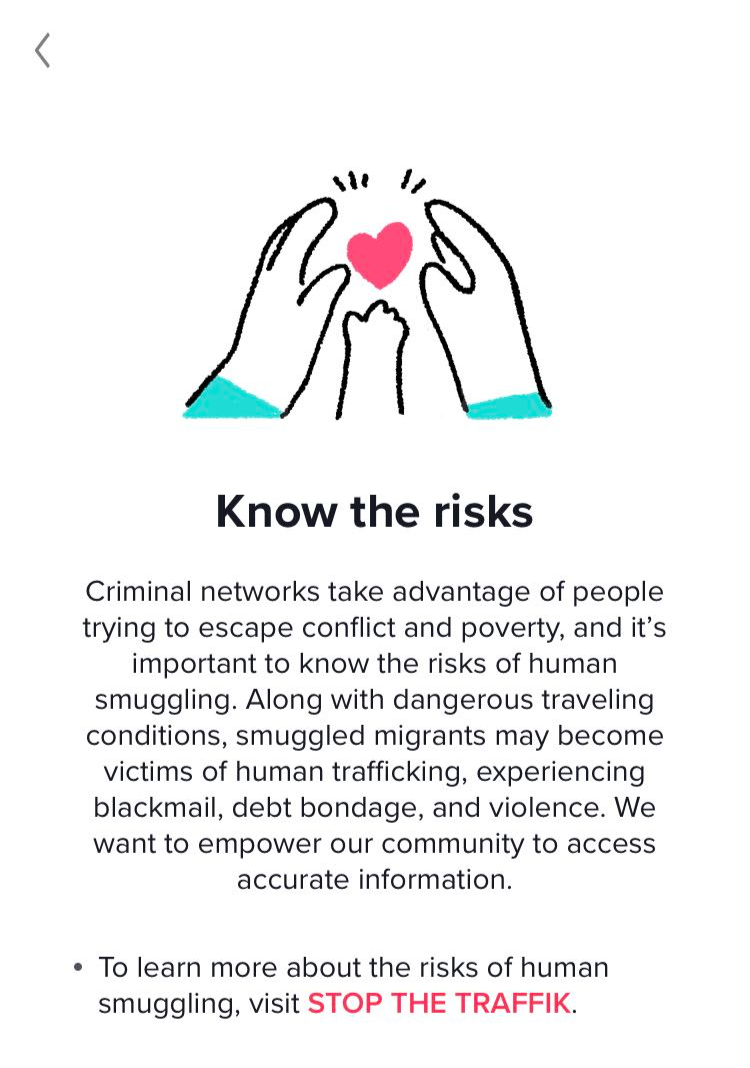 Continuing to tackle this issue with expert partner There's no finish line when it comes to keeping our community safe. On top of our ongoing work with the National Crime Agency, we are also partnering with STOP THE TRAFFIK to support our ongoing efforts to addressing this challenge.
STOP THE TRAFFIK aims to tackle modern slavery, trafficking and exploitation worldwide. It will play an important role as we continue to develop our approach to tackling human exploitation, by providing regular human rights intelligence as new trends emerge and as we continue fighting this kind of content on TikTok.
Rebekah Lisgarten, Director of Operations, STOP THE TRAFFIK Group: "At STOP THE TRAFFIK, we believe in stopping modern slavery, trafficking and exploitation before it happens. A key element of our strategy involves utilising the power of social media to reach vulnerable communities, equipping people with the knowledge they need to avoid potentially exploitative situations and adopt preventative behaviour.
"That is why we have partnered with TikTok to develop bespoke safety information for young adults who could be moving between countries and may be targeted by traffickers and exploiters."