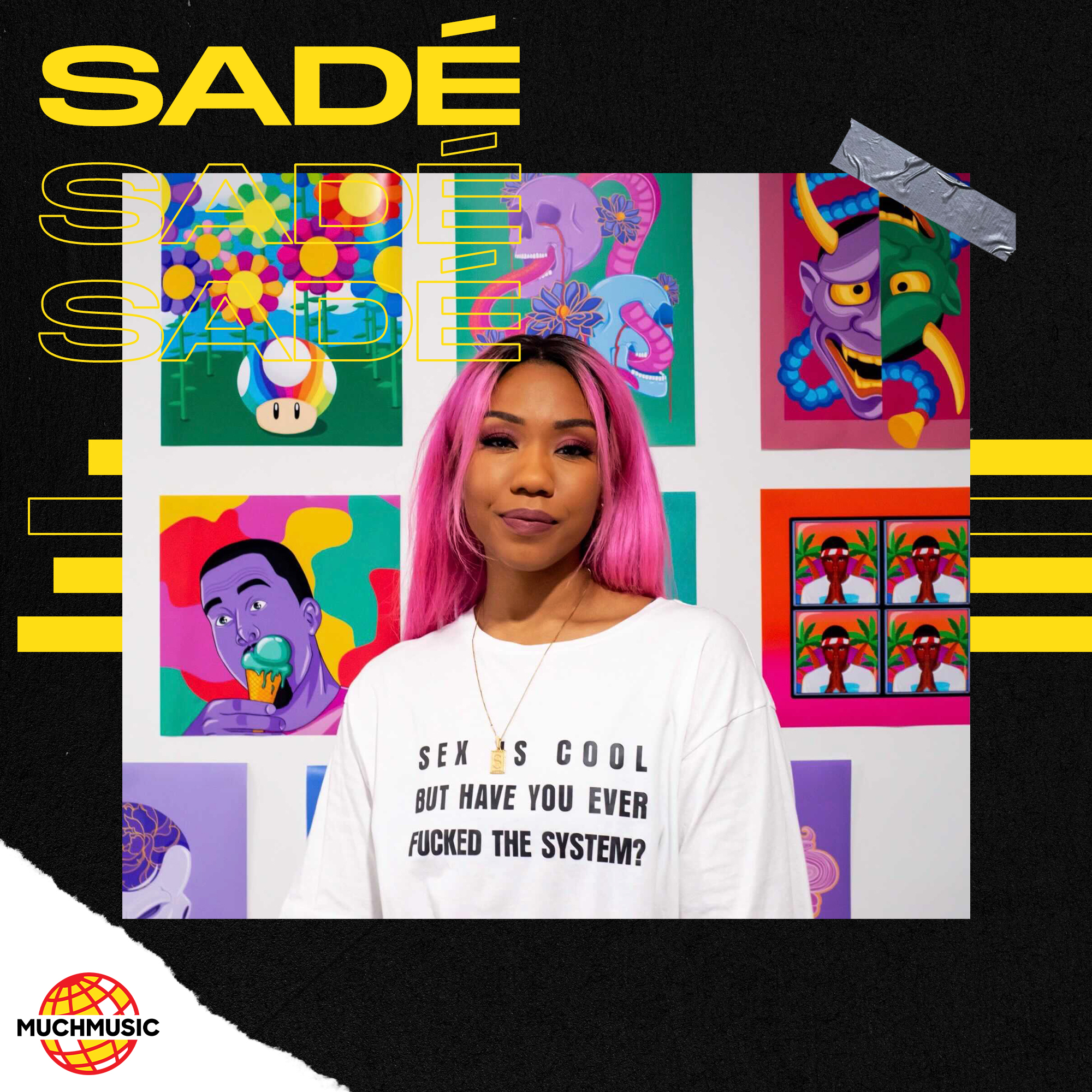 As part of our ongoing partnership with @much, we've been profiling the amazing VJs who also double as stellar TikTok creators. This week we talked to @supersaiyansade - a self-taught digital artist, whose works are inspired by her love of music, hip-hop and pop culture, Japanese anime, tattoo art, and mythology. Sadé is always open to new adventures - whether it's running a marathon or jumping out of a plane, she is the one to call. "MuchMusic has always been the go-to platform for audiences to feel connected to the music that they love and to discover new artists they may never have heard of otherwise" she said. Learn more about Sadé below, and give her a follow at @supersaiyansade. And ICYMI, check out the first two instalments of this series with VJs @tedddles and @yomrants.
How did you get started creating on TikTok, and what was the first TikTok video you shared/published?
I started TikTok during the first lockdown sometime in May. At the time it was a fun excuse to dress up a little and put on makeup after hanging out in house clothes for almost two months straight. My first TikTok was pretty simple. I used a sound that incorporated different ways to express the japanese word 'dame', which means 'no good' or 'not possible'. It had 'normal', 'sexy', 'robot', 'cute', 'angry', 'slow' and 'shy'. It was a cute and easy video for my initiation into the realm of TikTok.

What do you love most about TikTok?
I love the TikTok community! My algorithm is pretty on the ball with what I'm interested in so on the daily I'm introduced to people who have similar humour and taste. I'm an illustrator so I love seeing other artists share their stories and be super creative with how they share their work through the app. From painters posting a time lapse or digital artists providing tips on using certain drawing apps, they all inspire me and make me want to share my unique process as well. Some days I find myself simply scrolling through comments and laughing my a** off at people interacting with a particular video topic or one another. People are just able to be so open and connected on TikTok in a way that's unmatched by many other apps.
What's on your For You feed?
Oh boy, all the things. My most popular themes are anime, almost anything by Black creators or that relates to Black/Queer identity, topics on spirituality, art or learning about human behaviour. And of course MUSIC!
How has the TikTok community inspired you?
It inspires me because it makes me feel connected to people both miles away and in my very own city, educates me on subjects close to my heart and issues I never would have imagined others were experiencing. I think a common theme that comes through in every TikTok is 'just do it'; post that hobby you think only you'd be interested in, tell the world how you're feeling that day, try that new outfit, put together a concept you think is too 'out there'. Do whatever you want, someone somewhere will relate to it.
What is MuchMusic to you, and what does being a MuchMusic VJ mean to you?
MuchMusic to me is such an iconic platform that for years has made it possible for Canadians to feel connected to our favourite artists and discover music from musicians in our own backyard. To be a MuchMusic VJ for the new gen is truly such an honour and having worked in music journalism for years prior it feels super aligned with everything I'm most passionate about.

What kind of music do you like? Has TikTok introduced you to any new artists?
I'd like to say I'm a well-rounded music lover. My playlists can go anywhere from 90s hip-hop tracks by Souls of Mischief or Nas to Kpop hits by acts like Mamamoo and Taemin.I discovered a lot of music through catchy TikTok trends or songs used to set the tone of a video. Just recently I started listening to Russian glitch pop music by 'Never Get Used To People'. There's very little info about them online so I'm not even sure if it's a group or one person, but I likely would have never come across their music if not for TikTok.
What's the best concert/live performance you've been to?
One of the best live performances I've ever seen was Travis Scott at the Opera House in Toronto. I had no idea who he was at the time, but homeboy climbed every balcony in the arena and had energy like I'd never seen before. I was an instant fan.

If there is one thing you hope to accomplish as a MuchMusic VJ, what is it?
I hope to give our audience those kind of 'instant fan' moments too. Like 'wow I've never heard of this person or listened to this genre, but I dig it'. Or being able to share conversations and moments from artists they already mess with and have them fall even more in love with their character/music. Also, I hope our audience can vibe with us too and we can just bond over dope stuff.