Celebrating our Australian community who entertained and sparked joy with their creativity this year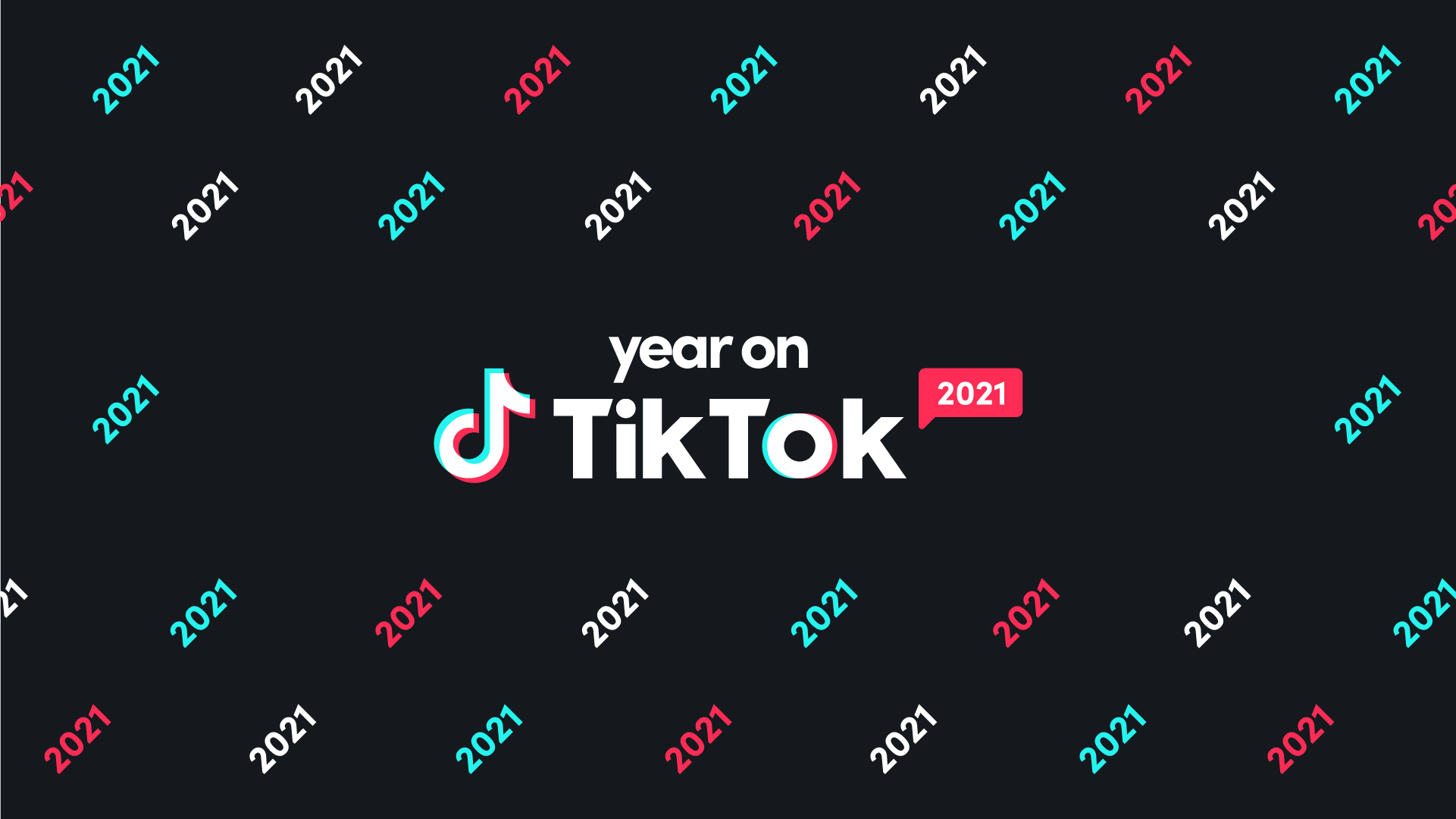 TikTok is a unique place where culture starts and where creativity knows no bounds - where anyone can discover, create, and share content they love. In 2021, over 1 billion people turned to TikTok to be entertained, find and share their joy with others, and learn new things.
This year, our community discovered new ways to express creativity, championed teams and the causes we care about and found new favourites - from recipes to new music trends and genres. Across the country, Australians from all walks of life continued to entertain, educate and inspire each other, spreading joy and celebrating our unique sense of humour. And the world lapped it up, with more Aussies than ever making it big on TikTok, sharing our laughs, our culture and our talents, with people from all over the globe.
"There's something really special about TikTok's diverse global community that people just can't find anywhere else. For us, 2021 was a year for connection and we've seen people on TikTok laughing together, entertaining us, starting cultural phenomenons, and teaching us new things. It's been incredible to see the depths of entertainment and creativity from this community, and we're delighted to celebrate all the ways we've come together this year on TikTok," said Vanessa Pappas, Chief Operating Officer, TikTok.
"The past year has been an incredible one for the Australian TikTok community. It's been amazing to see people come together to support each other, spread joy, share their talents and passions, and most of all, celebrate our Australian-ness in all its forms. As a nation, we express our culture in a really unique way - we're fun, cheeky and willing to take the mickey out of ourselves. And the rest of the world is fascinated by our creativity and sense of humour. This year, it's been great to see Aussie culture, and talent, exported to the rest of the world through TikTok" said Lee Hunter, General Manager, TikTok Australia and New Zealand.
Today, join us as we celebrate all the trends, moments, and movements that made 2021 a year on TikTok that was one-of-a-kind

TikTok videos transcend cultures and borders to reach For You feeds everywhere. 2021 saw For You feeds filled with trending content across beloved categories including comedy, food and drink, and family videos. Australia's 2021 For You Faves reflected our unique sense of humour - cheeky, self-deprecating and just a pinch of silly. Australia's Funniest Home videos - eat your heart out! Check out the videos that make up some of this year's memorable moments.
Australia: The Aussie TikTok videos that went big in 2021
@winniethecattledog - The cutest, clumsiest canine ever.
@brittanyskyeshackleton - What's that on your nose?
@not_erica instructions - For keeping your console spick and span!
@benjycartwright - Got our just desserts with this one!
@chantyb97 - Just a parrot who's been a real pal to us all.
Around the World
@totouchanemu - Dancing with a drone made us stay for this one.
@nathanevanss - There once was a man... The Sea Shanty heard around the world.
@youneszarou - A tasty take on photography.
@cunhalucass - A casual trip to the aquarium.
@a.z.yx - BRB, changing my PFP.

Whether TikTok videos make you smile or laugh in unexpected ways, one thing's for sure: our community sparks joy. This year, animals, sports, and entertainment culture are some of the popular content categories that delighted our global community. Here in Australia, we loved our animal videos too, with smiling seals and humans acting like cats topping our list. If it was warm and fuzzy, we loved it in 2021. Take in the good vibes from the videos that brought us so much joy this year.
Australia: Australian TikTok videos that brought the world joy in 2021
@markifrah - Got the seal of approval from us.
@angeatwell - A brother meeting his baby sister for the first time (wholesome to the max!).
@martyandmichael - Showed us their purrfect impersonations.
@randyfeltface - Only on TikTok will you find a puppet feeding a giraffe carrots.
@cardqueenkatie - A roo that liked his zzz's.
Around the World
@k_passionate - Wonder what a sea otter and you smiling sounds like? Watch this.
@jongraz - Was it a bones or no bones day? Only a pug can tell.
@edsheeran - Rehearse for the EUROs or make a TikTok?
@randyfeltface - Only on TikTok will you find a puppet feeding a giraffe carrots.
@noorstars - Visiting a family with too many house rules.

From homemade beats to classics making a comeback, the songs on your For You feed made you hit repeat. In 2021, trending songs on TikTok came from established, emerging, and breakthrough artists, spanning a range of genres as diverse as our community itself. Be it pop, hip-hop and rap, or electronic and dance, music starts on TikTok. This year, two Australian artists cracked the global top five most popular songs on TikTok in 2021 - local success story, Masked Wolf (@maskedwolfmusic) whose song 'Astronaut In The Ocean' has soundtracked 17 million TikTok videos, and Sydney-born superstar The Kid LAROI, whose single with Justin Bieber, 'STAY', has been used in nearly 9 million videos. Here are a few of our community's favourite songs this year.
Australia: The top local tracks that Australians loved on TikTok this year
"Astronaut in the Ocean" - Masked Wolf, @zaraliang.
"STAY" - The Kid LAROI & Justin Bieber, @luckythirteenz.
"Paparazzi" - Kim Dracula, @kimdrac .
"SEND IT" - Hooligan Hefs, @rohanbrown06.
"Fly Away" - Tones and I, @pollyannask8.
Around the World:
"Astronaut in the Ocean" - Masked Wolf, @jayprehistoricpets.
"Beggin'" - Måneskin, @therealmaneskin.
"Adderall (Corvette Corvette)" - Popp Hunna, @justmaiko.
"SugarCrash!" - ElyOtto, @zuro_xuro.
"STAY" - The Kid LAROI & Justin Bieber, @luckythirteenz.

As the beating heart of TikTok, creators make our community what it is today. We're humbled and excited to see so many creators entertain and connect with communities as well as launch careers on and off the platform. Technology, education and fashion communities saw the most creators breaking new ground this year. Here in Australia, the breakthrough stars of 2021 reflected the diversity of interests of our community, from sports, to science to music. Here are the TikTok creators, celebrities, and public figures who broke out and hit new heights this year.
Australia: The breakout Aussies on TikTok in 2021
@oneminmicro - An Australian-based content creator team producing products, art and content through microscopes.
@rhyleep95 - The 'Cursed Cosplay' TikToker.
@samfrickerr - Our very own Olympic diver, Sam Fricker, took the world by storm.
@lukefalzon - Bear Grylls ain't got nothing on this guy.
@ulaulaula - Sydney-based singer Ūla blew our minds with her bedroom covers and busking ballads.
Around the World

Creativity has no limits on TikTok, and our community continues to discover and create new ways to share entertaining content with the world, with Movie Filter, Green Screen, and Color Customiser among this year's popular creative effects. In Australia, our community loved using products and effects that helped them make videos with a uniquely Aussie flavour. Cultural touchstones like Cathy Freeman's iconic 2000 Olympic games running suit were immortalised by @FairyBreadBoy, and @HarveyPetito used Duet to share the most Aussie thing ever... seagulls fighting over a hot chip. Here are the TikTok trends made possible by our tools, effects and your creativity in 2021.
Australia: The TikTok products, filters and effects Australians were obsessed with in 2021
Sydney Sprinter - @FairyBreadBoy.
Peach PRC - @PeachPRC.
Mullet - @cowg0rrl .
Aussie Tucker - @JakeBFisher.
Duet - @HarveyPetito.
Around the World
Inverted Filter - @livbedumb.
Versailles Run - @hilaryhyra.
Retro - Vintage DV - @alexmapeli.
Duet - @andrewlarranaga.
Buffering - @robothighway.

This year, TikTok continued to be a safe space for creators and our community to come together, lift each other up, and support the causes they care about. Our community supported causes they cared most about throughout the year, including LGBTQ+ advocacy, mental health, cultural diversity and sustainability. Find out more about the impactful creators, celebrities, and public figures who continue to fight for positive change.
Australia: The Australian changemakers making an impact
@lawrencebing - our TikTok Mardi Gras Parade float star continues to campaign for trans rights at every chance he can, making the world a better place for everyone in Australia, especially kids being bullied at school.
@zulfiyeah - an Oromo and Turkish rollerblader who is shaking up the world of modest fashion.
@drkarl - Dr. Karl, the OG scientist, continues to amaze us with his energetic and educational content about the world around us.
@lottiedalziel - a former journalist fighting for a more sustainable future, one TikTok video at a time.
@astrokirsten - advocating for women in STEM, while teaching us about the universe. Is there anything @astrokirsten can't do?
Around the World

Foodies around the world continued to find a home on TikTok this year. Here in Australia, homemade sausage rolls, devon 'snack packs' and NRL Grand Final-themed lamingtons whet our appetites, proving just how creative our community is when it comes to food. From the world's favourte at-home feta pasta to supersized kebabs and salmon rice, along with a few pantry decluttering tips, check out all the recipes and food hacks TikTok got the world craving for this year.
Australia: The Australian foodies who got the world drooling
@kookingwithakoori - An Australian delicacy: Introducing the devon snack pack.
@chefsanddogs - A gourmet bowl fit for a (puppy) prince. Pawsome!
@tigga_mac - NRL Grand Final lamingtons? Why not!
@stickyaustralia - This is one mean, green, jolly lolly machine.
@morganhipworth - Store bought sausage rolls are dead. Long live the homemade sausage roll.
Around the World
Feta Pasta by @d_shaba .
Ratatoutille by @samseats.
Fried Cheese by @rafael.nistor.
Egg Mastery by @omuraisupuro.
Supersized cheeseburger by @cznburak.

In 2021, we saw a resurgence of trends being both discovered and rediscovered by our diverse community. Globally, our community shared favourite pastimes and first-time reactions to trends related to entertainment, beauty and care, and games. In Australia, we loved throwbacks to school days, making fun of our primary school teachers, retro electronics and coming of age moments. Let's look back on the trends that made us reminisce and revel in nostalgia.
Australia: The #nostalgiatok videos that had Australians reminiscing in 2021
@alinora_ - Olivia Rodrigo's Driver's License, but make it Aussie.
@samanthaandrews - pay your respects to the Nokia flip phone.
@weinerfinger - taking us all the way back to our Year 6 excursion to Canberra.
@milligram96 - reminding us of the importance of using our "inside voices please!!"
@jaytag - remember the Cup Song? Well, this Australina creator can do it faster than you.
Around the World
@blueeverything_ - What school fits looked like in the 90s.
@sofyank96 - Throwing flames and lighting bolts before effects were easy.
@ABBA - Gimme, gimme, gimme all the ABBA, all the time.
@kareen.cruz - Sending your tastebuds back to the 90s.
@keenvsurtiktok - Reminsicing on memories to pass the time.

Whatever you're interested in, whether it's #careertok or #witchtok, on TikTok you can find and connect with a community that shares your passion. This year, some of the popular communities focused on pets, sports and education. Here in Australia, our culture is, how do we put this... highly unique. We've even created our own TikTok subculture that celebrates what it means to live in #straya. Find out more about the communities on the rise this year.
Australia: The #straya videos that took our nation to the world this year
@brontecrawley - We saw a lot of Gladys on TikTok this year, but the Glady B dance took the cake.
@ybsbrodie - An encounter with a frustrated and potentially aggressive sea snake? SICK!
@mrsamcotton - We'll never look at parking inspectors in the same way again.
@daniandblake - Nothing more #straya than watching the footy at your wedding, right?
@theinspiredunemployed - DAY FOR IT! Gotta love the old weekend maintenance party.
Around the World
#BookTok - The world's most creative book club.
#SportTok - Everyone gets a trophy here.
#LearnOnTikTok - From creating mini dolls to cleaning hacks and so much more, there's so much to learn on TikTok.
#BeautyTok - All the beauty and care tips.
#NatureTok - Nature at your fingertips, seriously.

TikTok, in some ways, is the modern day equivalent of 'Catch of The Day', showcasing some of the biggest sporting highlights from around the world. But on TikTok, we also get a peek at the off-field moments that make us love our sporting heroes even more, and find a place where fans come together in passionate communities of diehards. As might be expected from a sport-loving nation such as ourselves, #sportstok took off locally, with athletes like Olympian Tilly Kearns and bodies like the Tennis Australia and the NRL finding creative new was to connect with fans. Take a look at some of our favourite local sporting moments from the year gone by.
The Aussies: Australia's favourite #sportstok moments from 2021
@tillykearns - Olympian Tilly Kearns took us behind-the-scenes at this year's Tokyo Games. Were the beds really cardboard? Yes they were!
@nrl - Is it a bird? Is it a plane? No, it's Reece Walsh.
@aimeemassie - Skateboarder Aimee Massie showing us how it's DONE.
@ausopen - If Mr Bean played tennis.
@howridiculous - This shot is one in a million.
Ask on TikTok
To celebrate your own year on TikTok, starting today, we're also launching Ask on TikTok, a new Q&A feature inviting you to look back on your most memorable moments in 2021. Simply choose which questions you want to answer about your year in the app. People can choose a question like "what was your 2021 highlight?" or "what was your happiest moment of 2021?" and answer it in a new creation or by sharing a previous TikTok video.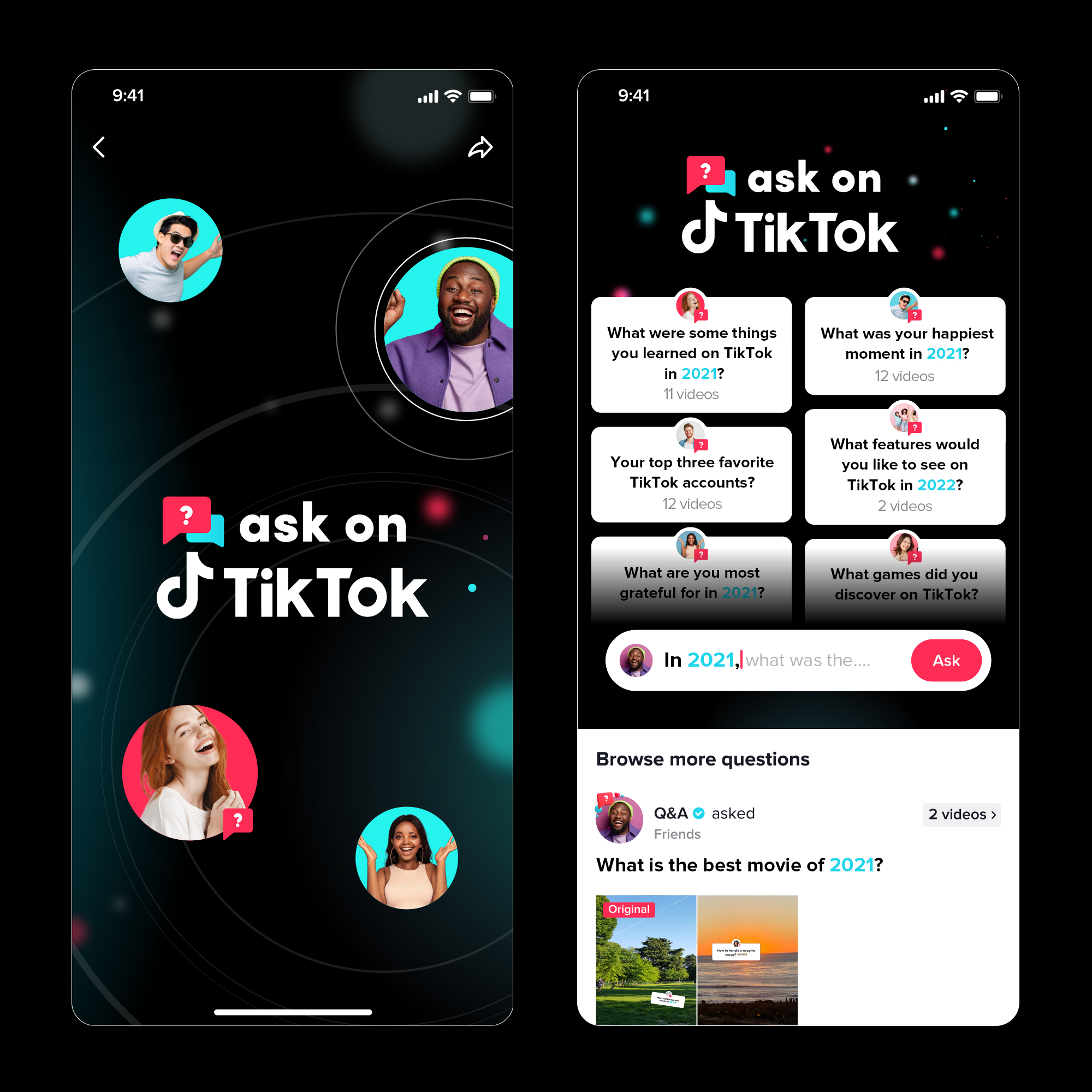 Australia's Year on TikTok 2021 comes to life with For You Fest
Stay tuned for more celebrations of the year that was, with our night of nights! For You Fest will be an epic, first-of-its-kind live entertainment show set to broadcast LIVE on TikTok - the biggest event TikTok has ever produced in this region. Bringing to life the TikTok trends, creators and videos that kept Australia laughing, crying and inspired in 2021, For You Fest is set to be the year-end entertainment showcase to top them all.
Hosted by TikTok sensations, The Inspired Unemployed (@theinspiredunemployed), For You Fest will feature performances from top Australian artists including Masked Wolf (@maskedwolfmusic) and Peach PRC (@peachprc), stand-up comedy, interviews, dances, pranks, celebrity appearances and more.
Catch TikTok's For You Fest LIVE on @tiktok_australia from 8:00pm AEDT on Wednesday 8 December.