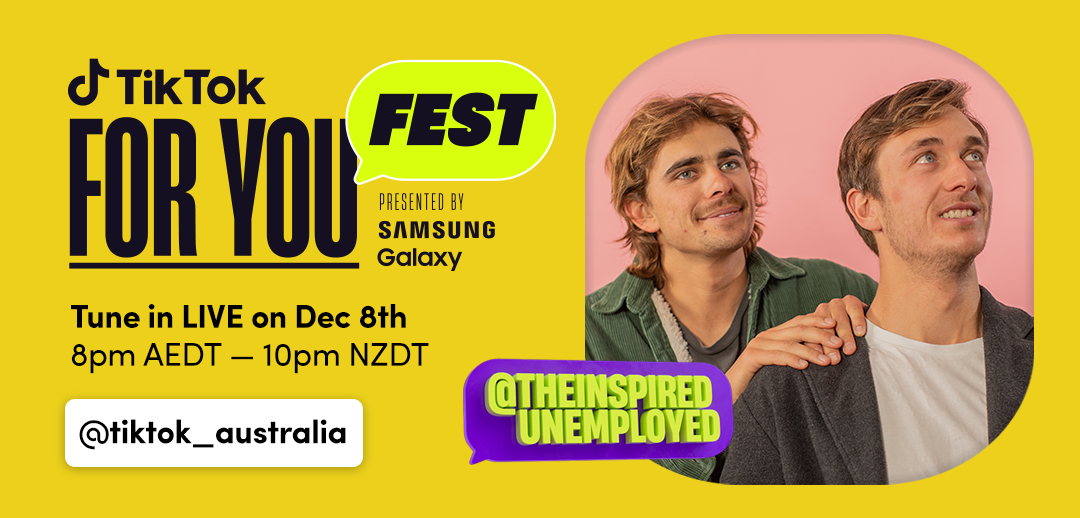 All-local line-up features favourite Australian TikTok creators, artists and celebs
Prepare to tune into an epic live TikTok show hosted by hilarious duo, The Inspired Unemployed, and featuring musical performances from top local artists, stand-up comedy, celebrity appearances and more. Coming to you LIVE via @tiktok_australia, this special livestream will bring to life the biggest TikTok trends, creators and videos that kept Australia and New Zealand laughing, crying and inspired this year. A year-end entertainment showcase to top them all, For You Fest will be an unmissable night of music, laughs and uniquely TikTok entertainment.
Mark Wednesday 8 December in your calendar and settle in for an unforgettable night as TikTok delivers a first-of-its-kind local broadcast featuring a studio audience, livestreamed from the iconic Big Top at Sydney's Luna Park.
Hosted by none other than Kiama tradies turned TikTok megastars, The Inspired Unemployed (@theinspiredunemployed), one of the biggest stars in Australian comedy, Nazeem Hussain (@nazeemhussain) and Sydney-based RnB artist, and master of character-based skits Avneesha (@avneesha_official). Viewers can expect a night of non-stop action - from music and comedy, to dances, pranks, and interviews, as well as spotlights with some of our most loved local creators re-enacting the year's biggest trends.
For You Fest will also feature incredible live performances from some of the most exciting names on the Australian music scene right now, from global superstar and five-time ARIA nominee Masked Wolf (@maskedwolfmusic) to pop princess, Peach PRC (@peachprc) - who've both had huge success on the platform with the help of their passionate TikTok fans.
The entertainment doesn't end there, with guest appearances from some of this year's biggest TikTok personalities including, Millie Ford (@milligram96), Walt (@oneminmicro) and Nathan Lyons (@kookingwithakoori) who are all nominated for TikTok's inaugural, community-voted 'Creator of the Year' award - set to be announced on the night by an international super-star!
Simon Bates, Director of Content Programming, TikTok Australia and New Zealand said: "This past year has been an incredible one for the local TikTok community. The plethora of amazing content, world-class creators and musical talent to came out of Australia and New Zealand in 2021 is absolutely inspiring. For You Fest is the biggest live event TikTok has ever produced in this region, and a world-first for TikTok globally. It's a completely new format - a modern variety show that takes the stars Aussies and Kiwis have come to know and love from their phone screens, and brings them together on the big stage. Expect it to be unpredictable, fun, and most of all thoroughly entertaining."
Catch TikTok's For You Fest LIVE on @tiktok_australia from 8:00pm AEDT / 10:00pm NZDT on Wednesday 8 December.
Here's a breakdown of what to expect from the night:
⚡️Line-Up⚡️
🎤 The Music Sounds Better with TikTok 🎤
To celebrate the incredible Aussie artists who've made it big on TikTok this year, the night will see performances from some of the hottest names in the local (and global) music scene!
Taking to the stage will be none other than worldwide hip-hop sensation and five-time ARIA Nominee Masked Wolf (@maskedwolfmusic) performing his chart-topping hit, Astronaut in the Ocean, which has been used in 17 million videos on TikTok.
Peach PRC (@peachprc), will be bringing her signature sugar-coated sound, pop perfection and 2000's-era pink aesthetic to the Big Top.
Plus, enjoy a performance of the now iconic sea shanty "Wellerman", from Nathan Evans (@nathanevanss), the creator who made it famous - and scored a record deal - when his acapella rendition blew up on TikTok.
🤣 Laugh Away The Year That Was 🤣
From the planned skits to the hilarious off-the-cuff moments, the comedic content on TikTok has kept Australians LOLing through lockdowns. For You Fest will be a celebration of funny in all its forms as the stand-up, skits, parodies, and impersonations seen on the app come alive on stage. Highlights will include:
Randy Feltface (@randyfeltface) - the unblinking comedic icon on the Australian and international comedy circuit, who has amassed over half a million followers on TikTok.
Veronica B (@_veronicab_) - an events manager turned TikTok star, Veronica has Australia in stitches over her all too relatable content documenting Sydneysider stereotypes, lockdown life and so much more.
Nazeem Hussain (@nazeemhussain) - Australian comedian known for his hilarious Netflix special Nazeem Hussain: Public Frenemy which has been streamed worldwide.
🎉 🎉 Creator of the Year 🥁 🥁 🥁
To finish off the night, TikTok will announce the winner of its inaugural community-voted 'Creator of the Year' award. Read more about who is in the running to take home the title here.
📱How to Tune In 📱
On Wednesday 8 December at 5:30pm AEDT / 7:30pm NZDT on the @tiktok_australia account, tune into the LIVE pre-show hosted by a line-up of TikTok favourites who will take viewers on a tour of the red carpet to catch those unmissable fashion moments and behind-the-scenes antics as creators, artists and stars arrive for the big night ahead.
Then don't go anywhere! Settle in for an unmissable night of music, laughs and uniquely TikTok entertainment with the main event, TikTok For You Fest presented by Samsung Galaxy, from 8:00pm AEDT / 10:00pm NZDT that same night.