By Arjun Narayan Bettadapur Manjunath, Director, Trust and Safety, TikTok APAC
At TikTok, we want every member of our community to feel comfortable and confident expressing themselves exactly as they are. Being true to yourself is not only encouraged but celebrated on our platform, and this week we're rolling out new features to encourage body inclusivity and support users who may be struggling with an eating disorder.
New in-app support resources
People come to TikTok to express themselves authentically and find community. We're constantly inspired by stories of our community members lifting up one another and supporting those who are affected by body image and eating disorders. To aid these conversations, we're introducing new resources to provide access to help from expert organisations directly from our app.
Starting this week, when a user searches for #edrecovery #proana or other phrases related to eating disorders, we'll provide access to the Butterfly Foundation where they can find help, support, and information about treatment options.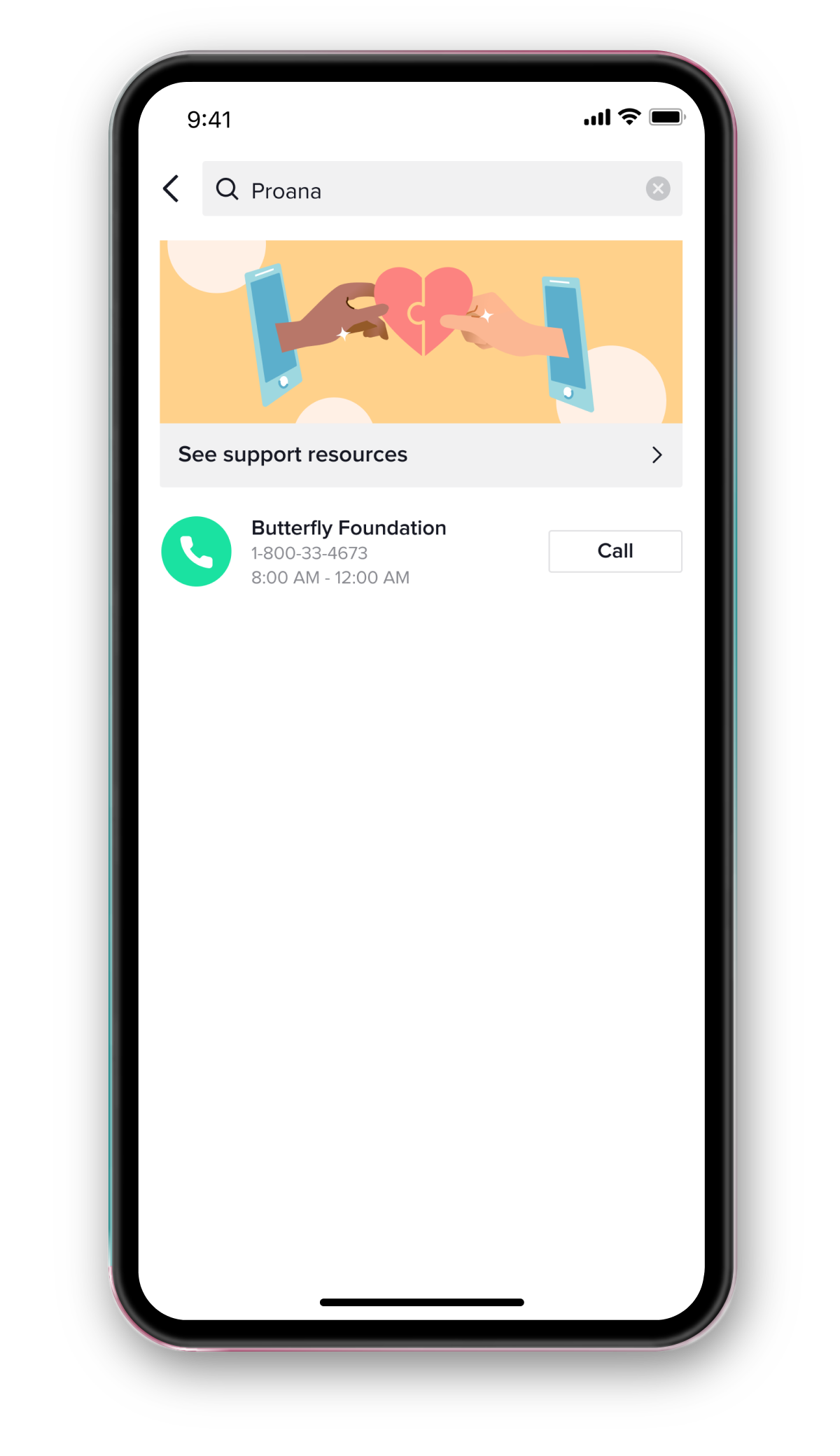 We'll also provide tips we developed with eating disorders experts on how to identify negative self-talk, think about one's own positive attributes and strengths, or support a friend who may be struggling.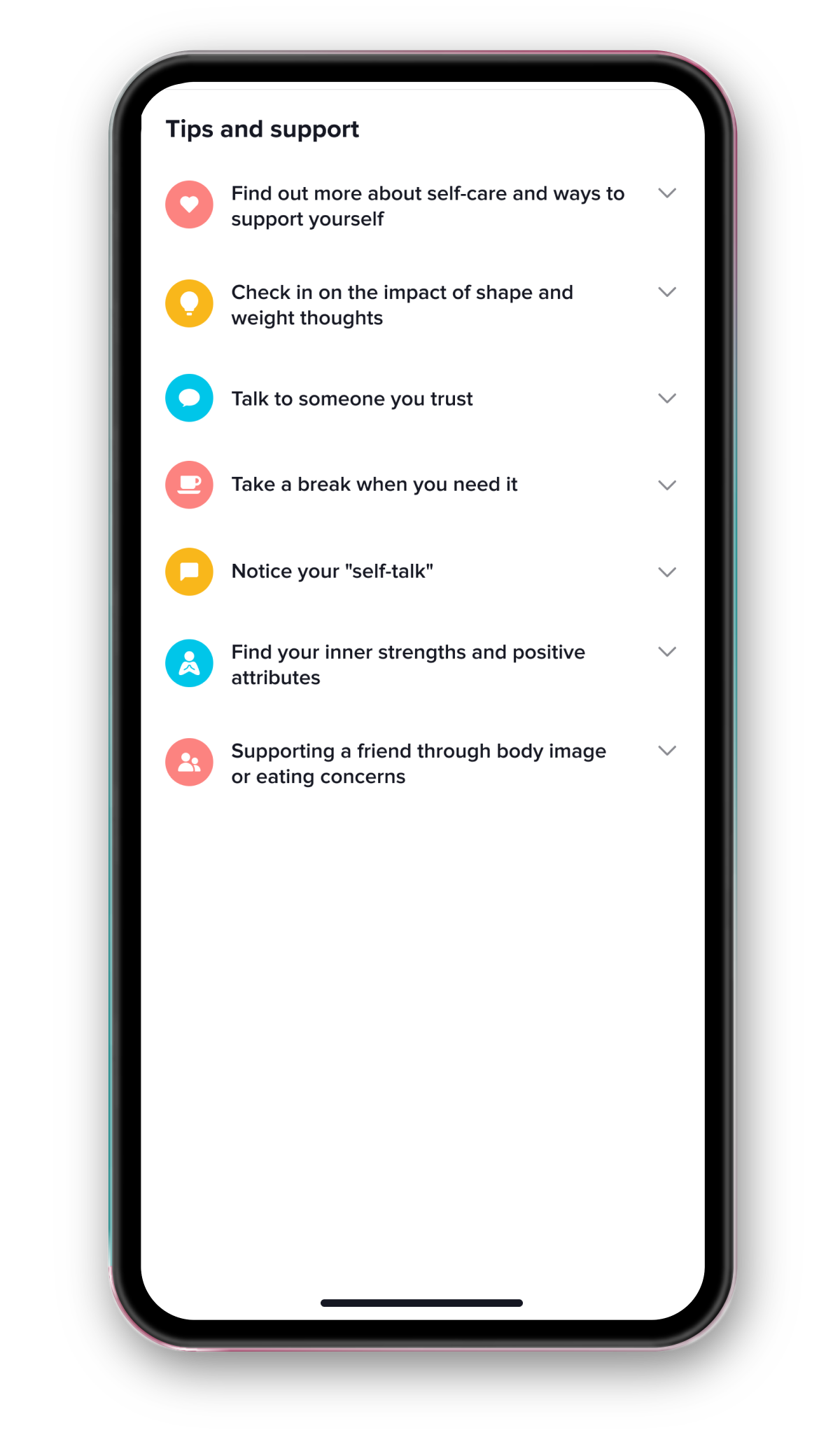 Promoting eating disorder awareness and body inclusivity
Over the coming weeks we'll introduce permanent public service announcements (PSAs) on hashtags like #whatieatinaday #emotionaleatingtips #bingerecovery and others aimed at driving awareness or fostering support around recovery and those affected by eating disorders.
Improving our ad policies on weight loss and dieting products
Brands play an integral role on our platform, and our advertising policies are developed to help establish parameters for the ad content within that community experience. To that end, we've introduced new ad policies that ban ads for fasting apps and weight loss supplements, and increase restrictions on ads that promote a harmful or negative body image. These types of ads do not support the positive, inclusive, and safe experience we strive for on TikTok.
Additionally, we've introduced new ad policies to combat problematic and exaggerated claims in diet and weight loss products, and placing stronger restrictions on weight loss claims and references to body image. These policies include:
Weight management products can only reach users age 18+
Stronger restrictions on weight loss and implied weight loss claims
Further restrictions to limit irresponsible claims made by products that promote weight loss management or control
Ads promoting weight loss and weight management products or services cannot promote a negative body image or negative relationship with food
Putting controls into the hands of our users
To support community members who might be struggling with weight stigma or an eating disorder, we offer a number of in-app controls to manage your TikTok experience, including:
Reporting: If you come across ads or content that promote harmful behaviors or imagery, you can report it by long pressing on the video, selecting "report," and choosing "self-harm"
Not interested: If you come across content that might be triggering or upsetting to you, long-press on the video, select "not interested," and choose to hide future videos from the creator or hide videos that use the same sound
Comment filters: We offer two ways to quickly and easily filter comments you don't want to see. In the Privacy section of our app settings, select "comment filters." The first option automatically hides offensive comments our systems detect on your videos; the second option lets you create a custom list of keywords so that comments containing those words will be hidden automatically, too.
Blocking: If you're experiencing unkind behavior from a member of our community, you can block and report them directly from their profile so that they can't find or engage with your content
Always striving to improve
Going forward, we will continue to develop new ways to support our community. We aim to bring compassion and support to survivors and others who may be struggling or looking for community on our platform. We will keep working to refine our policy against content promoting or glorifying eating disorders, improve our ability to identify harmful content so that it can be quickly removed, and develop creative ways to advocate for our community. We're grateful to learn from experts and our community along the way.