Miley will go LIVE on TikTok on Friday 27 November at 3:30pm AEDT / 5.30pm NZ, to preview her new album Plastic Hearts.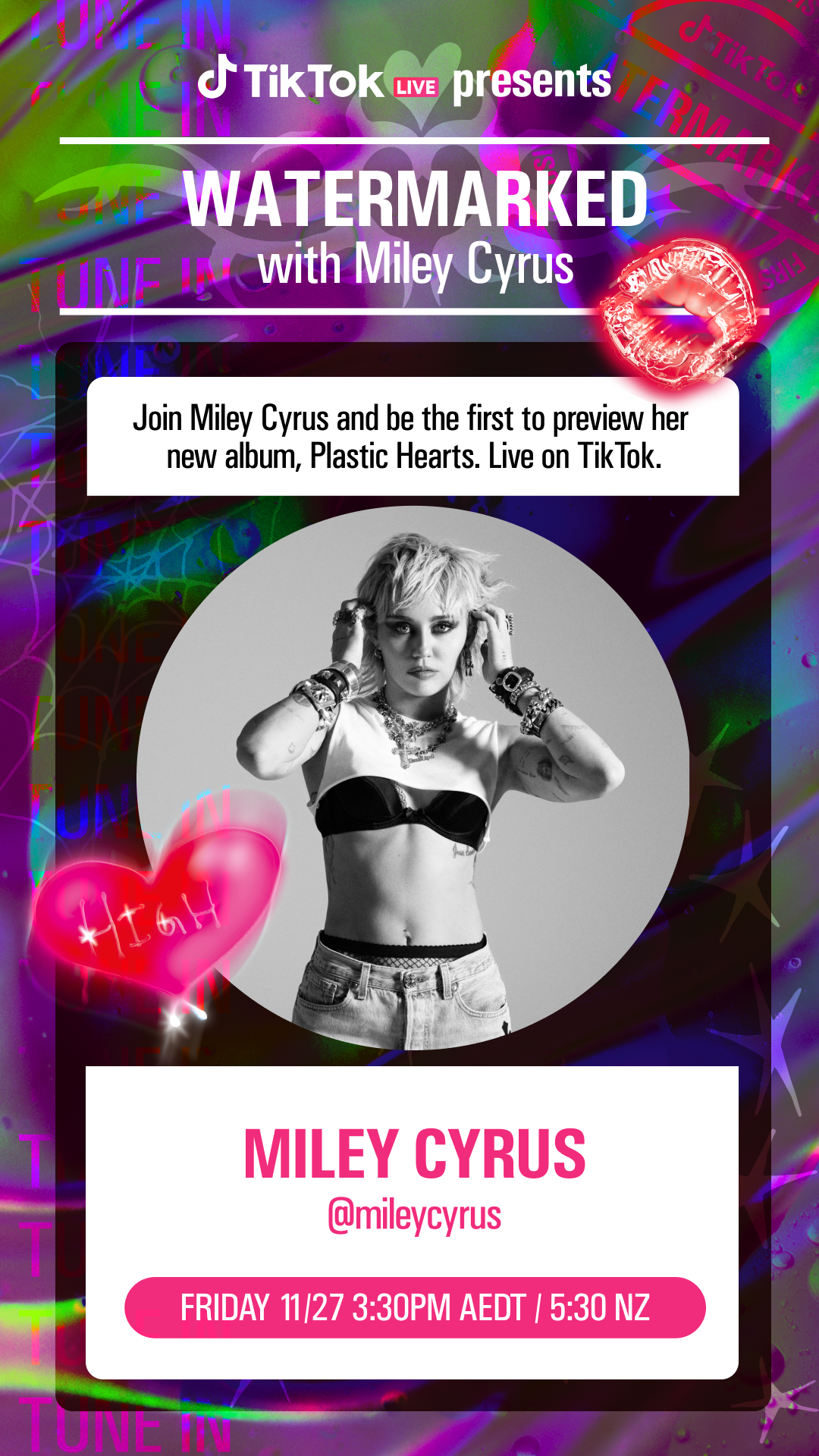 At TikTok, we are proud to be a major source of music discovery for our community, many of whom log on every day in search of their new jam. With Watermarked, our recurring TikTok LIVE series, we team up with artists of all genres to give the TikTok community a first spin of their brand new releases.
Watermarked is a live-only listening session, streamed and hosted by the artist, giving TikTok users an opportunity to preview major new releases before they hit streaming services. Watermarked allows artists to walk their fans through some of the album's key tracks and answer individual questions posed by fans in the comments.
The next edition of Watermarked goes live this Friday 27 November, with an early look at Plastic Hearts, the next album from Miley Cyrus. True to form for the restlessly creative artist, Miley plans to go above and beyond with her upcoming LIVE stream. This special edition of Watermarked will take fans on an interactive journey inspired by the music and punk-rock-inspired aesthetic of Plastic Hearts, packed with cameos, easter eggs for longtime Miley fans, and excerpts of new songs from the album.
Miley's Watermarked continues a big year for Miley on the TikTok platform. She's a regular user of TikTok, with more than 6.5 million followers, and her music regularly inspires trends in the TikTok community. Over the summer, Plastic Hearts lead single "Midnight Sky" became a trending hit, generating over 40k video creations. Just last week, Miley used TikTok to preview the music video for "Prisoner," the latest Plastic Hearts single.
But Miley has enraptured the TikTok community with her unmatched ability to make a cover song her own. In September, Miley performed a fierce rendition of Blondie's "Heart Of Glass" at the iHeart Music Festival, hypnotizing her fans with her rock star attitude, glamorous outfit, and spine-tingling vocal performance. An audio snippet from the performance became a viral TikTok sound, as fans obsessed over her transformation of the classic song. After generating over 30k video creations in just one week, Miley decided to officially release "Heart Of Glass" to streaming services. "Heart Of Glass" now has over 118k total video creations and more than 35 million streams on Spotify alone.
Another Miley cover took TikTok by storm in subsequent weeks, when her version of "Why Do You Only Call Me When You're High" by the Arctic Monkeys soundtracked the viral #MainCharacterChallenge. Originated by @jonysios, the #MainCharacterChallenge provided the vibes for a transition trend that allows TikTok users to unleash their inner divas. With over 420k video creations and over 114 million views on the hashtag, the #MainCharacterChallenge encourages TikTok users to transform from their ordinary selves to their "main character" at the moment that Miley's piercing vocal hits.
With her upcoming LIVE stream, Miley is taking the opportunity to show her gratitude to the TikTok community for all the love they've shown her, and to give them a gift in return. Tune in LIVE to Miley's @mileycyrus TikTok account at 3:30PM AEDT /5:30PM ET on Friday 27 November to hear new music from Plastic Hearts and perhaps witness the birth of another challenge or two.
Watermarked is the latest installment in an ever-evolving lineup of TikTok LIVE programming that highlight and promote artists' personal stories.