By Arjun Narayan Bettadapur Manjunath, Director, Trust and Safety, TikTok APAC
Self-expression and creativity are at the heart of TikTok - they fuel the amazing content our creators produce and push our community to new heights. As a team we know that creating a safe environment on TikTok is what gives our community the freedom to experiment, to be quirky and to be authentic.
Safer Internet Day marks a moment in our year when we can come together as a community and shine a light on online safety. For us, online safety is top of mind every day and we wholeheartedly believe in helping our community make informed decisions about their online safety - we believe that when we feel safe online, we're happier to express our true selves.
In the past few of months, we've supported our community by changing the default TikTok privacy setting for all registered accounts under the age of 16 to private, refreshing our Community Guidelines, taking action on COVID-19 misinformation, and updating our Family Pairing feature.
This Safer Internet Day, alongside our partners the Alannah & Madeline Foundation, as well as collaborating with eSafety, we're also taking proactive steps to better educate our community about online safety and media literacy. At the heart of our Safer Internet Day program is ensuring that the complexities of online safety are shared in ways that are accessible to audiences of all ages - in particular, for young users and their parents.
Launching the "Get Media Smart" video series in partnership with the Alannah & Madeline Foundation
We're proud to have collaborated with the Alannah & Madeline Foundation to produce a series of videos that shine a spotlight on the 'must-know' tips to help navigate misinformation and give practical tips for safer use of online platforms. Key to the development of the "Get Media Smart" series was ensuring that internet safety education is translated in a digestible and engaging way for TikTok's community of all ages. With this in mind, the six TikTok videos feature popular local TikTok creators, @rifenstine and @sakshammagic, that playfully bring to life scenarios that everyday Aussies may encounter as they use the internet and platforms like TikTok.
The "Get Media Smart" series encourages Australians to practice smart and safe online behaviours, to be confident to seek help when needed and have the power to stop the spread of misinformation by reporting and skipping the 'like' or 'share'.
The Alannah & Madeline Foundation provided TikTok with their invaluable knowledge in media literacy, along with their experience in creating accessible and informative content through eSmart Media Literacy Lab, a gamified education resource for teachers and students aged 12-16. As the dangers children and young people face today are increasingly complex, the Foundation continues to adapt and develop initiatives and interventions that identify, prevent and respond to modern challenges, with innovation and compassion.
The six-part "Get Media Smart" series covers a range of topics and guides:
Video #1 - "Verify the Source" asks users to find out who is authoring the content that they see.
Video #2 -"Not Interested" shows users that they can control what they see.
Video #3 - "Fact vs. Opinion" helps users determine whether statements are expressing truths or beliefs.
Video #4 - "Question the visuals" challenges the TikTok community to analyse the visual images they come across.
Video #5 - "Challenge Your Bias" reminds users to consider how their experiences influence what they believe.
Video #6 - "Calling Out Fakes" encourages users to reflect on whether the content they want to share, should be shared.
The series launches on the @TikTok_Australia account today, rolling out through the week, and will be accessible to secondary school teachers in the Foundation's eSmart Media Literacy Lab. Featuring @rifenstine, known for her comedy-filled account and vibrant make up looks, along side @sakshammagic, who wows his followers with awesome illusions, these talented TikTok creators are helping us bring media literacy messages to our community in their own unique and creative way.
Safer Internet Day TikTok LIVE event with the eSafety Commissioner, Julie Inman Grant
On Tuesday 9 February, we will host a fun and insightful event with the eSafety Commissioner, Julie Inman Grant, streaming LIVE on TikTok. Starting at 7pm AEDT on Safer Internet Day via the @TikTok_Australia account, the Commissioner will be interacting with well-known Australian creators such as @flexmami, @drcody_dc and @mama_mila_ as they discuss key issues in the online safety space and how to have more positive experiences online.
This special TikTok LIVE will bring together the Commissioner's wealth of expertise, with fun and familiar faces from the local TikTok community. A special guest appearance from @jimmyrees (formerly known as the TV's "Jimmy Giggle") in character as his hilarious alter ego "Jeff", will also help us provide an entertaining and informative Safer Internet Day online event for our community.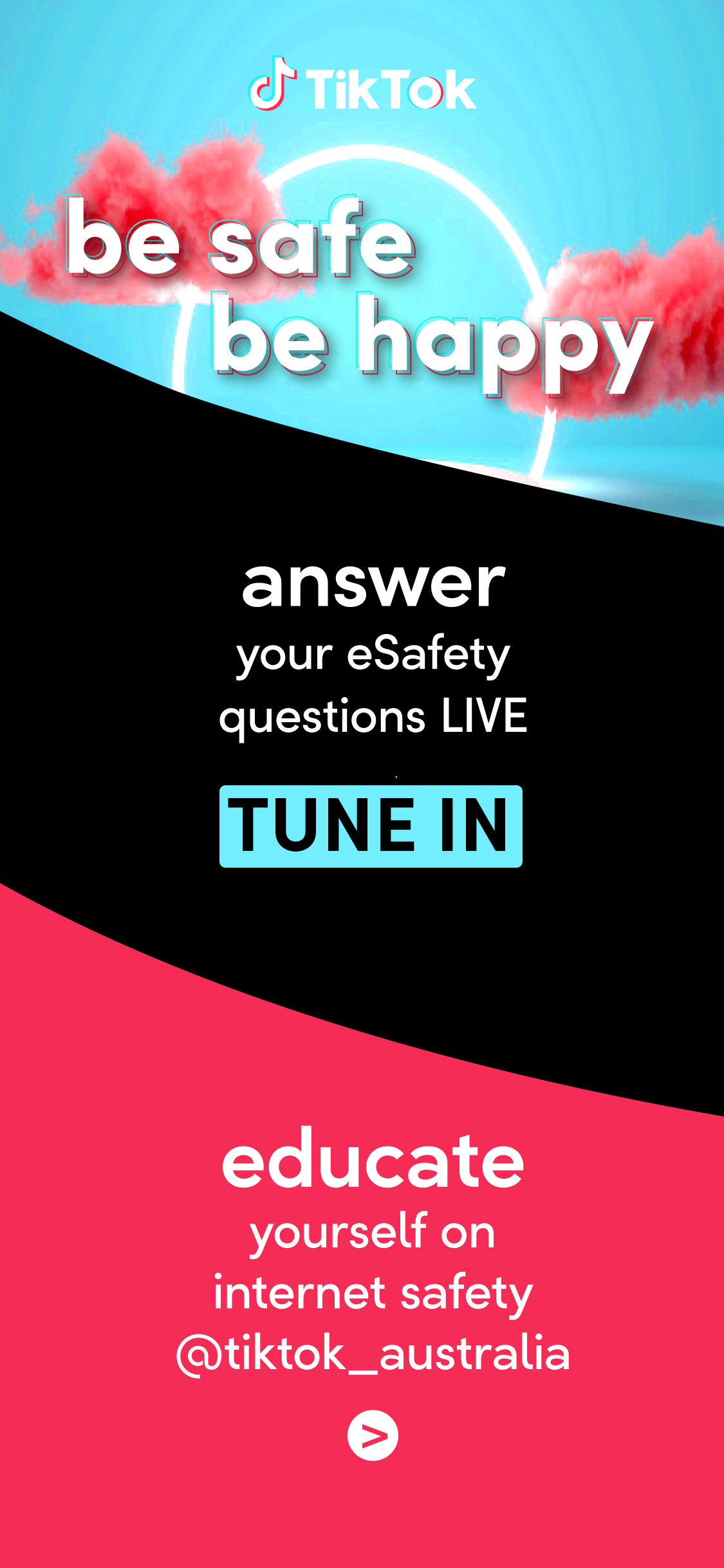 For us in the Trust and Safety team, every day is Safer Internet Day. Everything we do is geared toward ensuring that TikTok continues to be a place that brings joy to our community and where creativity flourishes all year round.
Here is what our people, partners and creators have to say:
"As our platform grows, it's vital that we continue to take a proactive stance on online safety education on Safer Internet Day, and all year-round. It's been an honour to partner with respected leaders in online safety in Australia to create a fresh, fun and informative content program that discusses staying safe online in ways that Aussies - from our younger users, through to their parents - can really engage with in an entertaining way. We're excited to launch our Safer Internet Day program and hope that it becomes a valuable conversation starter and useful tool for our community." - Lee Hunter, General Manager - TikTok Australia and New Zealand
"Our research, released for Safer Internet Day, shows that newer services such as TikTok are gaining ground in the social media space. Collaborating with TikTok for this Safer Internet Day event has given us a great opportunity to reach younger audiences with important online safety messages. It's good to see content creators and platforms sharing the responsibility of putting safety first and getting information out to their followers and users about how to stay safe online." - Julie Inman Grant, eSafety Commissioner
"The "Get Media Smart" series complements the Foundation's eSmart Media Literacy Lab, an education resource for secondary students that equips them with essential media literacy skills to help them navigate their online world. In Australia, as in the rest of the world, it's more crucial than ever to help young people strengthen and practice their media literacy skills, to help them thrive in their relationship with digital media and confidently tackle misinformation." - Linda Barry, Deputy CEO - The Alannah & Madeline Foundation
"I absolutely loved bringing the "Get Media Smart" series to life with TikTok and the Alannah & Madeline Foundation as its important for people to stay safe on the internet, while being creative and having fun. I had an awesome time shooting for this project as it allowed me to bring my personality into the content and express these ideas in a fun way for audiences to understand." - Saksham Sharma, @sakshammagic, TikTok creator in the "Get Media Smart" series