By Justin Erlich, Global Head of Issue Policy & Partnerships, Trust & Safety
At TikTok, we want to equip our community with context and tools to assess content on our platform. For instance, labels are added to videos with unsubstantiated content. Blue check marks on accounts help viewers understand an account holder is who they say they are. Last year, we began to pilot adding labels on content from state-controlled media, starting in Russia, Ukraine, and Belarus. Today we're expanding our global state-affiliated media policy and label to help viewers better understand sources behind content.
Our approach to state-affiliated media
Our state-affiliated media policy is to label accounts run by entities whose editorial output or decision-making process is subject to control or influence by a government. Our goal in labelling state-affiliated media is to ensure people have accurate, transparent, and actionable context when they engage with content from media accounts that may present the viewpoint of a government. We began our state-affiliated media pilot last year and have met with more than 60 media experts, political scientists, academics, and representatives from international organizations and civil society across North and South America, Africa, Europe, the Middle East, Asia, and Australia. We also consulted our Content and Safety Advisory Councils and worked closely with a leading global media monitor to develop an independently-validated methodology to guide our state-affiliated media labelling decisions.
The input we received from these stakeholders emphasized the importance of considering diverse political, legal and cultural contexts related to news media. In addition, we received feedback that there's no one-size-fits-all approach to state-affiliated media and supporting user education about the different ways that states seek to influence news and reporting is increasingly important. Based on this input, our policy considers state-controlled media, which we define as an entity where there is evidence of clear editorial control and decision-making by members of the state.
How we assess editorial independence from states
In evaluating editorial independence, we consider an organization's mission statement, editorial practices and safeguards, leadership and editorial governance, and its actual editorial decisions. We also apply additional scrutiny to entities that may be heavily reliant on state funding, either directly or through advertisements, loans, and subsidies. Some of the questions that we ask in categorizing include:
Is editorial independence part of the organization's mission statement?
Does the organization have a set of guidelines related to standards of journalistic conduct?
Are there any state affiliations within management or editorial leadership positions?
Has the organization transparently disclosed any state affiliations?
Is there evidence of the media outlet not upholding its editorial guidelines?
How has the entity handled issues of significant public interest regarding the government?
Based on our evaluation, we will then categorize an entity and apply a label to the account's profile and to their content.
Expanding our state-controlled media label
We're expanding beyond our pilot and will begin applying our state-controlled media label in a phased approach, starting with over 40 markets across multiple regions. We'll continue to roll this label out to an even wider array of markets over time.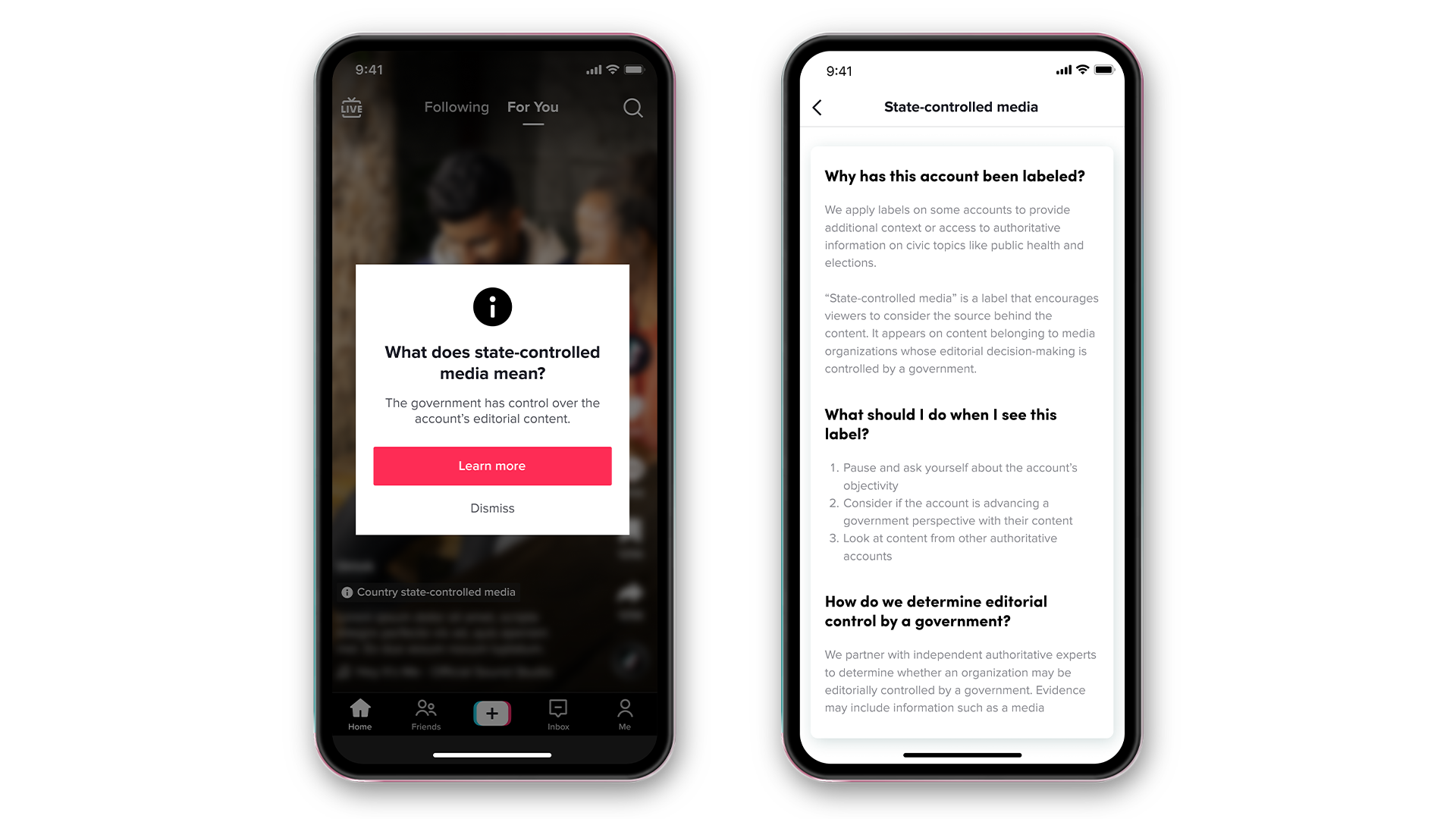 Providing a path to appeal
We've spent months developing an objective methodology that can be consistently applied by our trust and safety team who oversees state-affiliated media labeling decisions. At the same time, knowing there's always an element of context required that can lead to occasional errors, we're also introducing an appeals process for entities who believe they've been incorrectly labeled as state-controlled media. To appeal, an entity can submit additional information to indicate safeguards that ensure editorial independence. We'll evaluate the provided evidence, seek input from independent authoritative experts, and will remove the label if we find the entity does not meet our state-affiliated media criteria.
We'll continue to consider additional ways we can bring context to viewers on TikTok.