Users celebrated Safer Internet Day using their creativity on the short video platform
Over 1.6 million users from 14 countries and regions participated in TikTok's Safer Internet Day campaign
Safety-focused videos on the platform generated over 3 million interactions from TikTok users
TikTok pulled out all the stops for this year's Safer Internet Day, with over 1.6 million users across 14 countries and regions taking part in online safety initiatives rolled out as part of its #BetterMeBetterInternet global campaign. Bringing the online campaign offline as well, TikTok also worked with local partners to launch educational posters series and fostered discussions with relevant stakeholders on how to create a safer online environment.
In-app quizzes and new effects for #BetterMeBetterInternet
To equip users with online safety tips, TikTok launched an in-app quiz that saw 1.6 million users participating across the world. Users also took part in the #BetterMeBetterInternet challenge within the app by applying customized effects to their short videos, which were designed to encourage the adoption of positive concepts such as #Respect, #Positivity, #Creativity, and #Security, and shove away negative concepts such as #5badhabits, #Cyber-bullying, #Negativity, #Trolls, #Anxiety, and #Haters. These videos generated nearly 3 million likes and shares from TikTok users in the seven days after the campaign was launched.
Many of the platform's popular creators joined the challenge to create short videos, such as JennyandMarco from Germany, Matdeuh and Anita_et_mike from France,  and eo-qaq from Korea.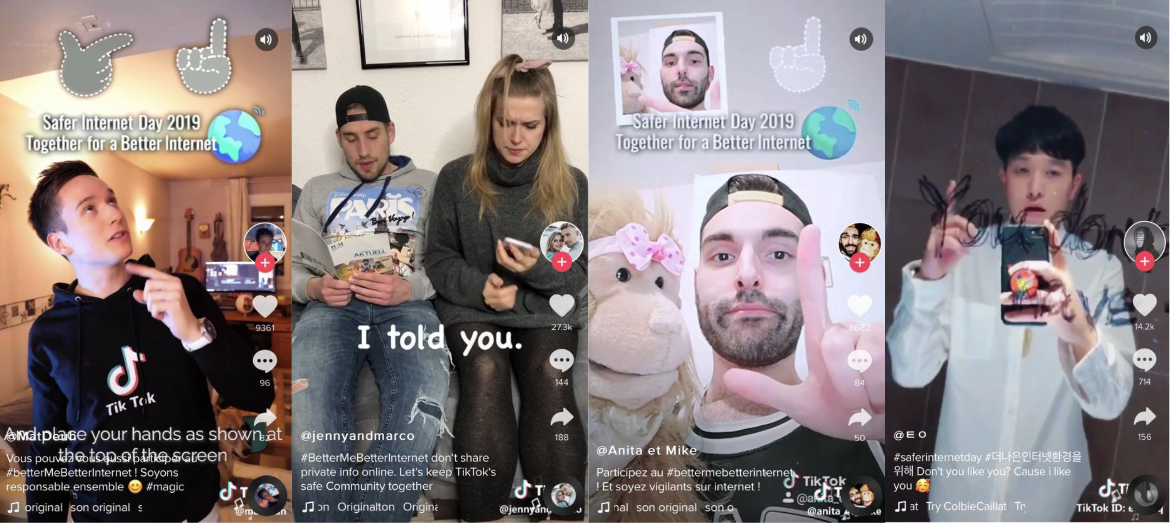 Joint effort with safety partners across various local markets
Coinciding with the online activities, TikTok also worked with online safety experts to host safety-themed offline events globally in India, Malaysia, Vietnam and Japan. These discussions brought together local government stakeholders, academia, non-profit organizations, press and influencers to promote the adoption of positive online habits.
Sarah Willoughby, Content and Communications Expert/SID Campaign Coordinator, European Schoolnet, said, "We're delighted to work with a range of stakeholders, including partners and platforms such as TikTok, to raise awareness of a safer and better internet on Safer Internet Day 2019. By working "Together for a better internet" on SID, and indeed all year round, we can empower people to use technology responsibly, respectfully, critically and creatively."
In India, TikTok partnered with the Cyber Peace Foundation to promote online safety and launched educational posters to be distributed in schools and colleges. Commenting on TikTok's safety initiative, Purnendu Singh, Director, Strategy and Operations, Cyber Peace Foundation, said, "We are happy to be collaborating with TikTok and the rest of its stakeholders to work on online safety. The need is not only for awareness but also being proactive to ensure that every netizen is secure in the Cyberspace."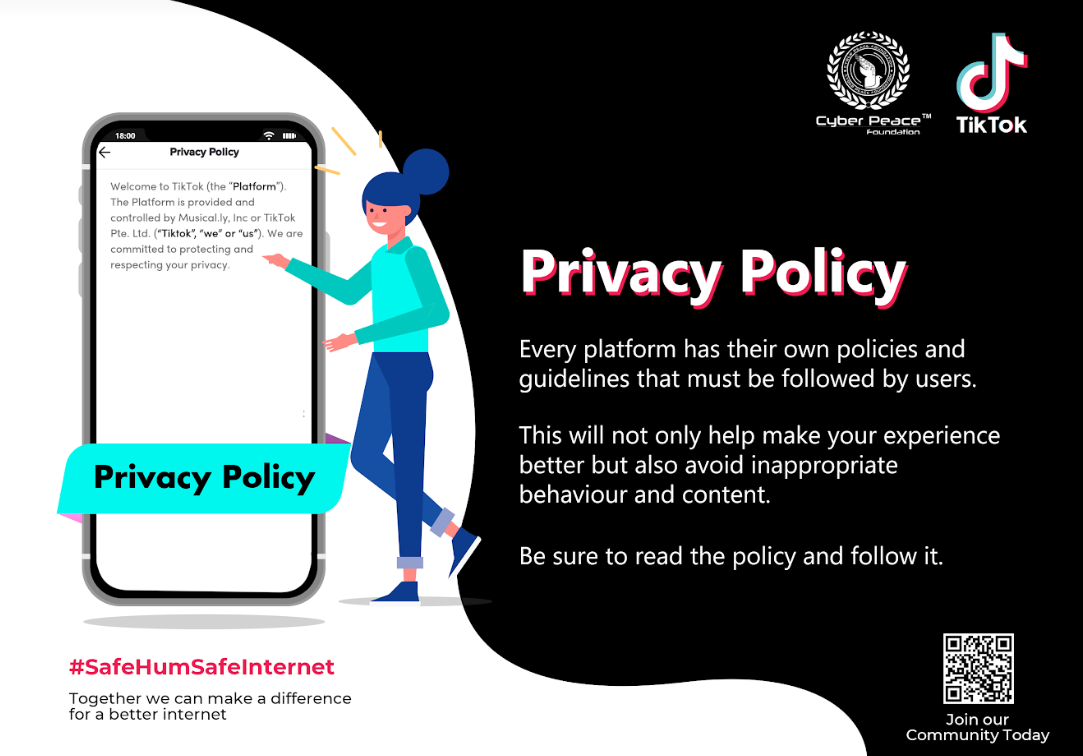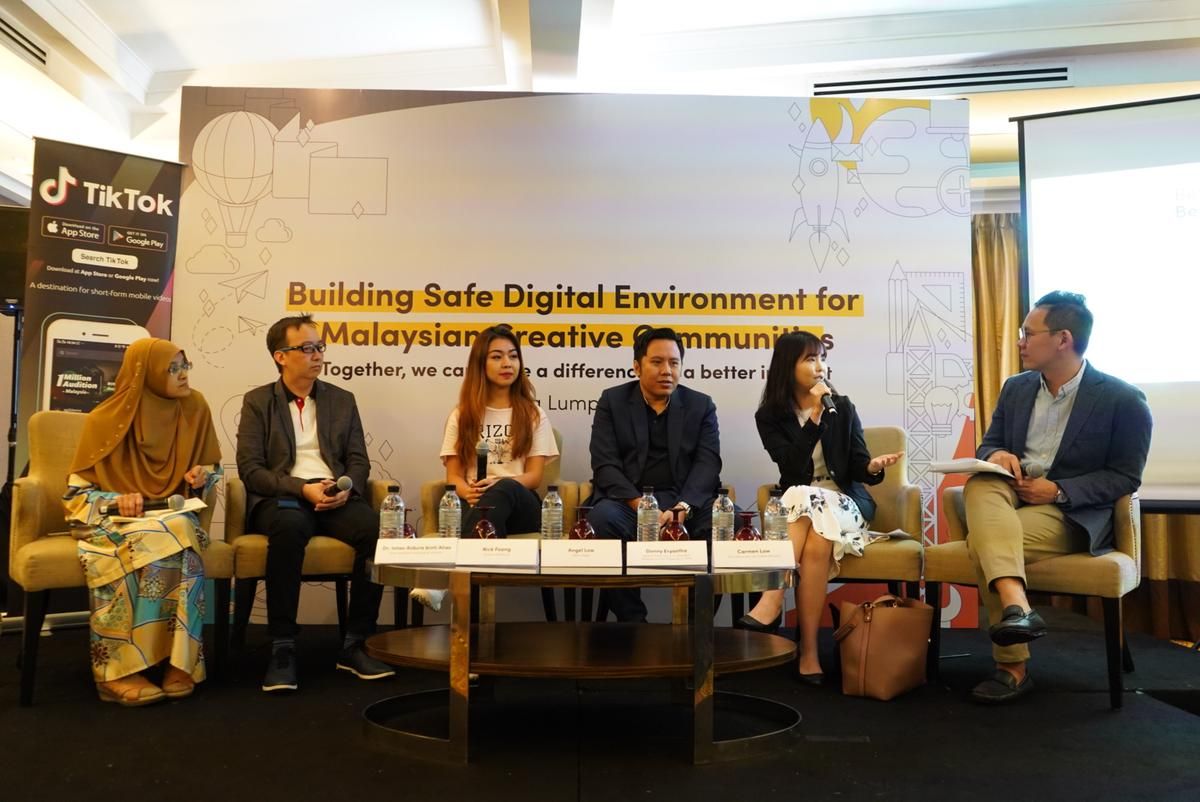 Nick Foong, Director of Services at Yayasan Generasi Gemilang from Malaysia elaborates, "At Generasi Gemilang, our mission is to improve the lives of underserved children and families by increasing access to quality education. This includes equipping children with positive values and skills to thrive in life in areas such as cyber wellness and digital literacy. Initiatives such as TikTok's #BetterMeBetterInternet campaign is a step in the right direction in empowering Malaysians in these focus areas, and compliments our goal of building the next generation to be positive contributors to their community and circles of influence."
TikTok's ongoing commitment to building a safe and positive in-app environment
Through its participation in Safer Internet Day, TikTok is playing an important role in raising awareness and addressing the critical and latest challenges in online safety today. Promoting a safe and positive app environment is TikTok's top priority, and in line with this, it has been continuously enhancing and updating its policies, tools and resources to promote a safe platform. TikTok has a number of measures in place to protect against misuse, including restricted viewing mode, filters, and in-app reporting, among others. As part of its efforts, TikTok has put in place protective measures by combining content moderation technology with a robust human moderation team. This team, which is based in over 20 countries and regions, now covers 36 languages, an increase of 400% in terms of language support from one year ago.For more information about TikTok's safety efforts, please visit: https://www.TikTok.com/safety/
About Safer Internet Day
Starting as an initiative of the EU SafeBorders project in 2004 and taken up by the Insafe network of Safer Internet Centres in Europe as one of its earliest actions in 2005, over the years, Safer Internet Day has become a landmark event in the global online safety calendar, and is now celebrated in approximately 140 countries worldwide. The day offers the opportunity to highlight positive uses of technology and to explore the role we all play in helping to create a better and safer online community. It calls upon young people, parents, carers, teachers, social workers, law enforcement, companies, policymakers, and wider, to join together in helping to create a better internet.