TikTok is a great way for your teen to express themselves creatively and connect with content that resonates with them. As a parent, you want to make sure that your teen is having a fun, safe experience while using the app. TikTok offers several tools to help your teen manage how they interact with other users and who can see their videos. This includes restrictions for privacy, content, comments, and messages. The following safety tools and features can be activated to ensure your teen has a positive, safe experience on TikTok.
Private vs Public Accounts
By default, your account starts as public, which means any TikTok user can view your videos and post comments, reactions, or duets to engage with the content you've created and shared – but you can easily change this in your Privacy Settings. If you switch to a private account you can approve or deny follower requests, and only users you've approved as followers can see your content.
To change your account from public to private:
Go to the "Privacy and Settings" screen and tap Privacy and Safety
Turn Private Account on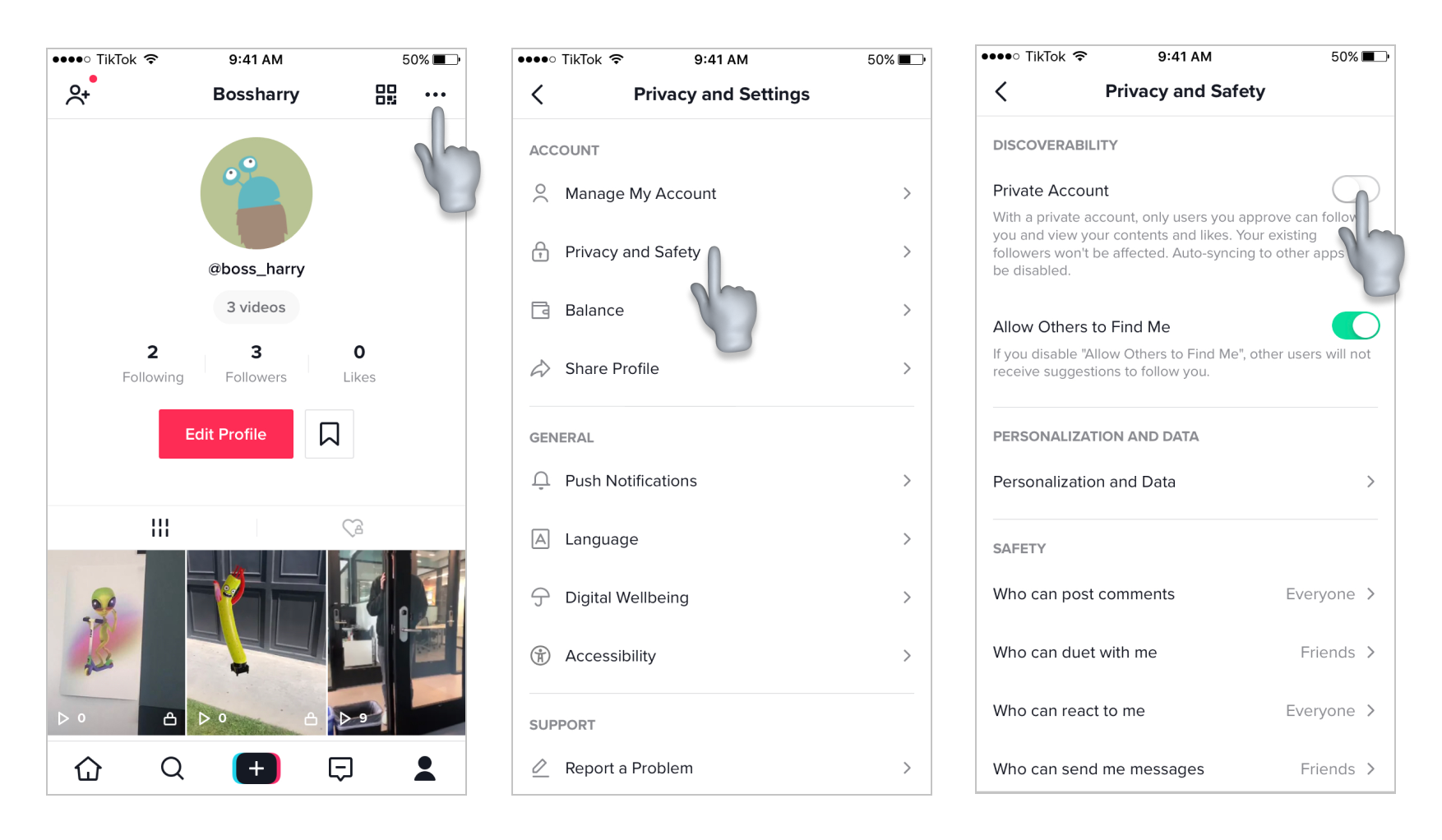 Restricting Duets
Duets can be a fun way to create videos with another user, but you're in control: we give you the option to decide who can make duets with or react to your content. It's easy to set this just once at the account level and have your chosen setting apply to all your videos – but you can choose to selectively enable or disable duets for just a particular video, too.
To enable restrictions on who can create duet videos with you:
From your profile, open the Privacy and Safety settings
Tap "Who Can Duet With Me"
Choose the setting you prefer (Everyone, Friends, or Off)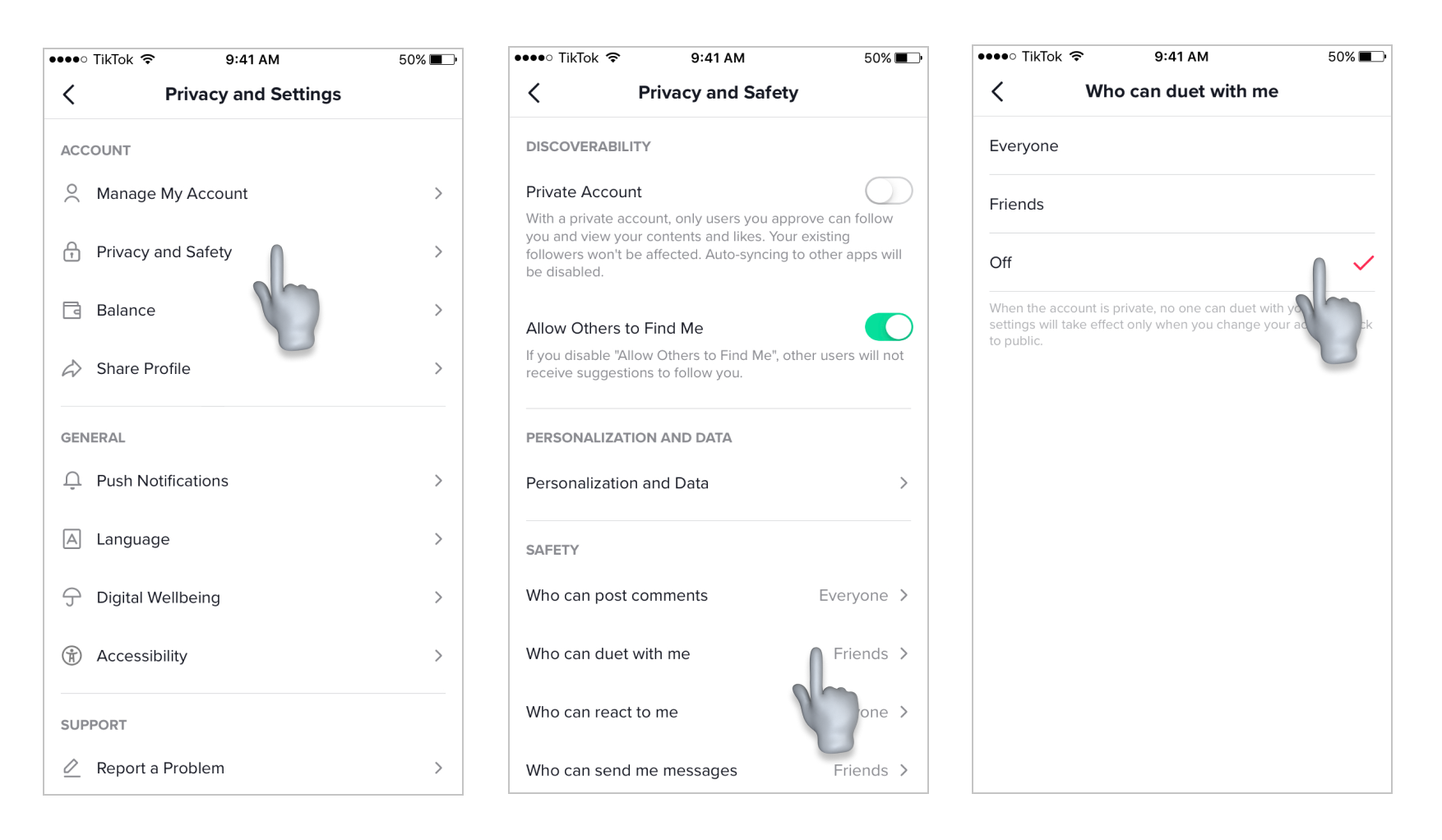 Enabling comment restrictions
TikTok also gives you the power you to choose who is allowed to comment on your videos. You can let anyone comment, restrict it to friends, or turn off comments completely.
To enable this feature:
From your profile, open the Privacy and Safety settings
Tap "Who Can Comment on My Videos"
Pick Everyone, Friends, or Off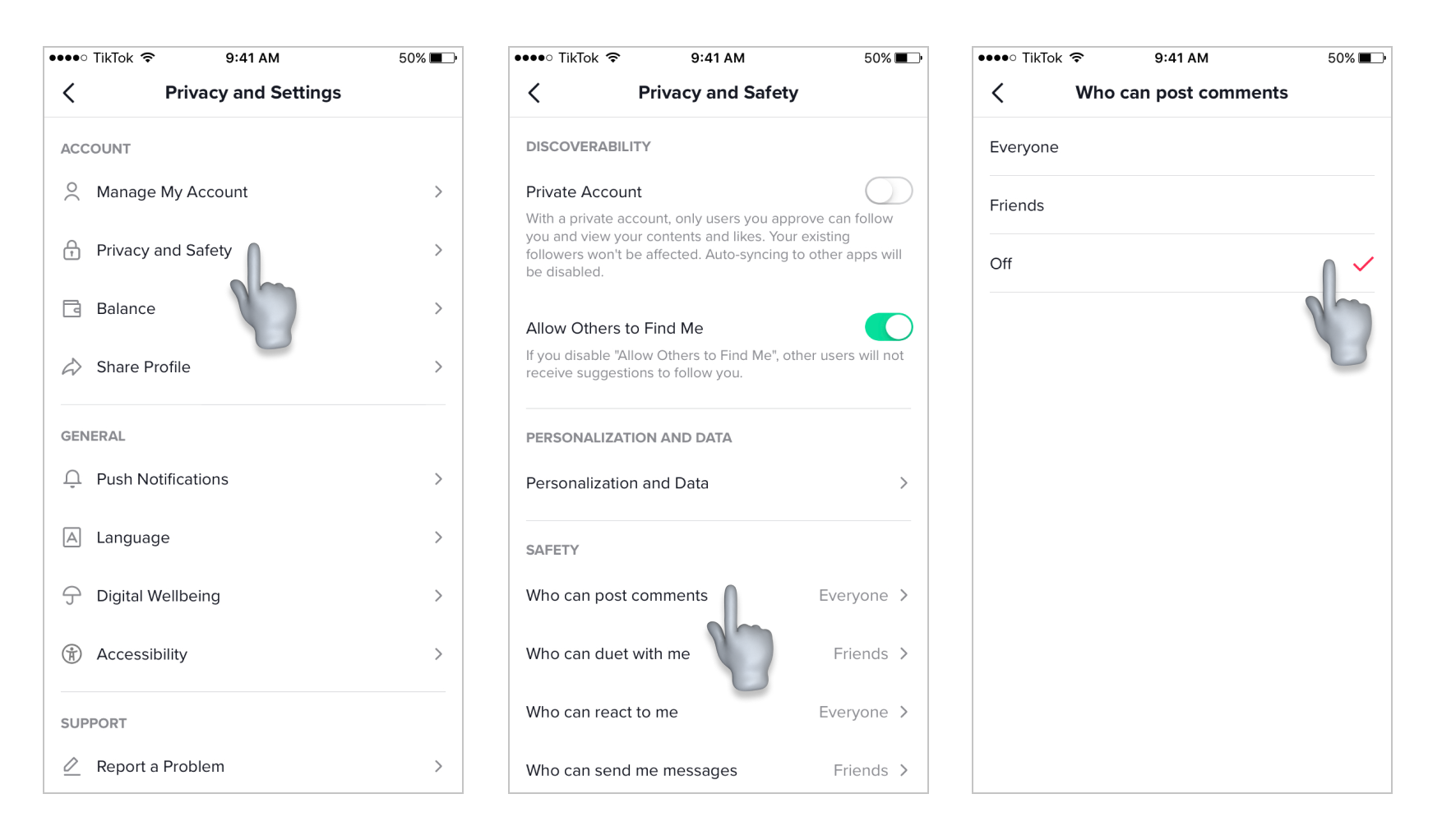 Reporting a comment
If someone makes a comment that violates our Community Guidelines, you can take action by reporting that comment.
To report a comment:
Tap on the comment
Tap "Report"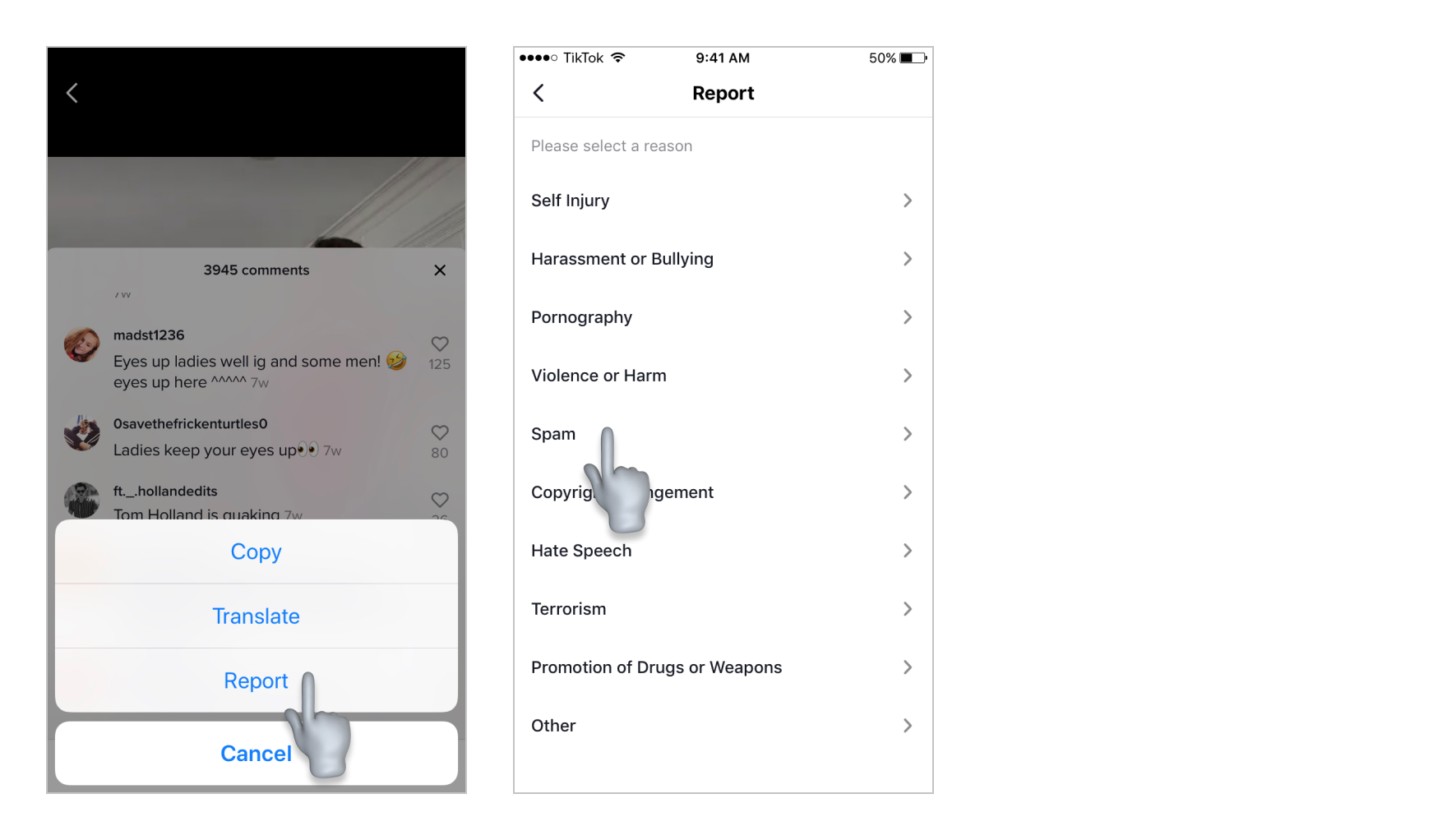 Unfollow a user
If your teen no longer wants to follow a user they can unfollow them.
You can unfollow a user at any time
Tap on "Following" to see who you're following
Tap the "Following' button to unfollow a user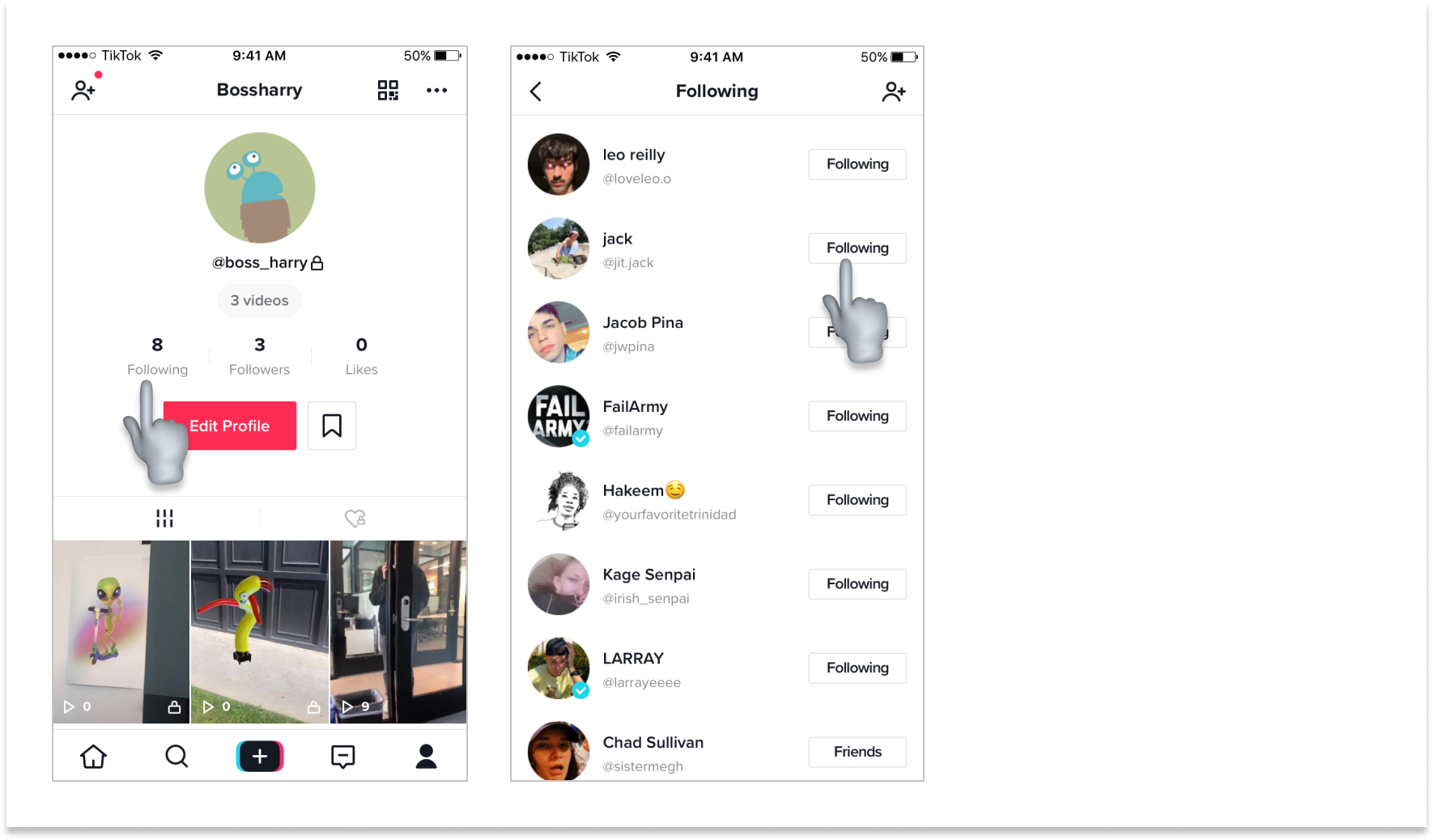 Blocking a user
TikTok allows your teen to keep any users from interacting with them for any reason. By blocking a user they will not be able to view your teen's content or send them messages.
If you would like to block a user simply:
Go to that user's profile
Tap the three dots in the right corner
Tap "Block"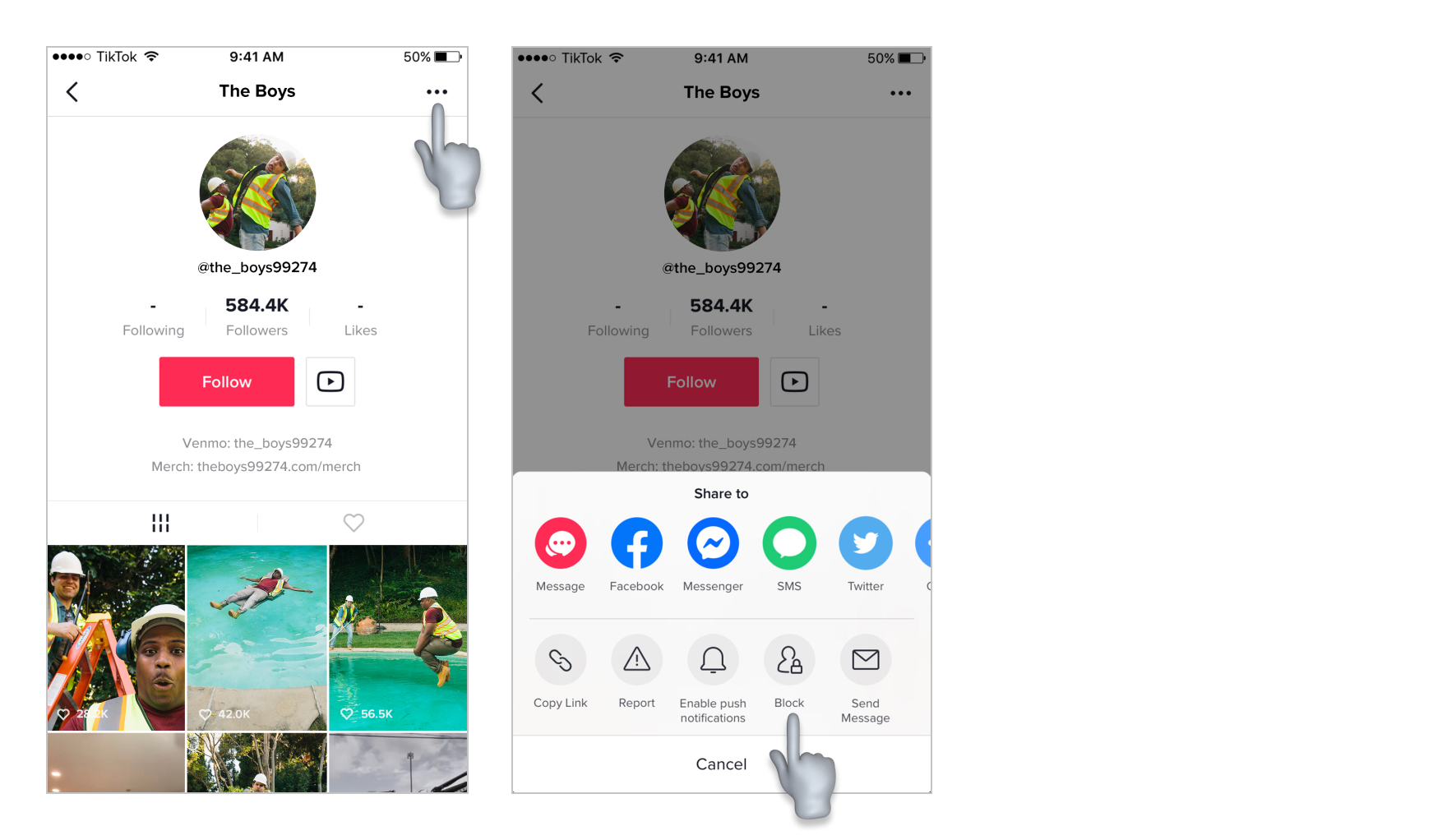 Report physical danger
If your teen comes across content that may suggest immediate physical danger to another user, they should report it immediately.
To report content for physical danger:
Tap the arrow in the bottom right corner of the video
Tap "Report"
"Violence or Harm" or "Self injury" depending on the situation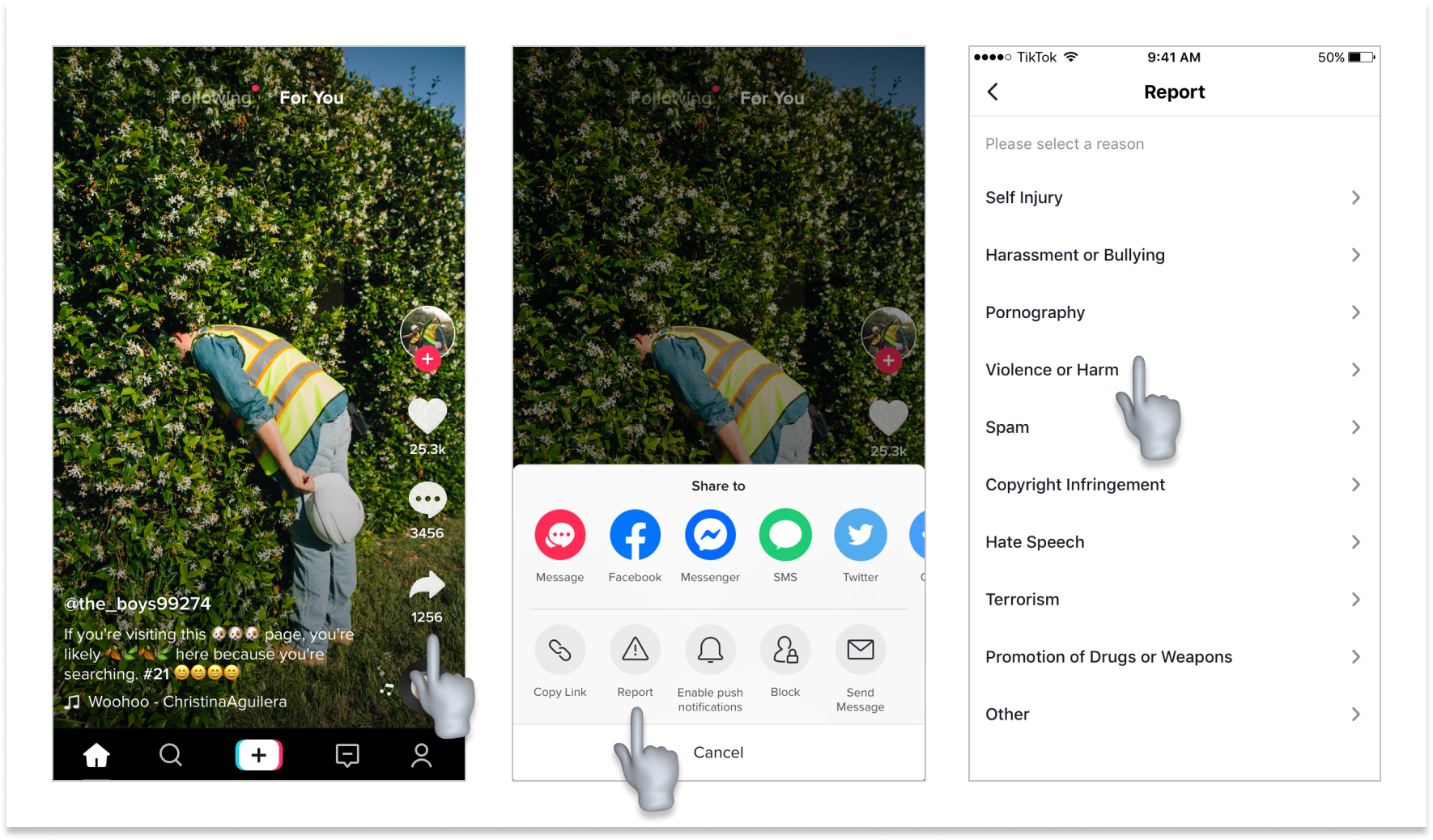 Enable Restricted Mode
If you'd like to limit content more quickly with a broader brush stroke, you can enable Restricted Mode. Restricted Mode is an option at the account settings level that limits the appearance of content that may not be appropriate for all audiences. Restricted Mode can always be turned off by the person who enabled it to begin with. So if your teen find themselves missing videos they want to see, you can switch it back for them whenever you'd like.
To enable this setting:
Select "Digital Wellbeing" under the app settings
Tap "Turn On"
Set a passcode
Toggle "Restricted Mode"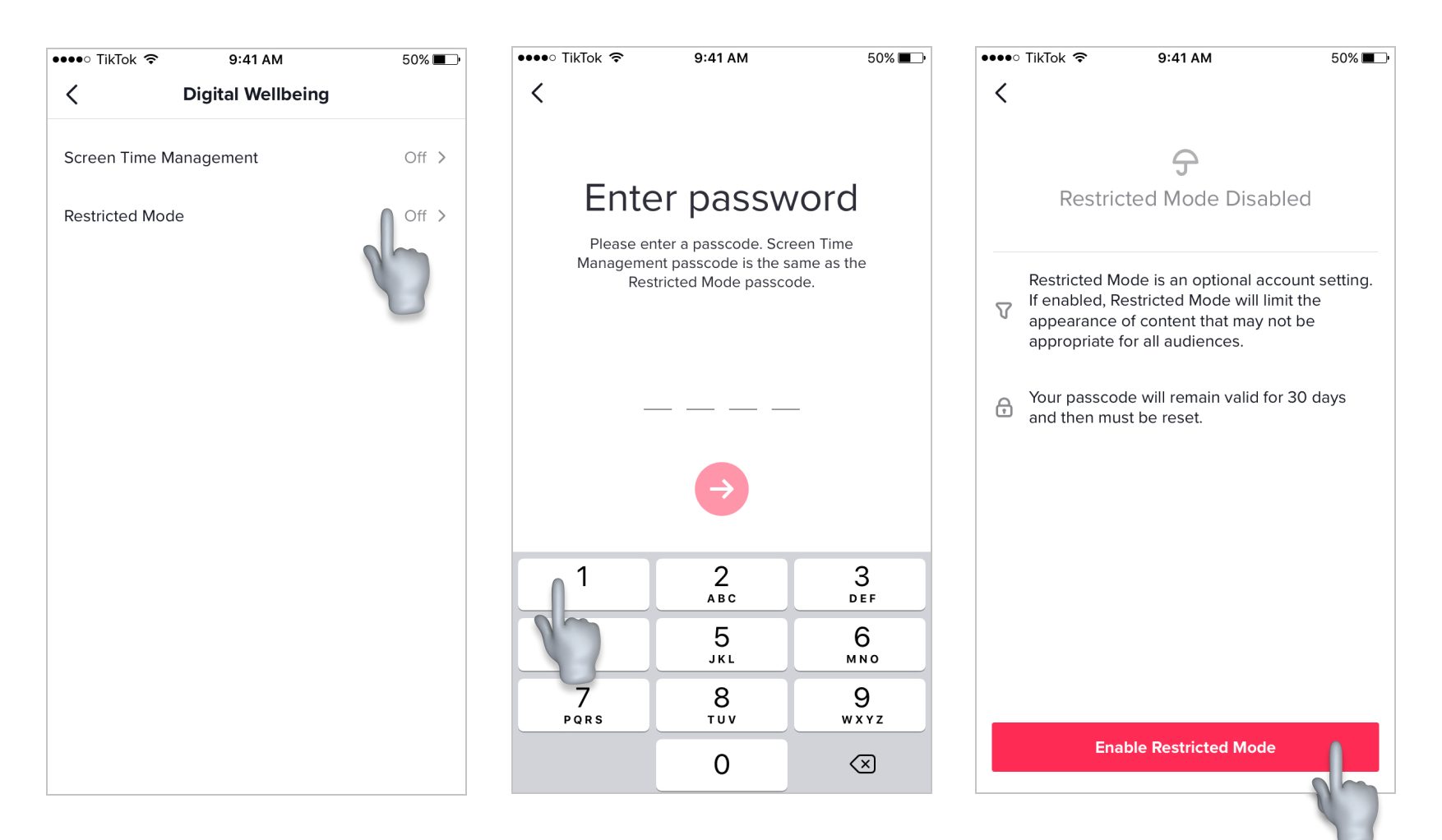 Set screen time limits
In today's digital age, it should come as no surprise that people spend most of their waking hours staring at a screen. To help offset some of that time, we've implemented a Screen Time Management feature to help you hold yourself to 2 hours on the app per day. With this setting enabled, you will need to enter your passcode to allow your teen to continue using TikTok past that time limit.
To enable Screen Time Management:
Select "Digital Wellbeing" under the app settings
Tap "Turn On"
Set a passcode
Toggle "Screen Time Management"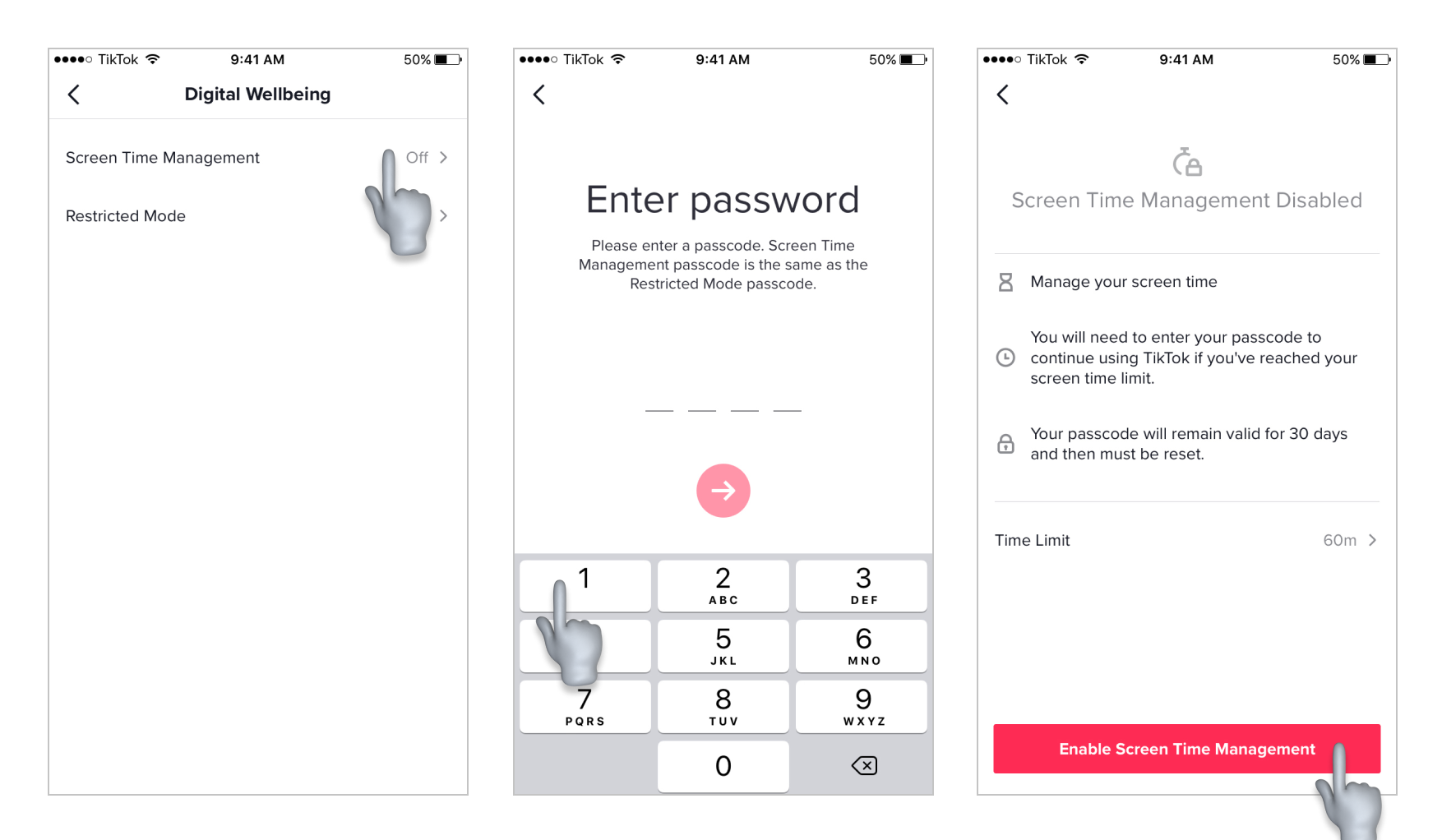 Not interested in videos
It's easy to like and share videos on TikTok, but what if your teen sees a video they don't like? Simply long-press on that video and tap the "Not Interested" icon. They'll be shown less of that sort of video in the future. This function can be used on any video for any reason.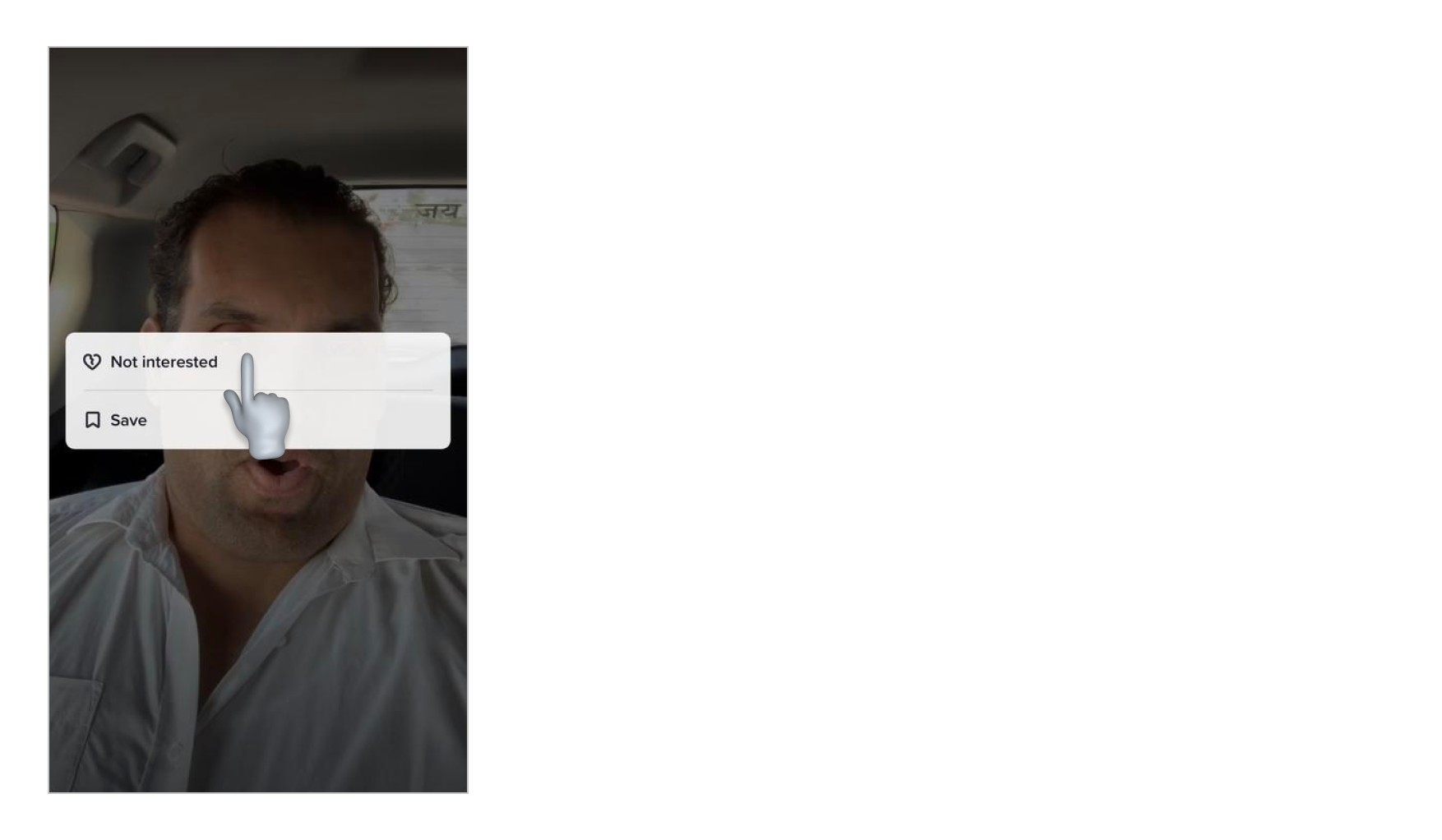 We're constantly creating new tools for users to get the most out of TikTok. Keep an eye out for new safety features and policies that you or your teen can utilize during your time on the app.