As an entertainment platform powered by a diverse community, TikTok is excited to be at VidCon Anaheim 2023 to celebrate the creativity of our community and share the real-world opportunities that TikTok can offer creators and brands. With a global community of more than one billion, TikTok is the place where more than 150 million American creators and businesses gather, and where anyone from any walk of life can find their people, turn an idea into a career, be discovered, and succeed on a global stage.
At VidCon 2023, TikTok will be hosting a range of events and panel discussions showcasing how creators and brands can unlock real-world opportunities on TikTok, lean into the creativity of the platform, and fuel their discovery and success. Tune in to our VidCon 2023 activations to uncover why TikTok is at the forefront of the creator economy, how we're rewarding creativity and authenticity, and how you too can shape culture, and find success on TikTok.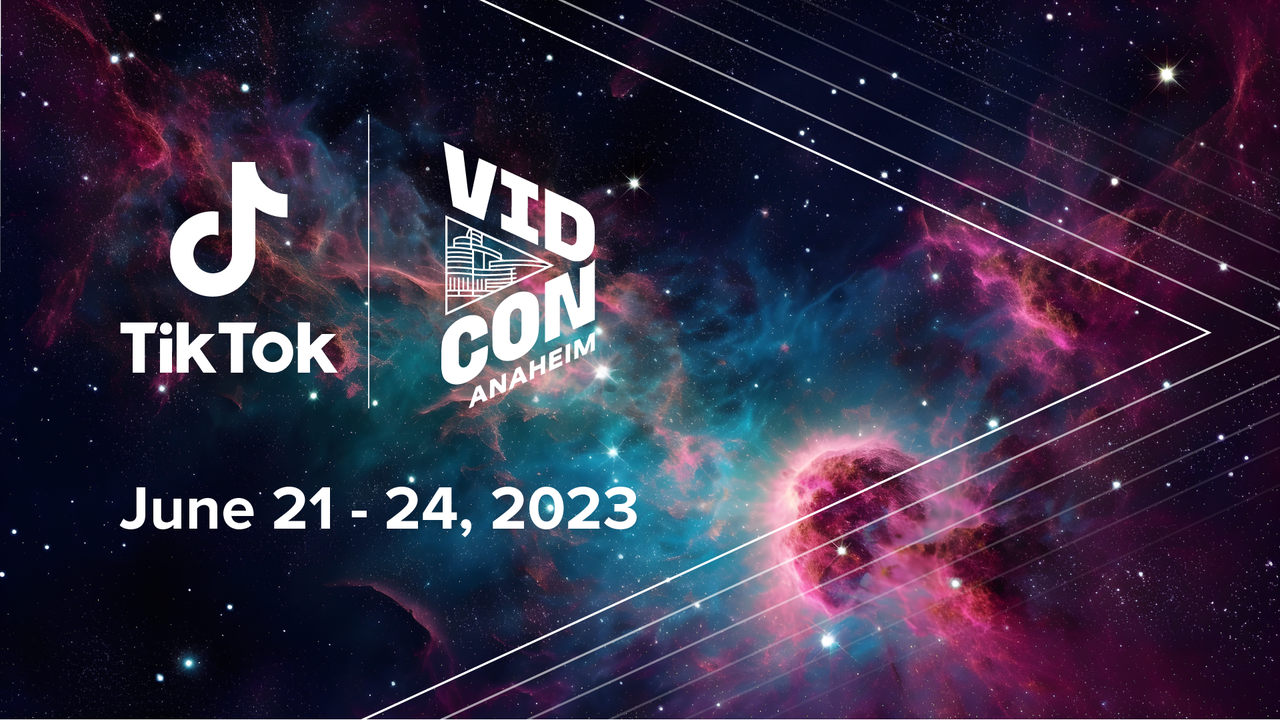 An Out Of This World Experience For Creators To Create and Build Community
Starting Thursday, June 22, we're inviting VidCon attendees to explore the universe of TikTok's vibrant creator community at our TikTok Galaxy Creator Lounge: a space to come together, collaborate, and create content that's out of this world. Our lounge is your intergalactic gateway to explore the TikTok universe, recharge during VidCon and discover the latest trends and products entering your orbit. You can access the lounge Thursday, June 22 to Saturday, June 24 between 9:00 AM and 6:00 PM PT each day with an Industry Track or Creator Track badge
TikTok Panels @ VidCon 2023
In the following sessions, TikTok experts and creators will be unpacking how and why creators and brands thrive on TikTok:
TikTok Tips from Emerging & Established Creators
In this session, you'll hear from @artbydemarcusshawn, @lauragouillon and @the.navarose, creators who are at varying stages of growth and use in-app tools to create next-level content and build their audiences. In a conversation moderated by TikTok's Shadi Nayyer, learn more about new creation tools, TikTok's unique monetization features, new offerings like the TikTok Creative Challenge, Series, Creativity Program Beta, and Effect House Creator Rewards, and maybe even source some inspiration for your next video.
How TikTok Works: Optimizing Your For You Feed
Why do we see the content we do on our For You feeds? Hear from TikTok executives Melissa Tecson and Ryn Linthicum alongside creators @naomiheartsxo and @underthedesknews on how the For You Feed works, how to customize your experience, and how to thrive on TikTok.
How to turn Likes to Buys as a TikTok Shop Creator
Join TikTok's Sylvie Esmundo and e-commerce creators @thephixofficial, @gingerladd, @joshnasar and @beautybykaitlyn for a discussion on creating successful partnerships and campaigns that benefit both creators and brands. Learn how to create engaging content, negotiate partnerships, and measure campaign success on the platform.
Top Gear: Building Commercial IP From TV To TikTok
How does a 45-year-old car show from BBC Studios, become the world's largest motoring media brand, with a global digital following of over 36 million? Join representatives from TG's digital production partner, commercial arm and TikTok's Catherine Halaby to see how entertainment brands are embracing digital storytelling, building commercial IP, and delivering commercial opportunity.
Expanding Reach and Discovery Through Authenticity
For brands looking to connect with new audiences in social environments, authenticity is imperative. In this conversation, TikTok's Stephanie Hind will be joined by leading publishers from Paramount Pictures, American Red Cross, and Major League Baseball to share how they've cracked the code on TikTok with organic content strategies that expand reach and open new opportunities for discovery.
Bringing Brands and Creators Together on TikTok
On TikTok, brand and creator collaborations are easier and more effective than ever. Hear from TikTok's Charles Biberson joined by @theavocadotoastbudget and @oneilthomas97 to discuss the power of working with creators, how to make the most of the TikTok Creator Marketplace, and best practices for brands looking to foster more authentic connections with the TikTok community.
Authentic Expression: Building Community on TikTok
From sharing inspirational journeys to living life on their own terms, TikTok creators are building platforms that embrace their authentic selves. TikTok's Alexzi Girma will be joined by creators including @joelbervell, @shoelover99 and @juicybodygoddess on how they're driving culture by de-stigmatizing important conversations and showing others they aren't alone.
Can't make it to VidCon this year? Don't worry — you can still be a part of the action by tuning in to VidCon's livestream of select sessions and checking out #TikTokVidCon on @tiktok.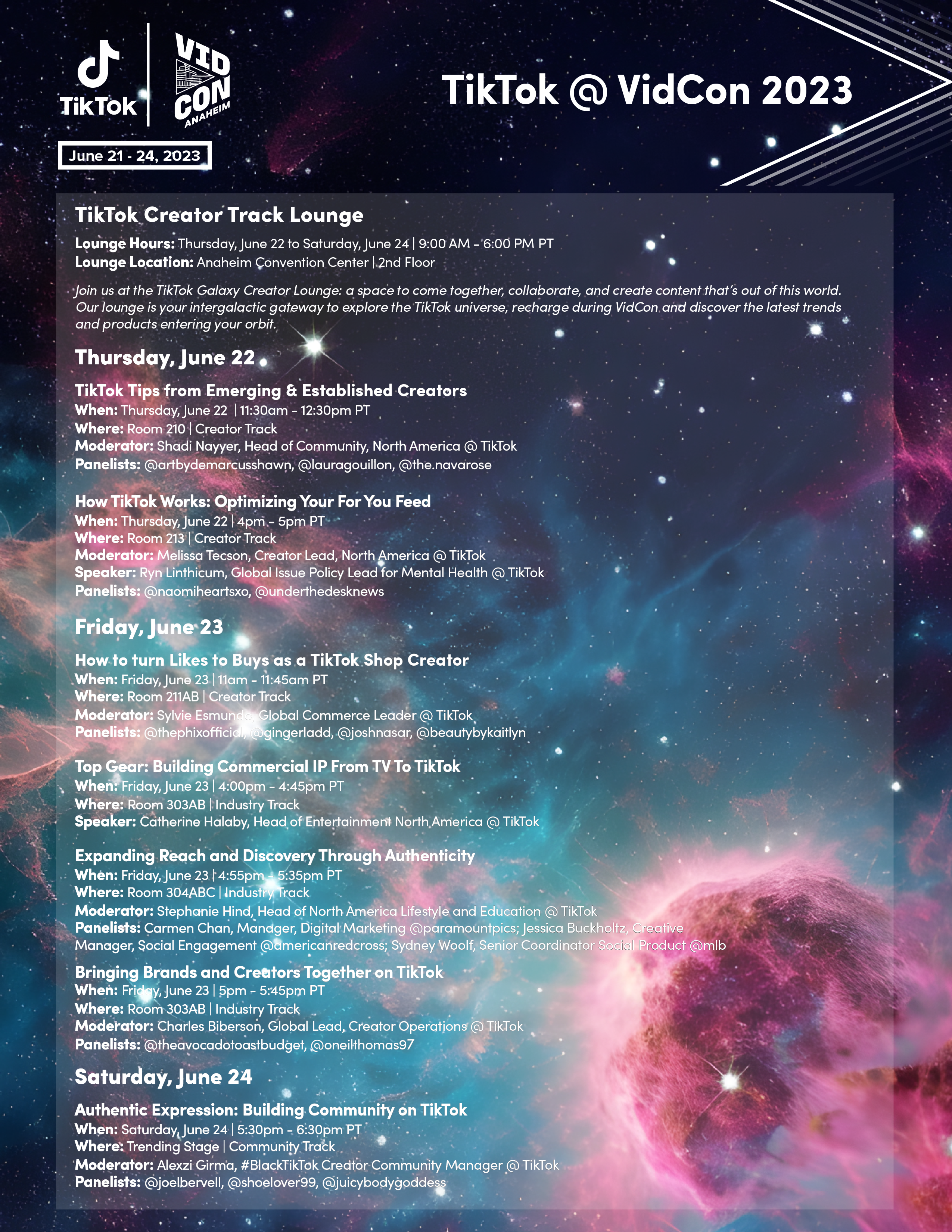 TikTok gives creators the opportunity to turn their passions into careers and provides a safe space for individuals to build community, spark joy and connect on a global scale. We're honored to be back again for VidCon 2023 to celebrate our platform's diverse community, and can't wait to connect with you all IRL!