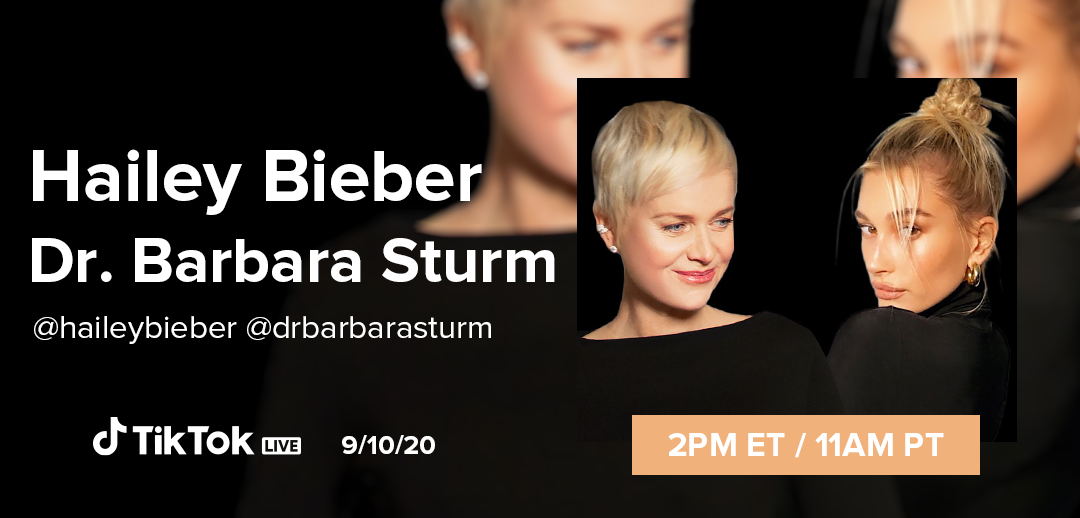 Our important, continued commitment to wear masks and face coverings to keep everybody around us safe has been challenging on our skin. 'Maskne' - portmanteau that is now everyday vernacular to describe face acne and irritation from wearing a mask - is real and we are teaming up with Dr. Barbara Sturm, creator of the now famous 'vampire facial', and founder and CEO of her namesake, celeb-loved skincare brand, to bring her educational series, Skin School, to TikTok with special guest and TikTok Queen Hailey Bieber.
As an extension of #LearnOnTikTok, the duo will help teens and young adults (and late skincare bloomers, too!) get a safe start on their skin journey. Dr. Sturm and Hailey will chat about common skin concerns and solutions, and dispel many popular myths.
Dr. Sturm is going LIVE on her TikTok page @drbarbarasturm for a 40 minute all-questions-answered session with @haileybieber on Thursday, September 10 at 11 a.m. PT. Grab your notebooks, #SkinSchool is about to begin! 🏫
From dispelling popular myths about skincare (does drinking water REALLY work?) to showing us the top routine tips and skincare steps, she'll be getting real on what we all need to do to make sure our skin is looking its best. Plus, you'll be able to hear first-hand how Hailey gets that flawless look from home, what her top skincare #beautyhacks are and what are the go-to products she just can't live without.
Savvy skincare lovers amongst us are invited to submit their skincare questions for Hailey Bieber and Dr. Sturm ahead of the event, by signing up for #SkinSchool via Dr. Barbara Sturm's website ( www.drsturm.com). By signing up you'll also be in with a chance to get your hands on some Dr. Barbara Sturm skincare goodies too! You could win the ultimate 'maskne set' fighting kit. 💪
It's time to tune in to say goodbye to skincare woes. ⏱️