We want our users to have their best experience online, which means being able to create and have fun while feeling safe and comfortable. This post is part of our Community Well-Being series that aims to educate users on how to customize their TikTok experience using the various safety, privacy, and well-being tools available to them.
Your TikTok profile is the way to display your likes and interests to the community. From videos you enjoy to content you create, a profile is a snapshot of your personality. But not everyone wants to share parts of their profile, so TikTok created features that allow you to restrict what your friends and the public can see. With these tools, you're in control of what you show the world.
Who can see your likes
Liking videos is an important part of curating your TikTok experience. When you like a video, TikTok will try to show you similar videos you might also find entertaining. But we understand that sometimes you might not want the world to see everything you tapped a heart for. That's why we added a feature that keeps your list of liked videos private.
Your likes will automatically be set as visible only to you, but you can change that at any time from your profile page:
Access Privacy and Settings by clicking the three dots in the top right corner
Tap "Who Can See the Videos I've Liked"
Choose between All and Me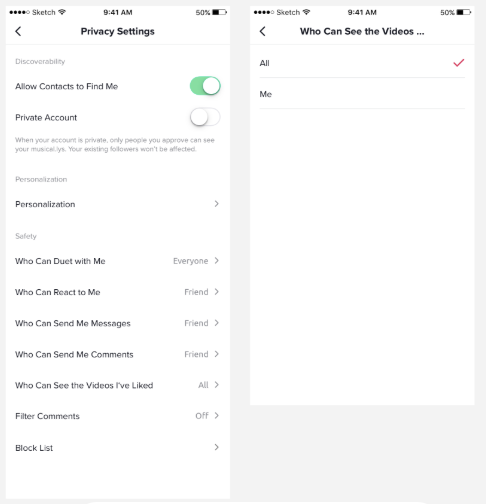 Making a video private
TikTok has tons of video creation and editing tools to foster your creativity. It's fun to share the videos you make with your friends and the community, but sometimes you might want to experiment by creating a video just for you. By making that video private, you will be the only person who can view it.
To upload a private video:
On the video posting page for your draft video, tap "Who Can View This Video"
Choose "Private"
NOTE: Private videos must still follow the community guidelines and may be flagged by filters for moderation.
Switching to a private account
By default, your account starts as public, which means any TikTok user can view your videos and post comments, reactions, or duets to engage with the content you've created and shared – but you can easily change it to a private account in your Privacy Settings.
If you switch to a private account you can approve or deny follower requests, and only users you've approved as followers can see your content.
Remember:
Information you put in your profile will be visible to all users
You can edit your privacy settings by visiting the Privacy and Safety tab on your profile page.
You may not use TikTok if you are under 13, or the minimum age for your country or region if designated differently in the Terms of Service