At TikTok, we are always looking to provide innovative ways for our community to secure their accounts and #BeCyberSmart. Today, we're pleased to announce that TikTok is introducing passkeys for iOS devices - a faster, easier, and more secure way for people to sign into their TikTok accounts across their devices by using Face or Touch ID. As a part of this passkey launch, we are also proud to announce our membership in the FIDO Alliance, an open industry organization whose mission is to develop and promote authentication standards that help reduce reliance on traditional passwords which could be lost or stolen.
What are passkeys?
Passkeys are password replacements that can confirm your identity based on encrypted biometric authentication methods already available on your device. When you use passkeys, all biometric authentication data remains on your device and cannot be accessed or processed by third party apps, like TikTok. If you are an iOS user, you may already use passkeys on other applications. For your TikTok account, you will now have the option to use passkeys instead of a password to sign into your TikTok account directly from your iCloud account across devices.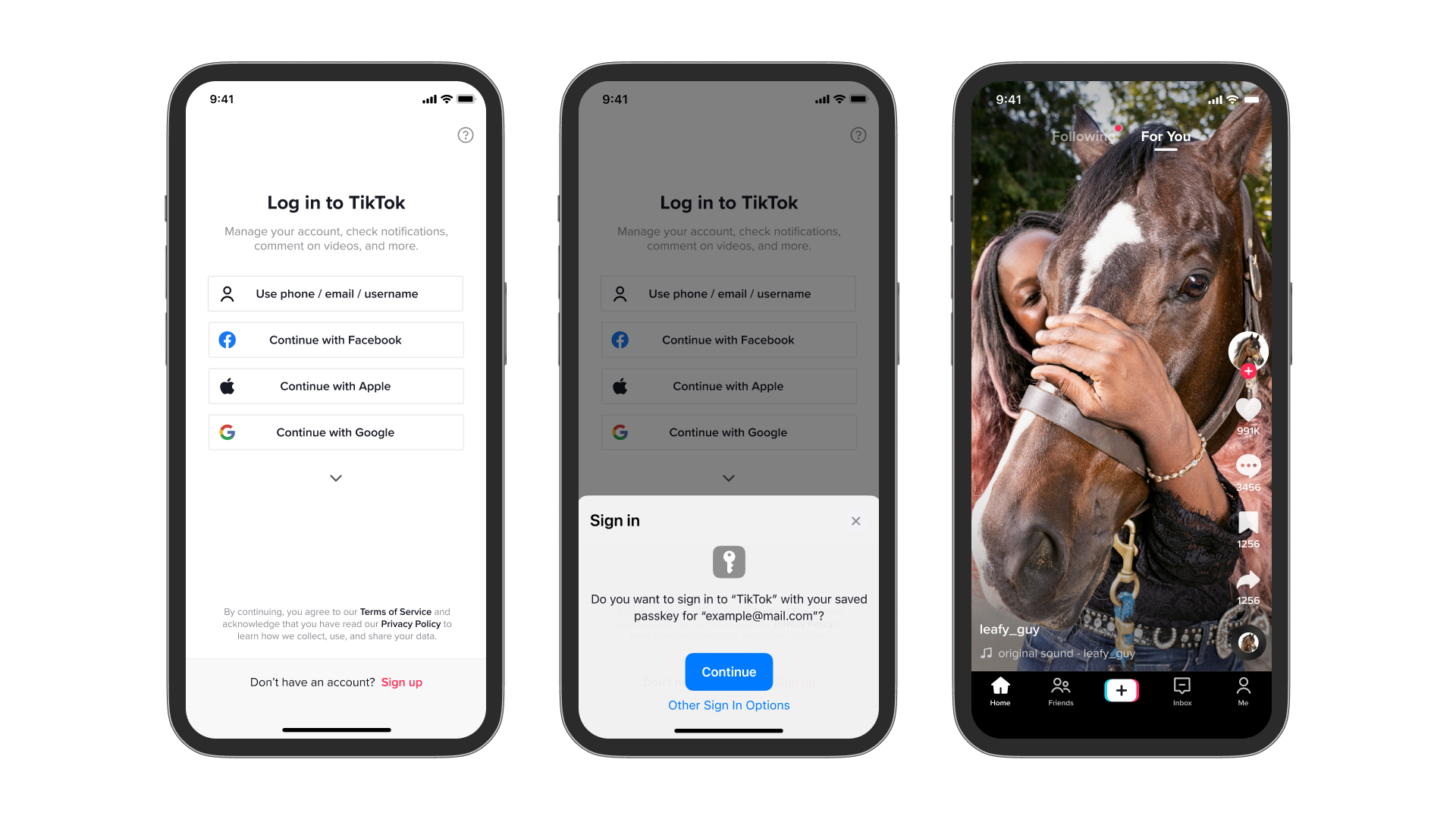 Passkey authentication works by using public-private key cryptography techniques. To log in, users initiate the key pairing by verifying their identity with their Apple Face or Touch ID. Apps using passkeys, including TikTok, cannot access or process any of the biometric data used in the authentication process on iOS devices, and all biometric authentication data remains on users' devices.
Passkeys simplify the login process and make it much harder for an account to be compromised as there is no longer a traditional "password" that can be stolen, forgotten, or re-used across multiple accounts. Passkeys are also largely phishing-resistant, which protect against the number one crime type in the 2022 Internet Crime Report produced by the FBI's Internet Crime Complaint Center (IC3).
"Passwords are a hindrance to security and user experience that are long past their expiration date – which is why the FIDO Alliance has created open standards for passwordless authentication that are being utilized by leading service providers to allow consumers to have easier access to leading online services such as TikTok." - Andrew Shikiar, FIDO Alliance Executive Director.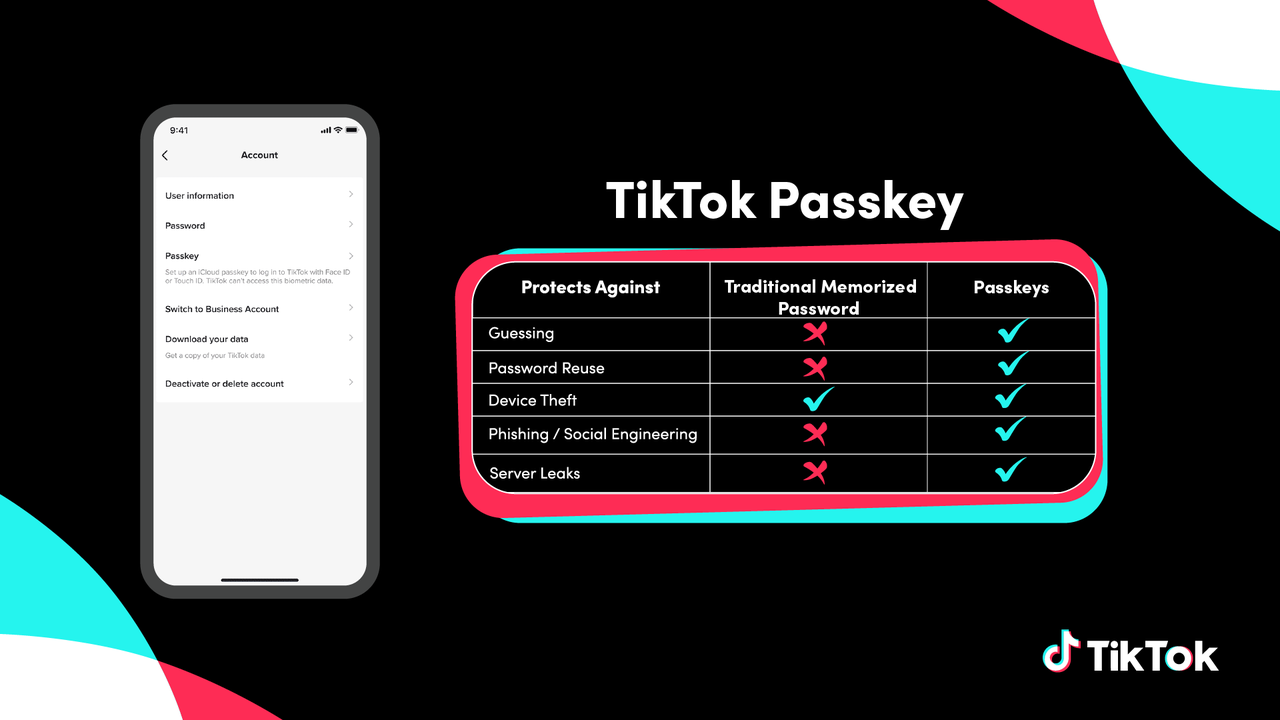 Why we partnered with the FIDO Alliance?
The FIDO Alliance launched in February 2013 with the mission of developing and promoting authentication standards that "help reduce the world's over-reliance on passwords." TikTok is joining hundreds of global tech leaders in the FIDO Alliance that have come together in support of the organization's mission to reduce the world's reliance on passwords. As alliance members, we contribute to this mission by influencing the development of FIDO specifications, establishing best practices for the deployment of FIDO Authentication, and driving global awareness of the Alliance and its mission.
"We are thrilled to join the FIDO Alliance as we begin to introduce passkeys for login, working with industry leaders to amplify secure passwordless technologies." - @Kim Albarella, TikTok Head of Global Security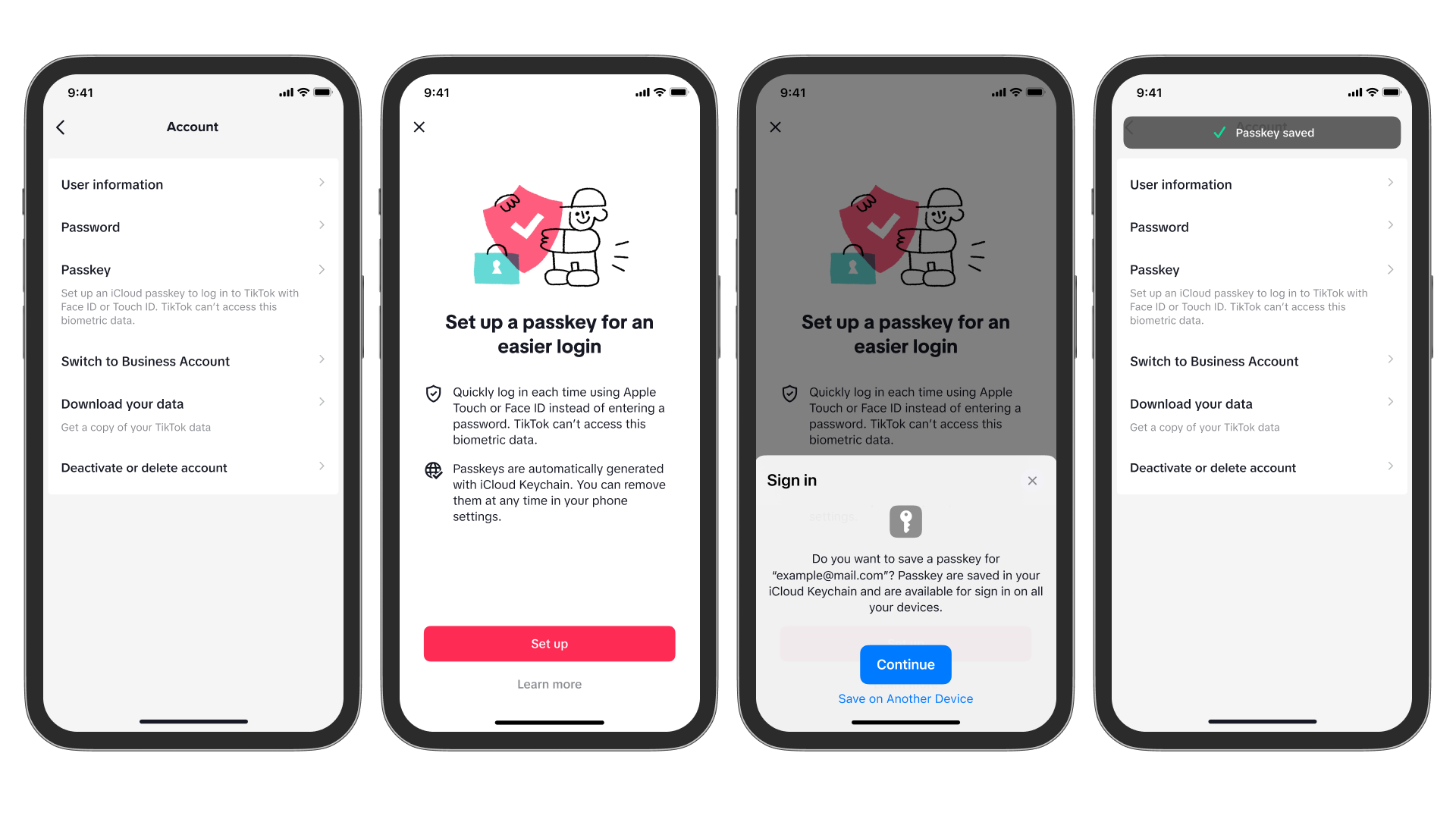 How to set up passkeys for your TikTok Account
We will begin rolling out passkeys for iOS in certain regions, starting with Asia, Africa, Australia, and South America beginning this month, and anticipate expanding in geographies and operating systems over time. When available in your market, you can follow a few simple steps to turn on passkeys for your TikTok account using your iOS device. The next time you log in, you'll be prompted to log in through your saved passkey!