by Tara Wadhwa, Director of Policy, TikTok US
At TikTok, we continually work to maintain a supportive environment that enables our community to focus on what matters to them: being creative, finding community, and having fun. Part of this fun is engaging with content, sharing ideas, and connecting through comments. Our goal is to promote a positive environment where people support and lift each other up. To help foster kindness in our community, today we're rolling out two new features: the first feature gives creators more control over the comments on their videos, and the second prompts people to reconsider posting unkind or inappropriate comments.
More power to control comments
Creators put their heart and soul into creating content millions of people love, and we're working to provide even more control over their content. With our new Filter All Comments feature, creators can decide which comments will appear on their videos. When enabled, comments aren't displayed unless the video's creator approves them using the new comment management tool.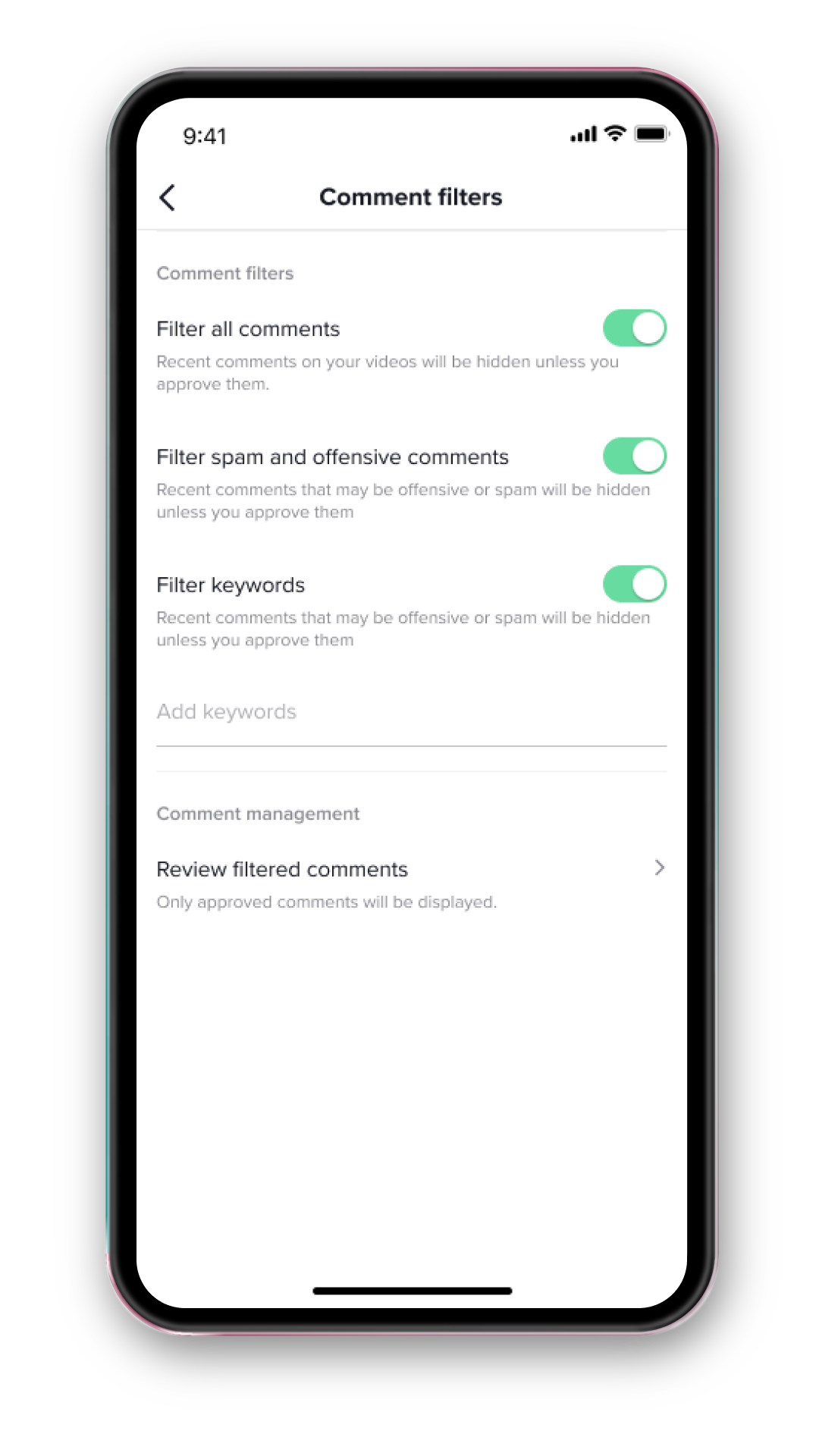 This feature builds on our existing collection of comment controls that allow people to filter spam and offensive comments, and specific keywords. We know that comments are an important way for community members to connect with creators, and we'll continue to develop ways to promote respectful discussion.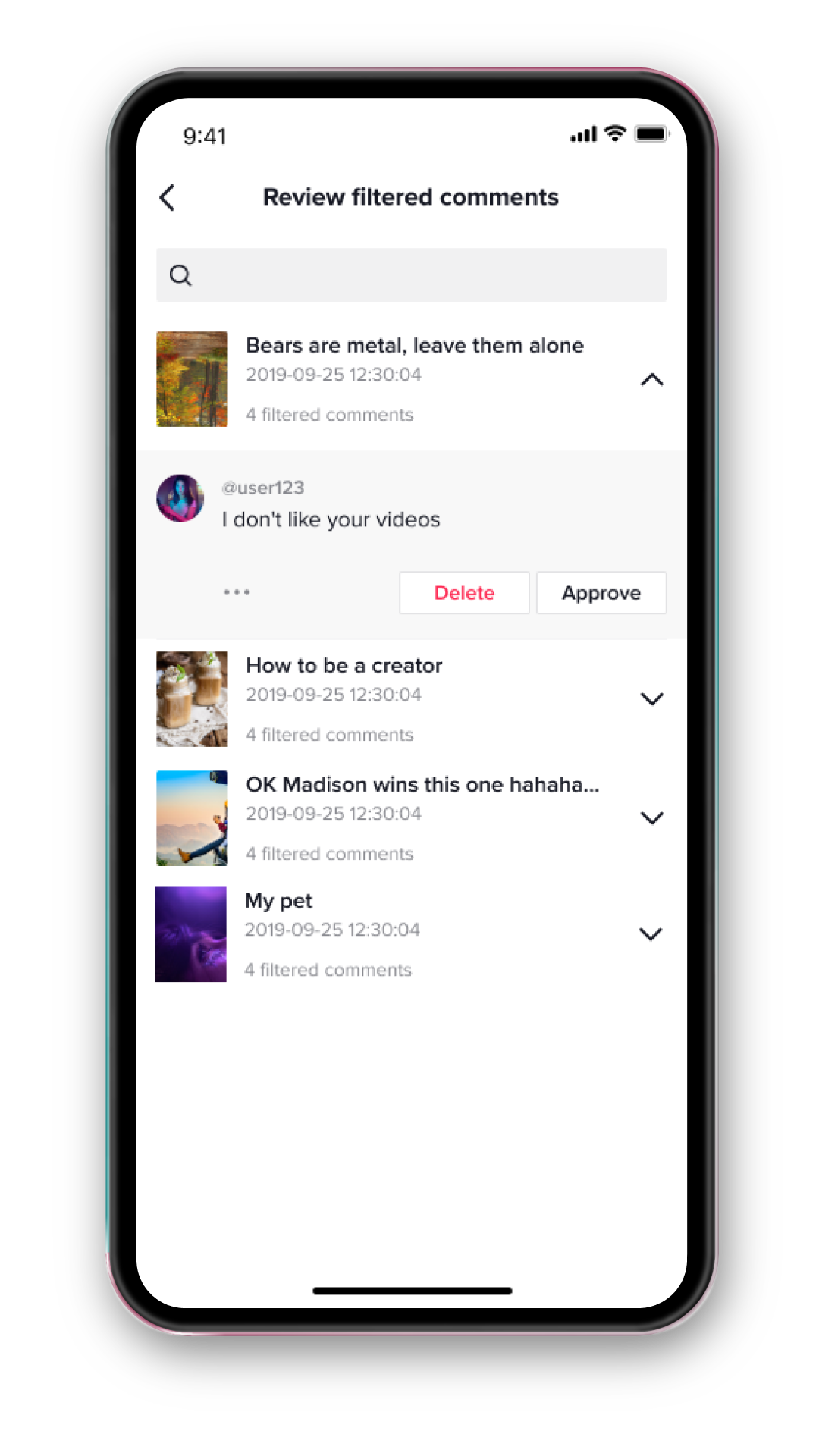 Consider before you comment
In addition to empowering creators with more tools, we also want to encourage our community to treat everyone with kindness and respect. A new comment prompt now asks people to reconsider posting a comment that may be inappropriate or unkind. It also reminds users about our Community Guidelines and allows them to edit their comments before sharing.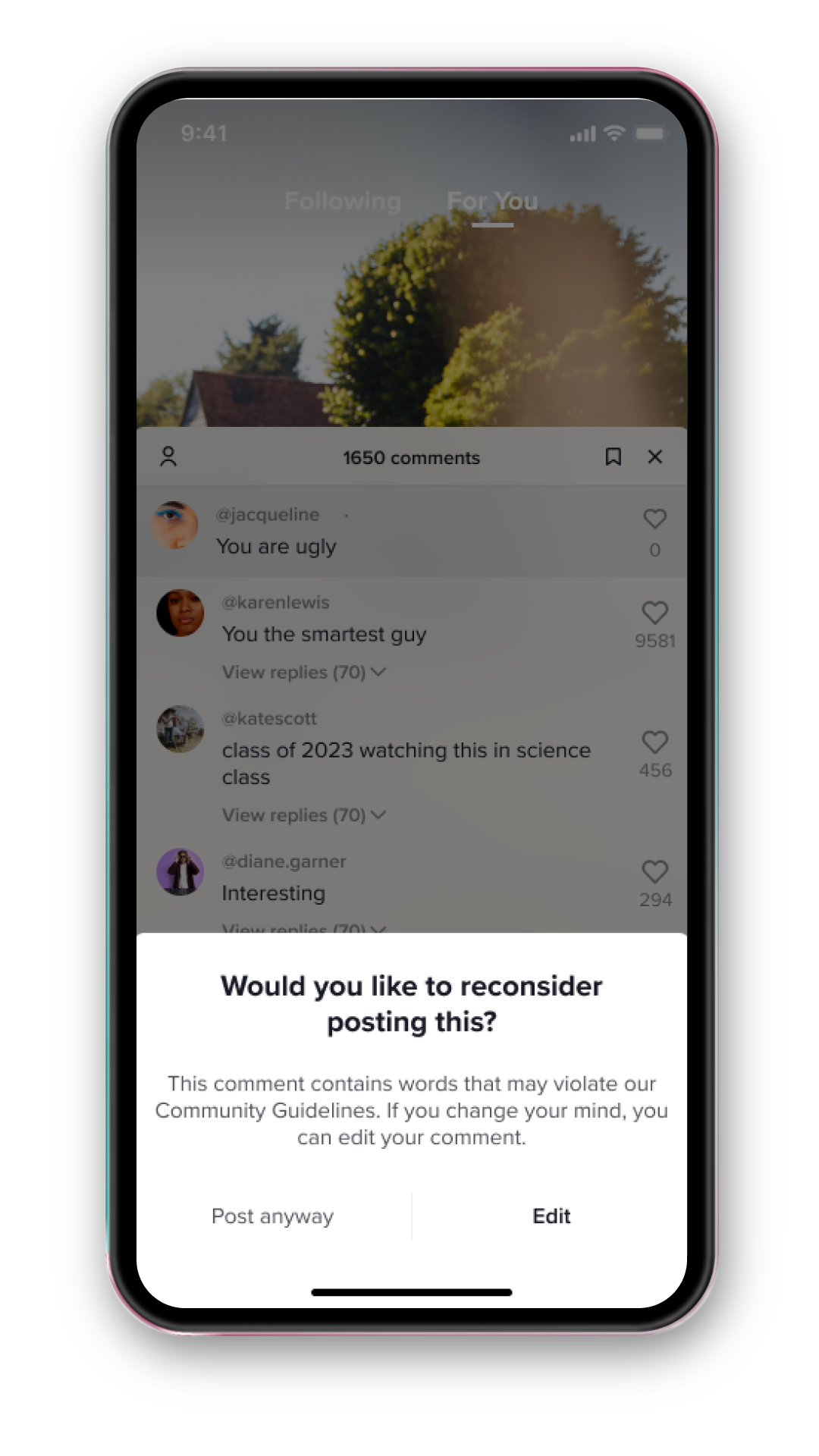 We value the guidance of experts as we develop policies and features, and today we're announcing our new partnership with the Cyberbullying Research Center (CRC). The CRC's mission is to develop sound research about cyberbullying and related forms of abuse/misuse, and we'll be working with them to advance our knowledge of bullying on and off TikTok, collaborate on ways to better support our community members, and develop other initiatives to help our platform remain supportive and welcoming.
"The Cyberbullying Research Center is excited to work with TikTok in the months ahead on anti-bullying initiatives. TikTok's new features are positive steps to promote kindness and we're eager to collaborate on further ways to protect against bullying and harassment." - Dr. Sameer Hinduja, Co-Director of the Cyberbullying Research Center
Creating a safe and positive app environment that allows creative expression to thrive is our priority. We'll continue to strengthen our safeguards for users, build tools that provide people with more control to shape their experience, and keep listening to feedback from our community and experts.