TikTok is all about giving users innovative tools and a platform to express themselves creatively and authentically. To help our creators in this mission, we offer a large suite of creative effects that help users bring their individual stories to life through the TikTok videos they create. From interactive filters to voice and camera effects, there are hundreds of ways to inspire and unleash creativity.
One standout effect was the Green Screen effect. TikTok's Green Screen has been used by creators around the world more than any other effect, in fact, it has been featured in more than 54 million creations. With the green screen, users have been able to set their videos anywhere they can imagine (assuming there's a picture of it).
Due to the popularity of the Green Screen effect, we recently introduced a new, evolved version of this effect - Green Screen Video. For the first time ever on any mobile video platform, users are able shoot over videos playing in the background. Users can trim up to 60 seconds of a select video from their phone's video album.
How to use the new Green Screen Video effect:
To use the Green Screen Video effect, follow these simple instructions:
1. Open the app and hit the "+" to create a video.
2. Select "Effects" and under the "Trending" section, look for the #greenscreenvideo icon.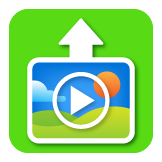 3. Choose a video from your phone's video album to use it as a background and hit record!
Green Screen Video in action
Since gaining access to this feature, creators on TikTok have taken full advantage of their new capability by adding themselves into countless videos and making their backgrounds come to life. They've just begun to experiment with the effect and we can't wait to see what they come up with next.
@opticxfazexswag goes inside the game!
@chiagoziem shows us the only safe way to run on the highway
@Jeremyboard gives us his top 5