TikTok is always looking for ways to give our community new opportunities and fresh features to express themselves creatively. Today, we're extending our creative offerings with the launch of our Share to TikTok SDK -- the first feature introduced in our TikTok for Developers program. With this program, we're introducing new tools for third party apps and developers to integrate with TikTok and give users access to even more features to create and share amazing content.
TikTok offers lots of creative filters and editing tools, and we want to continue giving our users to the tools to create whatever they can imagine. We're excited to extend our creative offerings with our new developer program.
Share to TikTok
Share to TikTok enables third party apps to integrate directly with TikTok, giving their users the ability to upload videos to TikTok straight from their app's editing platform. For our users, you can now edit your videos in the apps you love and seamlessly bring them into TikTok.
This new Share to TikTok feature enriches the content available on TikTok, diversifies the types of videos users can discover, and offers more editing choices for users to explore in addition to TikTok's built-in creative tools. Most importantly, it gives users multiple avenues to create new original, high quality content using platforms with exciting creative tools.
By engaging with the TikTok SDK, third party developers will not only provide a new channel for creators to share their creations but also expand the reach of their own platform through specified partner hashtags.
We're excited to launch with amazing partners including Adobe, the world's leader in creative tools, mobile apps, and services. Through our partnership with Adobe, Premiere Rush users now have the flexibility to edit using its rich feature set and share instantly to TikTok. Rush allows creators to capture videos on the fly and edit their content on any device using the tools and effects they love like speed changes, aspect ratio switching, advanced color and audio control, transitions, and more!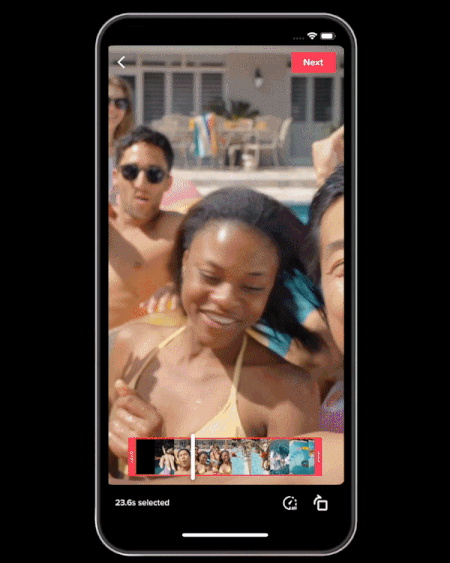 Check out all the third party apps now integrated with TikTok:
The new TikTok SDK allows third party apps an opportunity to extend their reach while giving users a wider selection of creative tools to help their videos match their vision. We're excited to see how creators use these new features and will continue to expand their access to 3rd party apps.
If you're a developer and interested in building with TikTok, learn more about how to get involved here: developers.tiktok.com.