Throughout the month of April and beyond, TikTok is celebrating Arab American Heritage by recognizing the contributions and impact of the #ArabTikTok community. The Arab community on TikTok inspires us all year round, whether we're following trends or learning about Arab culture and history through the lens of our creators.
For National Arab American Heritage Month (NAAHM), we're proud to shine a light on the creators and businesses who uplift and champion the Arab community every day on TikTok, and within their local neighborhoods.
We're kicking off our celebration of #ArabTiktok NAAHM with a series of exciting programs and in-app experiences: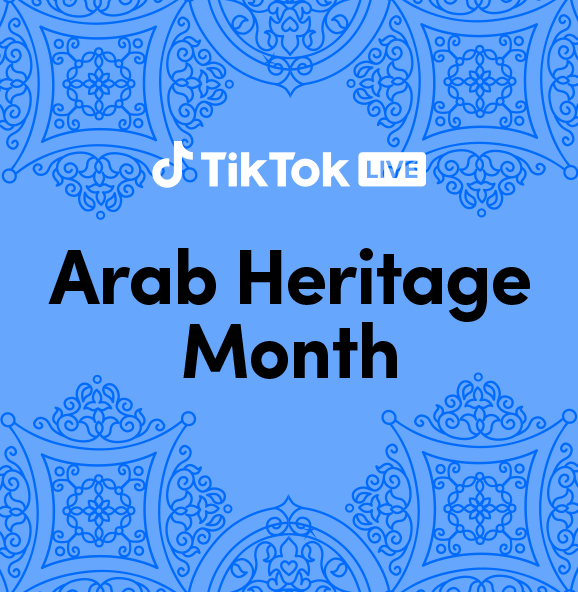 #ArabTikTok - You can view our in-app hashtag programming and check out our #ArabTikTok content hub to join the celebration and discover the inspiring creators we're celebrating for NAAHM.
LIVE streams - Throughout April, we will host pop-up LIVE segments with some of the platform's most-inspiring #ArabTikTok creators in fashion, music and entertainment. Stay tapped into @TikTok for more info on our LIVE schedule lineup!
#ArabTikTok SMB Spotlights - To help you discover new Arab-owned small businesses to love, we're spotlighting entrepreneurs who are blazing trails in fashion, food and more. Follow @TikTokForBusiness to tune in to our latest posts and watch our special #ArabTikTok SMB video series throughout April.
#PassTheAux - Visit our sounds page for special playlists featuring TikTok's Arab music stars: R&B singer-songwriter singer-songwriter Ilham and award-winning singer-songwriter Najwa Karam.
#ArabTikTok Creators To Watch
Through the lens of food, comedy, fashion and more, these creators proudly amplify Arab culture and community on and off the platform. Here are some #ArabTikTok voices you should know:
@adeibb, Adeib : Adeib, a photographer and comedian based in LA, keeps the TikTok community laughing with his relatable, anxiety-driven bedtime stories (sometimes told in a British accent). He regularly updates his 1.3 million followers on his spontaneous life as a photographer with vlog-style content.
@micheline.maalouf, Micheline Maalouf: Micheline specializes in anxiety and complex trauma, using her platform to raise awareness about mental health issues. She helps us all get through life with tips from how to self-soothe with the Euphoria soundtrack to spotting red flags with your therapist.
@thegoldenbalance, The Golden Balance: This creator began using TikTok in 2020 as a way to share his passion for being in the kitchen by putting his own spin on global dishes, while also inspiring others to cook. Always wearing his signature black t-shirt, Ahmad's entertaining videos feature a range of delicious and approachable recipes that will make anyone fall in love with cooking.
@fooddolls, Alia and Radwa: These two Minnesota sisters, inspired by their mom's Egyptian cooking growing up, love to cook and experiment in the kitchen. With over one million followers, Food Dolls has quickly become a go-to hub for delicious, easy recipes — like sesame-crusted feta — that empower others to feel comfortable and confident in the kitchen.
Shop These #ArabTikTok SMBs
@soundofmazzika, Sound of Mazzika: Sound Of Mazzika is owned by an Arab American Artist who celebrates and normalizes her culture through hand-crafted, wearable art inspired by musical instruments. Shop soundofmazzika.com for oud earrings or a qanun necklace.
@elitebyjupiter, Elite by Jupiter: Elite by Jupiter offers natural, high-end essence in a variety of oils and oud chips. These long-lasting, cruelty-free, sustainable scents make everything from your living space to your hair smell better.
@dukkanfoods, Dukkan Foods: Dukkan, meaning "shop," prides itself on authentic, thoughtfully-made pantry staples filled with delicious Arab flavors, like baharat. Check out their TikTok for mouthwatering recipes.
Support #ArabTikTok
Join us on TikTok to celebrate National Arab American Heritage month, as we honor the great impact and contributions of our #ArabTikTok community.