By Tracy Elizabeth, Head of Family Safety & Development Health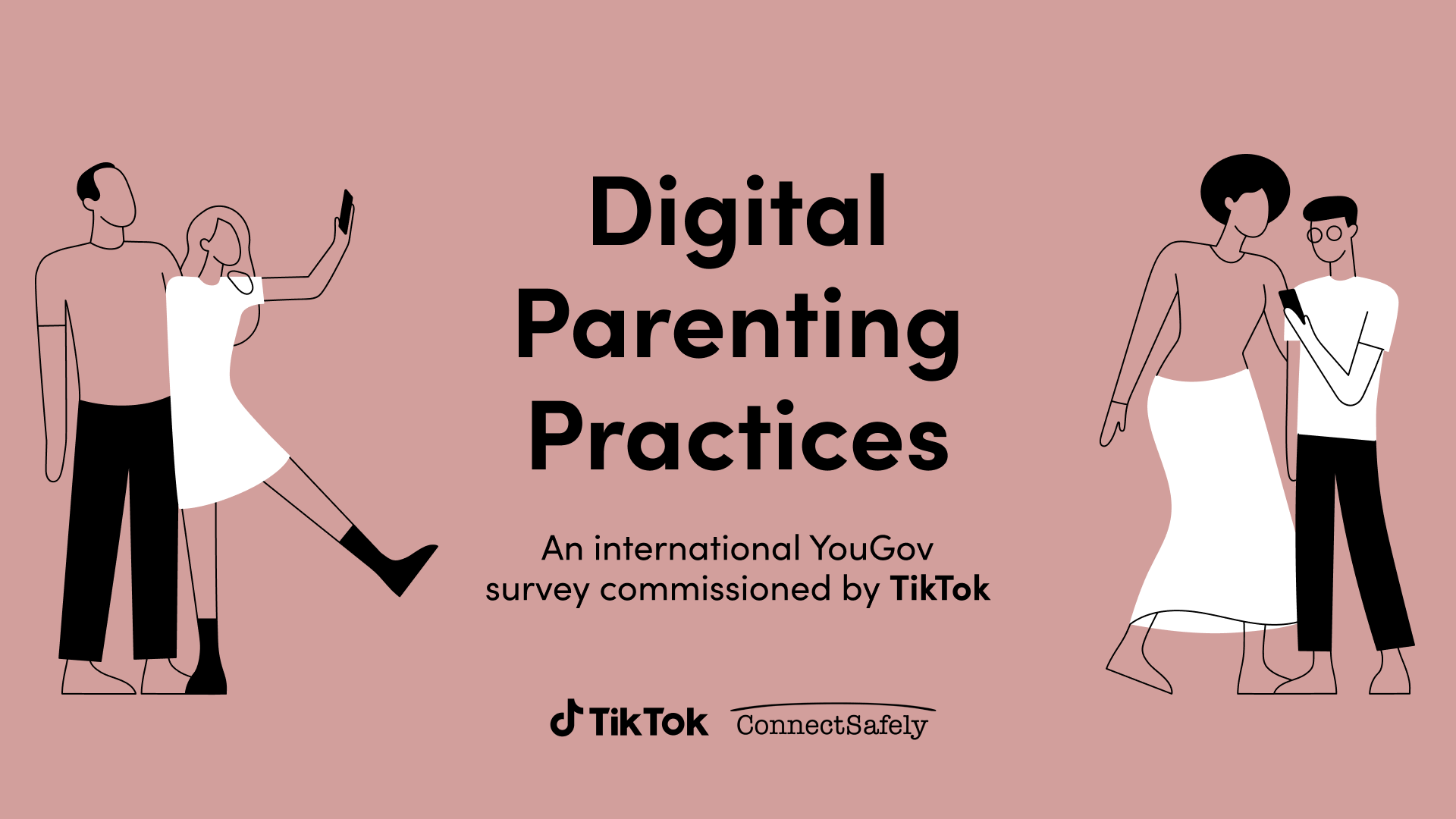 At TikTok, we marvel at the magic of family members coming together. From working out with mom to cooking with dad—we're inspired to see so many teens and their parents using TikTok to make memories, discover new interests, and have fun. Our platform offers a space for families to create and enjoy authentic moments, and we are committed to fostering important conversations that allow this enjoyment to take place safely and responsibly.

We understand that each family is different, with diverse needs and practices. That's why we partnered with ConnectSafely to survey US parents to better understand how they approach discussions about online safety with their teens. The results show that parents recognize how important these conversations are, which is why TikTok is launching initiatives to equip and empower parents to support these critical conversations with their teens.


Understanding parents' approach to safety conversations
We commissioned YouGov to survey over 2,000 US parents of 13 to 17 year olds to help us better understand the different ways they tackle conversations about online safety and well-being with their teens. We sought to identify how often parents talk with their teens about online experiences, how comfortable they are discussing safety topics, and which safety measures they employ in their own households.

There's no question that these conversations are vital—in fact, 78% of parents surveyed believe that parents have the biggest responsibility to talk to teens about online safety, compared to social media platforms (7%), friends (6%), and teachers (3%). But how and when are parents leading these conversations with their teens?

The findings reveal that parents may hesitate to proactively and consistently initiate these conversations. Over half (61%) of parents talk with their teens about online safety after their teens encounter a problem and come to them about it, with nearly the same amount (58%) doing so when they see a negative change in the mood or habits of their teens. While a significant majority of parents (94%) report feeling confident about speaking with their teens about their social media use, only a third (33%) reported speaking with their teens about their use of online and social media platforms on a weekly basis. The findings show that while parents want ownership and believe in their ability to speak to their teens about online safety, they often hesitate to proactively initiate conversations.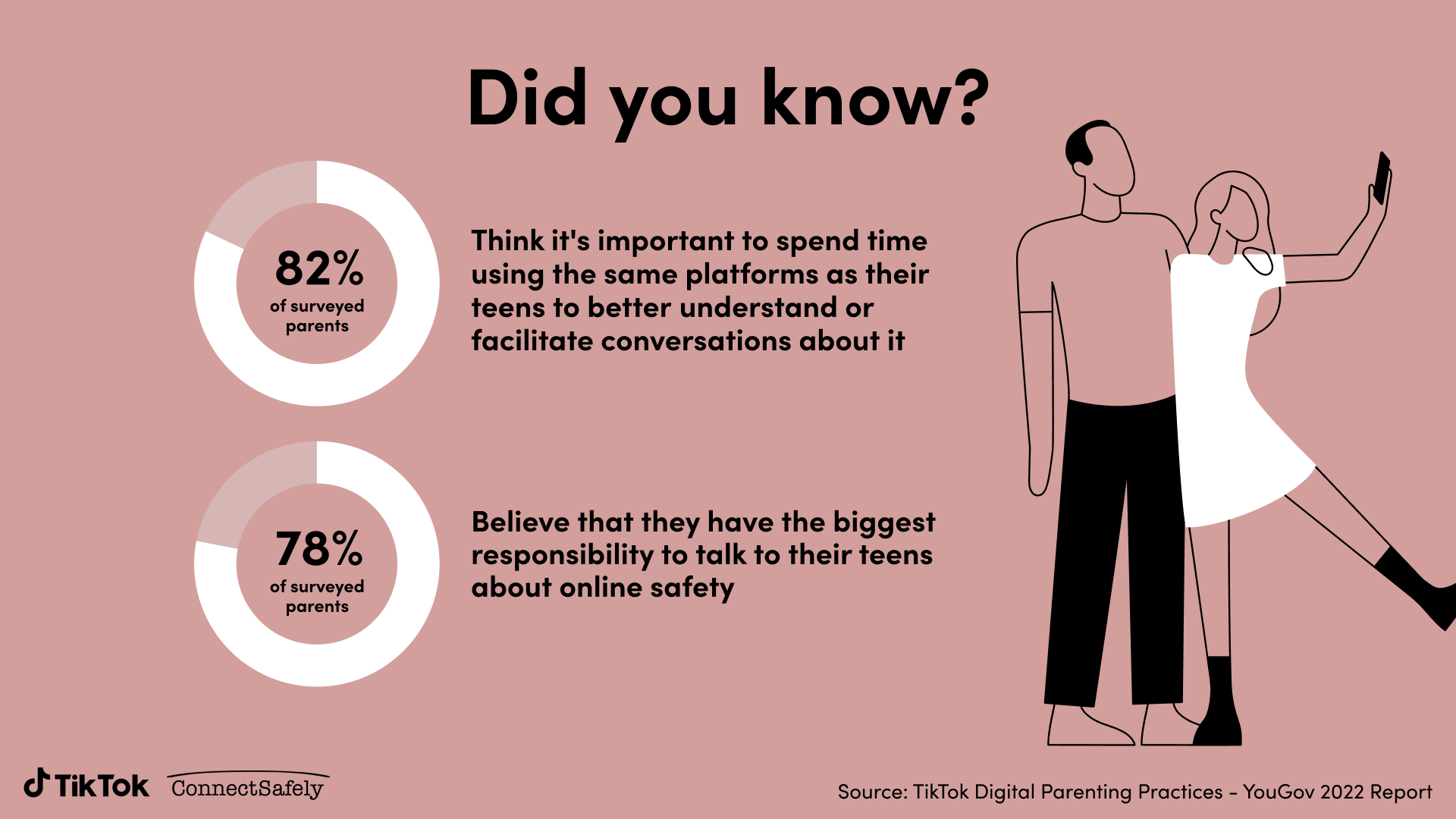 The findings also reveal emerging trends on how parents approach safety conversations within their families:
For moms, the safety topic they report discussing most often with their teens centered around bullying and harassment (60%) and scams/fraud (60%), while dads speak to their teens most often about screen time (49%).
While over two-thirds (68%) of moms and half (50%) of dads feel very confident talking to their teens about body image, these conversations are mostly directed to their daughters (45%) versus their sons (28%).
The top reasons moms gave for avoiding conversations around body image with their teens is their belief that that their teens would not want them to talk about it and that the subject is covered sufficiently in school (42%). While dads cite their belief that their teens would not want them to talk about it (41%) and fear that they'd make matters worse (32%).
Moms are more likely than dads to have the passcode for their teens' phones, follow their teens on online platforms, and to ask their teens to show them their social media profiles and feeds.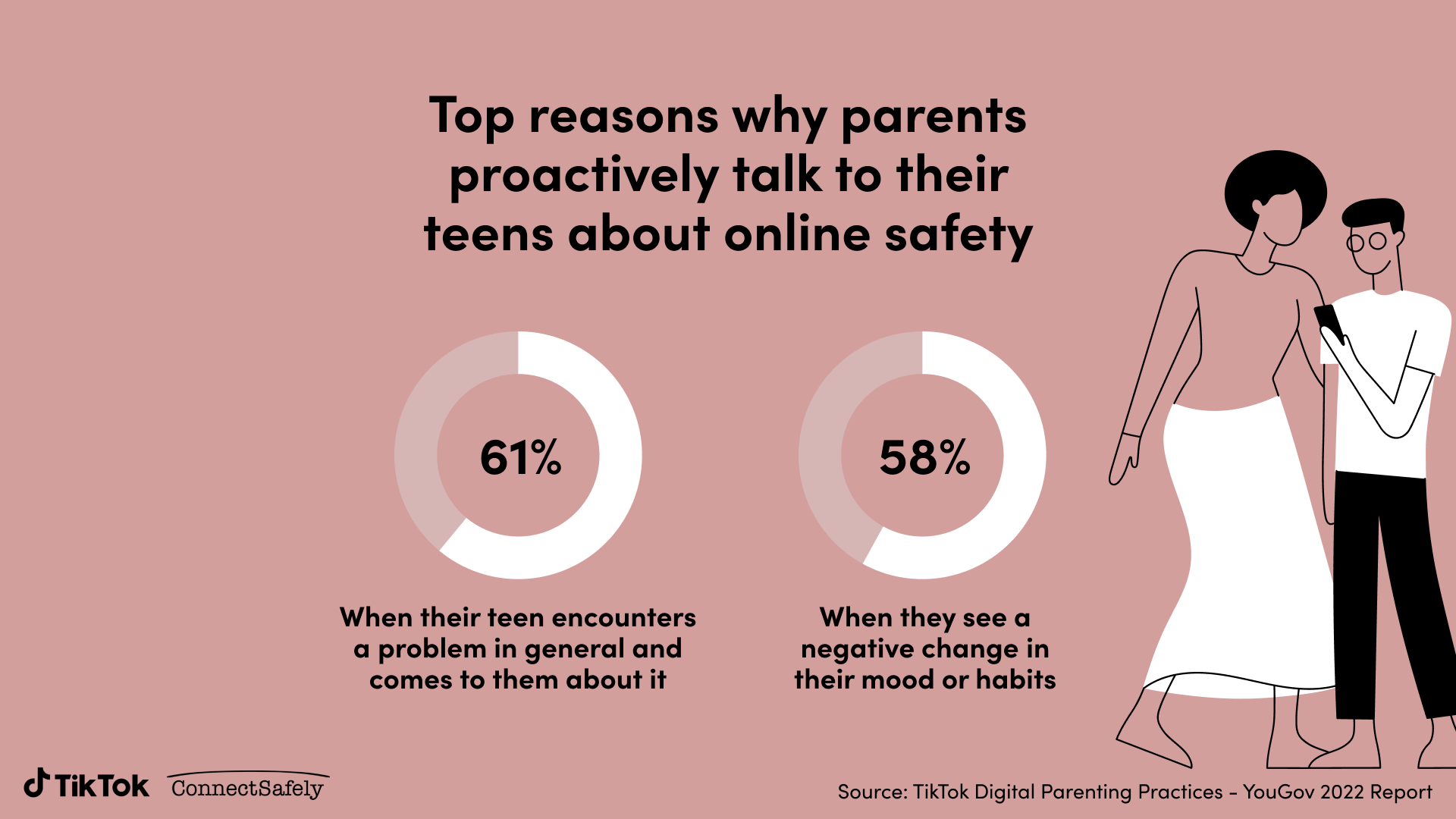 Based on the findings and the responses parents gave to questions about their own online presence and the steps they take to support their teens' online experience, we identified three distinct digital parenting practices:
Confident Caregivers are parents who have their own online presence and are generally confident initiating conversations with their teens about online experiences.
Aware Advocates know the apps their teens use, but feel slightly reluctant and under-prepared to initiate conversations about online safety and wellbeing with their teens.
Sideline Supporters aren't as active online, and avoid initiating conversations with their teens about being online.
Reaching parents where they are
We want to empower more parents to feel like Confident Caregivers when it comes to having conversations about online safety. Our research shows that 82% of parents think it's important for them to spend time using the same online platforms as their teens to better understand or facilitate conversations about their experience on that platform. And while 86% of parents said they have an awareness of TikTok's safety tools and features, including Family Pairing; only 57% of parents reported using these features. We want to increase parents' usage of our safety tools, especially for those Aware Advocates and Sidelines Supporters, which is why we've launched several initiatives to help raise awareness about how to use our Family Pairing feature, including community events with families, in-app educational content, and a national and local TV campaign.

Family Pairing allows parents and guardians to link their accounts with those of their teens and set a variety of privacy and safety controls, such as managing screen time limits, setting a teen's account to private, and deciding who can comment on their videos. One way we're raising awareness about this feature and how it can be used to facilitate productive discussions with teens is through in-person events with National PTA. We know that teens want to be part of the conversations about how they can be safe and responsible online, and we feel it's important to recognize and incorporate their voices. To that end, we're visiting schools in Austin, Albany, and Seattle to hear directly from teens and parents about their online experiences, conduct panels featuring high school students, and host peer-to-peer breakout sessions for teens and adults based on our Create with Kindness program.

Parents, who are our greatest allies in promoting safe and responsible online experiences, are savvy social media users themselves, with over three-quarters (77%) of them having a presence on at least one online or social media platform. To that end, we've also launched in-app educational videos featuring beloved TikTok family creators like @billyvsco, @team2moms, and @handsonfamily, who've created tutorials on TikTok that offer tips on how to foster an open dialogue with your teens. Additionally, we've launched a national and local TV campaign to reach parents and families in cities across the country with useful tips and conversation starters for parents who want to feel better equipped to initiate proactive conversations with their teens on these topics.


Building a safe and responsible platform
We recognize that adolescence is an important phase for teens, as this is a time when they're exploring the world around them and beginning to define their own identities both online and offline. From our policies to our features, this phase of adolescent development is at the forefront of our minds to ensure the experience of teens on TikTok is entertaining and enriching, which is why we're launching a tool to help them reflect on the time they spend online. After spending a certain amount of time on TikTok, teens will now see a prompt on their feed that shows an overview of the time they have spent on TikTok and encourages them to check out our screen time management tools. This proactive, in-prompt prompt will continue once a week until teens review the screen time features available to them or reduce their screen time to under 100 minutes each day.

We want TikTok to play a positive role in the lives of teens on our platform, and we recognize that this is made possible by partnering with parents. We know that parents care deeply about the safety and well-being of their teens. While the majority of parents believe they have the biggest responsibility to talk to teens about online safety, but we want to do our part, too. From our Community Guidelines to our work with experts—such as ConnectSafely and National PTA—we are building age-appropriate experiences that acknowledge teens' unique needs. This work never ends, and we're committed to continuing to seek guidance from experts, parents, and teens as we build towards a future that protects, uplifts, and nurtures teens and families on TikTok.


Larry Magid, ConnectSafely President & CEO: "ConnectSafely is pleased to partner with TikTok on this important research. It's reassuring to learn that 78% of parents recognize they have the biggest responsibility to talk to their teens about online safety and gratifying to see that 82% of parents agree with ConnectSafely about the importance of spending time using the same online platforms as their teens to better understand or facilitate conversations. Overall, the survey shows that most parents already take their role seriously when it comes to supervising their teens' online activities, but there is still work to be done to help and encourage even more parents to gain the confidence they need to speak with their teens about social media use."