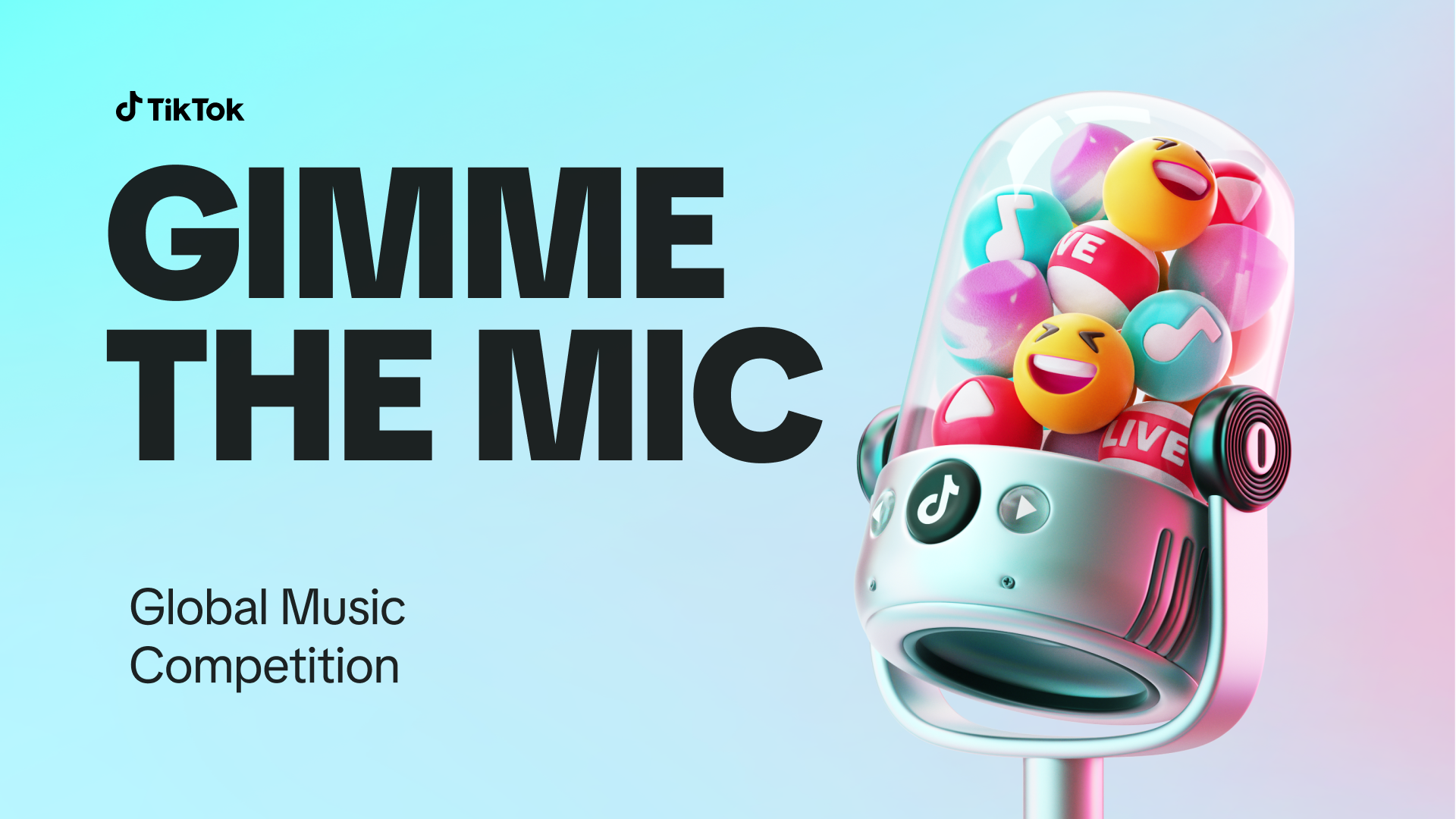 Whether you're discovering new livestreams on your For You feed, tuning into your favorite creator's daily GRWM, or starting a LIVE community of your own, TikTok offers endless fun and entertainment for everyone. TikTok LIVE makes it easier for all types of creators, including singers and musicians, to showcase their talents, share their art with their global community, and make a real-world impact.
Today, in honor of our diverse and talented ecosystem of musical creatives and emerging artists, we're launching Gimme The Mic, a global competition to discover new musical talent and support aspiring music creators. TikTok LIVE invites anyone 18 years or older to audition for their chance to compete in #GIMMETHEMIC.
How to get the mic The virtual talent show will have three phases: Audition, Semi-Final, and the Grand-Finale.
1.Audition:
To audition, participants need to register on the audition page in-app and post one short submission video (30-sec.minimum) with hashtag #GIMMETHEMIC between August 7 and August 16.
2.Semi-Final
Following the audition period, 30 of the most popular creators from the US will be selected to move on to perform and compete in pairs in the Semi-Final, a series of Multi-guest LIVE videos on @tiktoklive_us from September 1 to September 3. Those who tune in will have a chance to vote for their favorite performers in real time. Users can collect votes when they complete tasks like registering for LIVE events and more.
3.Grand-Finale
For the final round, the Top 10 contestants from the Semi-Final will compete in the US Grand-Finale on September 10 for the chance to be crowned as the US Gimme The Mic champion. In addition to the title, the winner will receive 50,000 Diamond rewards* and a ticket to be a contestant in our LIVE Global Finale. Taking place on September 22 and 23, the Global Finale will feature winners from around the world competing for the top spot. Terms and conditions are available here.
We are committed to creating fun and entertaining ways to elevate our talented community and support them as they share their passion and creativity with the world. Gimme the Mic is a chance for contestants to showcase their talent to a wider community. Not only that, global contest winners will receive a trophy, have the opportunity to be featured on official TikTok channels, and receive up to 500,000 Diamond rewards*.
Every day on TikTok LIVE we're introduced to talented creators and get to interact with and draw inspiration from their boundless creativity in real-time. At TikTok, we are committed to introducing more ways to connect and engage on TikTok LIVE, fostering deeper engagement, and providing valuable and exciting entertainment for our community.
Discover TikTok and join our community by simply downloading the app for free via the Apple App Store, Google Play or Amazon.
*Please refer to our Virtual Items Policy for more information about Diamond rewards.