[UPDATE - October 2]: As part of the newly-released Duet features, you can also turn on your microphone as you Duet, making it easy to add your voice to every new content remix.
Every video on TikTok has the potential to inspire endless creativity. Original songs are enthusiastically covered, old jokes find new punchlines, and homemade recipes are reviewed by world-famous chefs.
From Duet to Stitch, voice tools and more, we're always building features that make it easy for our community to engage with and reinvent the creative content that's made and shared on TikTok every day.
Today, we're excited to highlight Duet - an original TikTok feature that's been a community favorite since the start and one we've recently revamped with exciting new layouts.
Duets allow you to build on another user's video on TikTok by recording your own video alongside the original as it plays. It's a creative format for interacting with others' videos, building on existing stories, and creating new and unique content in collaboration with creators across the platform.
With the release of new Duet formats, users have the option to select from one of four new layouts: a left and right layout, react layout, top and bottom layout, and three screen layout.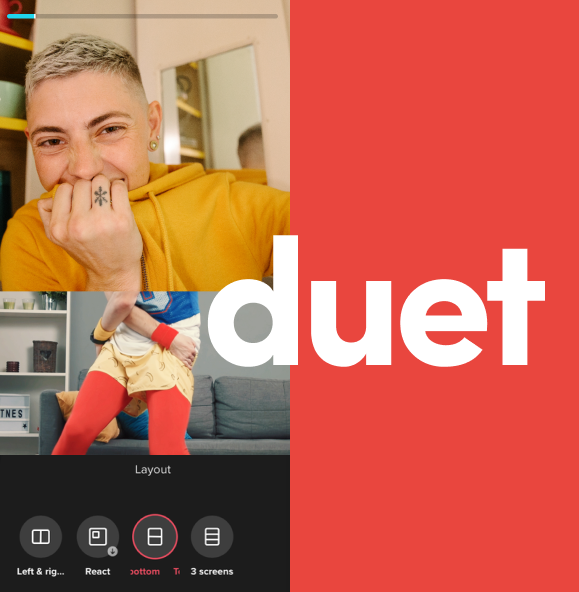 For left-right and top-bottom layouts, users can toggle their video to populate their preferred side of the screen. When formatting the top-bottom and three screen layout, users can also hold and drag a video to reposition it within the frame.
New layouts open doors to all kinds of creativity. Whether side-by-side or up-down, users can find new ways to interact with videos and reinvent existing content from across TikTok.
In their settings, users have the option to enable or disable Duet for all videos posted from their account, or toggle the Duet option for each video they upload. Dueted videos attribute the original video's creator in the Dueted video's caption, and the caption attribution links directly to the original, Dueted video.
To use the new Duet layouts:
Find a video you'd like to Duet.
Press the "Send to" arrow button at the bottom right of the video.
Hit the "Duet" button.
Once on the Record Video page, press the "Layout" button from the editing tools on the right side of the page.
Select your preferred layout, and start recording!
Here are the new Duet layouts in action: