TikTok is a platform where over a billion people come to express themselves freely. To safeguard that experience, we enforce comprehensive policies to help people feel safe creating and sharing on our platform.
Unfortunately, some misinformed commentators have mischaracterized our work to prevent the spread of hate speech and misinformation surrounding the crisis in Israel and Gaza, especially as it relates to antisemitism. We take these issues seriously, and it's imperative we set the record straight with facts.
Like millions in our community, we've been appalled by the recent increase in hateful behavior throughout the world. In recent weeks, news outlets have reported a massive surge - 388% - in antisemitic incidents compared with the same period a year ago.
In response to this concerning trend, we've been ramping up efforts to protect our global community. Hateful ideologies, like antisemitism, are not and have never been allowed on our platform. We've taken important steps to protect our global community, and we continue working to prevent the spread of hate. This includes:
Removing content that violates our policies. Since the start of the Israel-Hamas war, we have removed more than 925,000 videos in the conflict region for violating our policies around violence, hate speech, misinformation, and terrorism, including content promoting Hamas. During the same time period across TikTok globally, we've removed millions of pieces of content (see chart below) as we continue to consistently enforce our policies.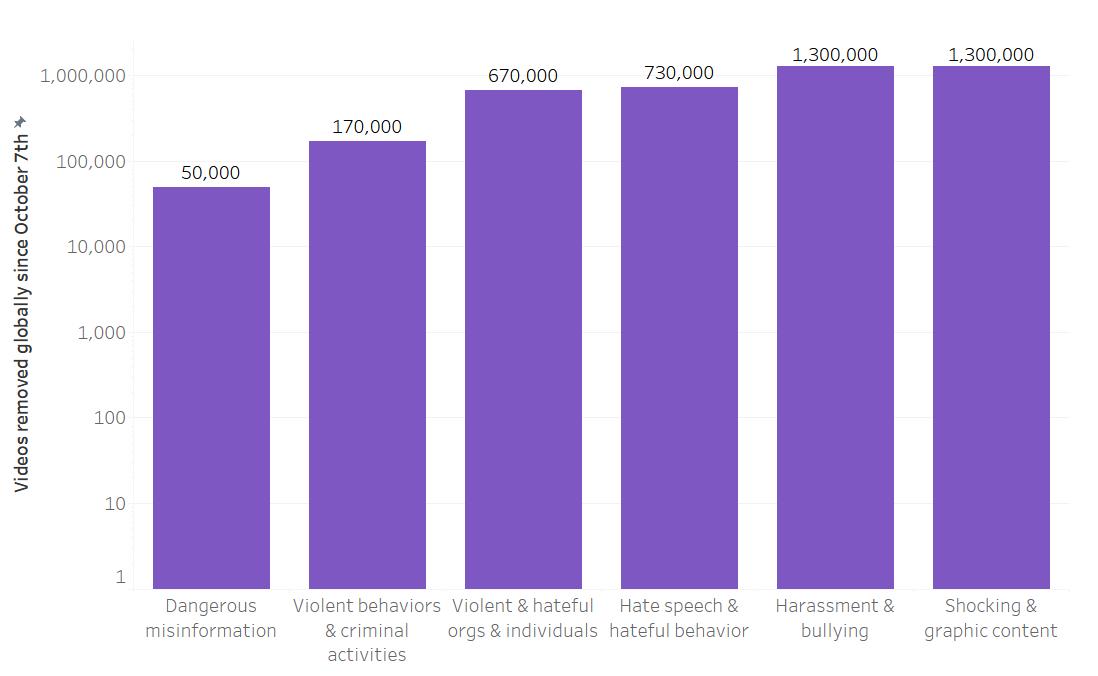 Investing in our moderation capabilities, including regular training for our teams to stay ahead of new forms of hate speech and behavior, listening to our community, and engaging experts, such as the Anti-Defamation League.
We know how critical these issues are, and have been working tirelessly to keep people safe during these unprecedented times.
Ensuring an authentic experience for our community
We're committed to ensuring TikTok remains a safe platform for free expression that represents the authentic views of our users who post to our platform every day. While content on TikTok is recommended based on people's personal interests, the For You feed enables people to discover a variety of content, creators, and topics. In the U.S., we have given our third-party Trusted Technology Provider access to the code that drives the content you see - the For You feed - and we are on a path to allowing an unprecedented amount of third-party access to verify our source code and systems, something no other peer company has done.
Over the last few days, there has been unsound analysis of TikTok hashtag data around the conflict, causing some commentators to falsely insinuate TikTok is pushing pro-Palestine content over pro-Israel content to U.S. users. That's simply false. In fact, since Oct. 7 in the U.S., the hashtag #standwithisrael has gained 1.5x more views than #standwithpalestine: 46.3M views compared to 29.4M views. We encourage reporters and analysts who study these matters to look carefully at the data and talk to us before leaping to faulty conclusions.

As we have seen spikes in fake engagement in the wake of the conflict, we have accelerated our efforts to remove fake activity. Since Oct. 7, we've removed more than 24 million fake accounts globally and more than half a million bot comments on content under hashtags related to the conflict.
We have also rolled out reminders in Search for certain keywords in Hebrew, Arabic, and English to encourage our community to be aware of potential misinformation and consult authoritative sources. At any time, people can refresh their For You feed to start with a new feed of content.
In all these areas, we welcome honest, open dialogue as we constantly strive to improve. We will continue engaging with our community, civil society, nonprofits, and others to protect our community and remain a welcoming space for authentic self-expression.