TikTok gives creative individuals a unique outlet to express themselves and reach a new audience. As users have developed their voices on the app, they've begun to reach out and bring the TikTok community into the real world. Hosting local meetups and attending conventions, the TikTok creator community is an outgoing voice in social media. Here are just a few places creators have shown up over the past few months.
Creator Ambassador Meetups
When creators collaborate the amount of creative energy in their videos doubles. To help TikTok users connect and meet future collaborators, we hosted several official creator ambassador meetups. Taking place in cities across the USA including Austin, Orlando, Phoenix, Atlanta, and Hartford, these meetups gave content makers a chance to hang out, eat some lunch, share creative ideas and connect about their love for making short videos.
At each of the meetups, around 40-50 creators traveled from nearby cities and states got together to discuss tips, tricks, and content ideas for TikTok. Meme creators, singers, fashion gurus, and DIY enthusiasts found common ground and made videos that featured their talent in unexpected ways.
"To be able to get to know each creator off screen was an incredible experience. Everyone was so insanely kind and supportive and it's so cool to meet creators you look up to and to create with them and bond with people that you share so many interests with," said one meetup attendee.
Creator Collaborations
@TheArtGe tie-dyes her creator meetup merch!
@taylorfeltmusic tricks us with @maybebaylee and @byalexaster
Steven goes to @thebentist
@itseliott gives @literallypao a piggyback
Be sure to keep an eye out for other events happening in your area!
Creators at Cannes Lions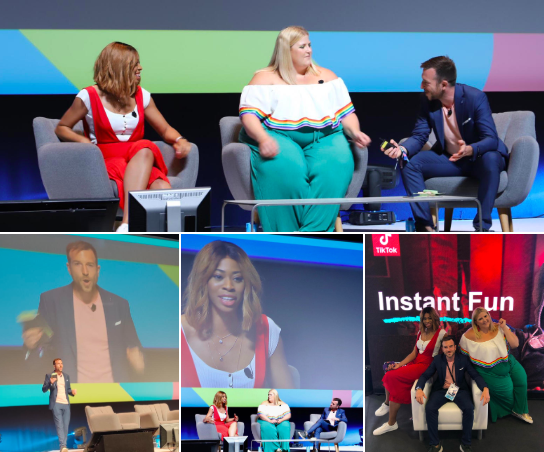 Cannes Lions is an international festival dedicated to creativity in brand communications and this year, Drea Okeke (@DreaKnowsBest) and Anna O'Brien (@Glitterandlazers) joined us for a panel discussion on the Cannes Lions mainstage. As two of TikTok's most popular creators, Drea and Anna helped explain why generations are seeking out alternative forms of media outside of television, how are creators shifting what they make to fit this new demand, and what types of content get the best engagement. They helped shine a light on a new avenue for brand communications. The panel was moderated by Stefan Heinrich, Brand Director, TikTok US, with more than 1,100 people in attendance.
Coming to VidCon!
TikTok creators will also be at VidCon in Anaheim, California attending a special event, and learning about the digital video industry. In addition, the Croes Bros, Our Fire, Lauren Godwin, and Dominic Toliver will join TikTok's Head of Creator Partnerships, Kudzi Chikumbu, on a panel to discuss their methods to making 15 second masterpieces. Be sure to check out #TikTokSpotted in the app to see creators at VidCon and around the country. For more information click here!