Vivian Xue is a first generation Chinese immigrant who started her career as a software engineer but found her true calling as a nail artist. She's built an audience on TikTok from sharing her creative nail art and behind the scenes clips of making reusable press ons for her clients.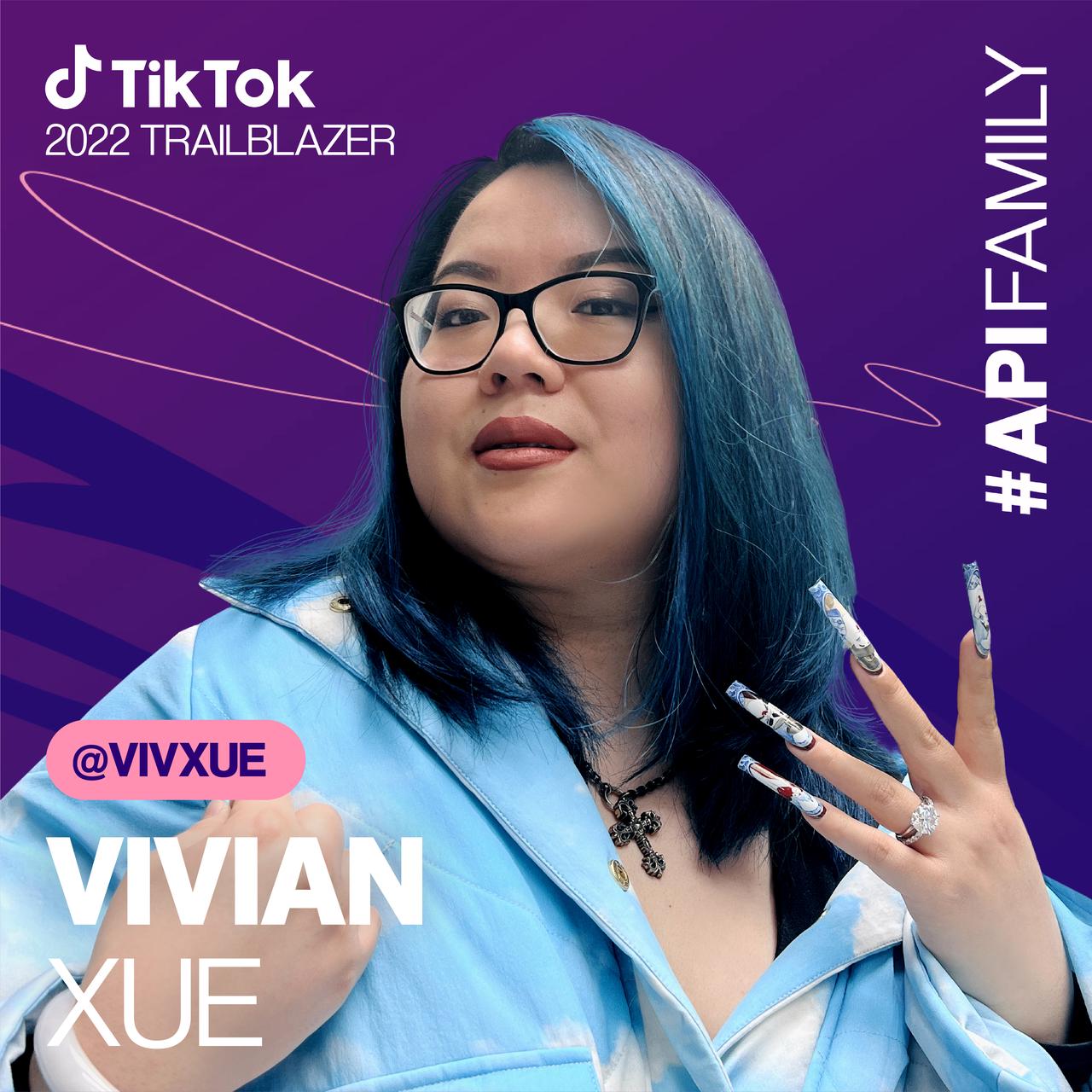 What does it mean to you to be part of the API community?
My culture has always played a huge part in why I love art. Growing up, I never thought I belonged here in the U.S. I got bullied for speaking English with an accent, for the way my house looked, and what I wore. Thanks to all of the strong API role models I've had on social media, I've been able to rise up from that and come into my own.
How has the TikTok community inspired you?
The TikTok community has embraced my art and work so much that it makes me push myself to be better--and it helps me to my authentic self! Through TikTok, I've been able to find a ton of like-minded people who geek out about the same things I do.
What is your dream opportunity?
Considering most of my nail designs are inspired by Disney movies, it would be a dream to have my own show on Disney Plus.
How do you come up with your nail designs?
Sometimes I will get inspired by something I've seen, or a place I've been. Once I went to a Turkish Delight store. I loved the decor and immediately wanted to replicate that on nails. Another time I went to an aquarium and I saw a weird looking fish, so I wanted to put it on a set. I also get a lot of input from clients. Some will even go through the effort to create a brochure or PowerPoint presentation to show me their personality, which I love because I'm able to create something that's authentic to them. It definitely takes me a lot of time to think about how I want to execute an idea and create the sets. It's a lot more complicated than people might think.
What is your favorite nail design that you've ever done and why?
Someone asked me to do a set based on Whitney Houston and Brandy in Rodgers & Hammerstein's Cinderella. It was my favorite movie growing up and I had always dreamed of creating a set for it. When I got the request, I was so excited and I was able to do something I already had in mind. Brandy's dress was basically my childhood dream translated onto this set. I also loved doing a set for the movie Rush Hour, which says something about how much I like these old movies. Rush Hour is another one of my favorites and I know every line from the movie. I love Jackie Chan and Chris Tucker, and it was so fun to draw them both.