Agustina, an Argentinian immigrant known on TikTok as @thealgorythm, utilizes her worldly POV to provide cultural context to the latest fashion trends while promoting emerging fashion talent -- especially Latin American designers. In 2019, Agustina became an entrepreneur focused on trend forecasting after losing her dream job. In December 2020, she started on TikTok to talk about her passion for trends and since then she's been recognized by Teen Vogue as an expert trend forecaster! Read more below to find out how Agustina has been influenced and inspired by her culture.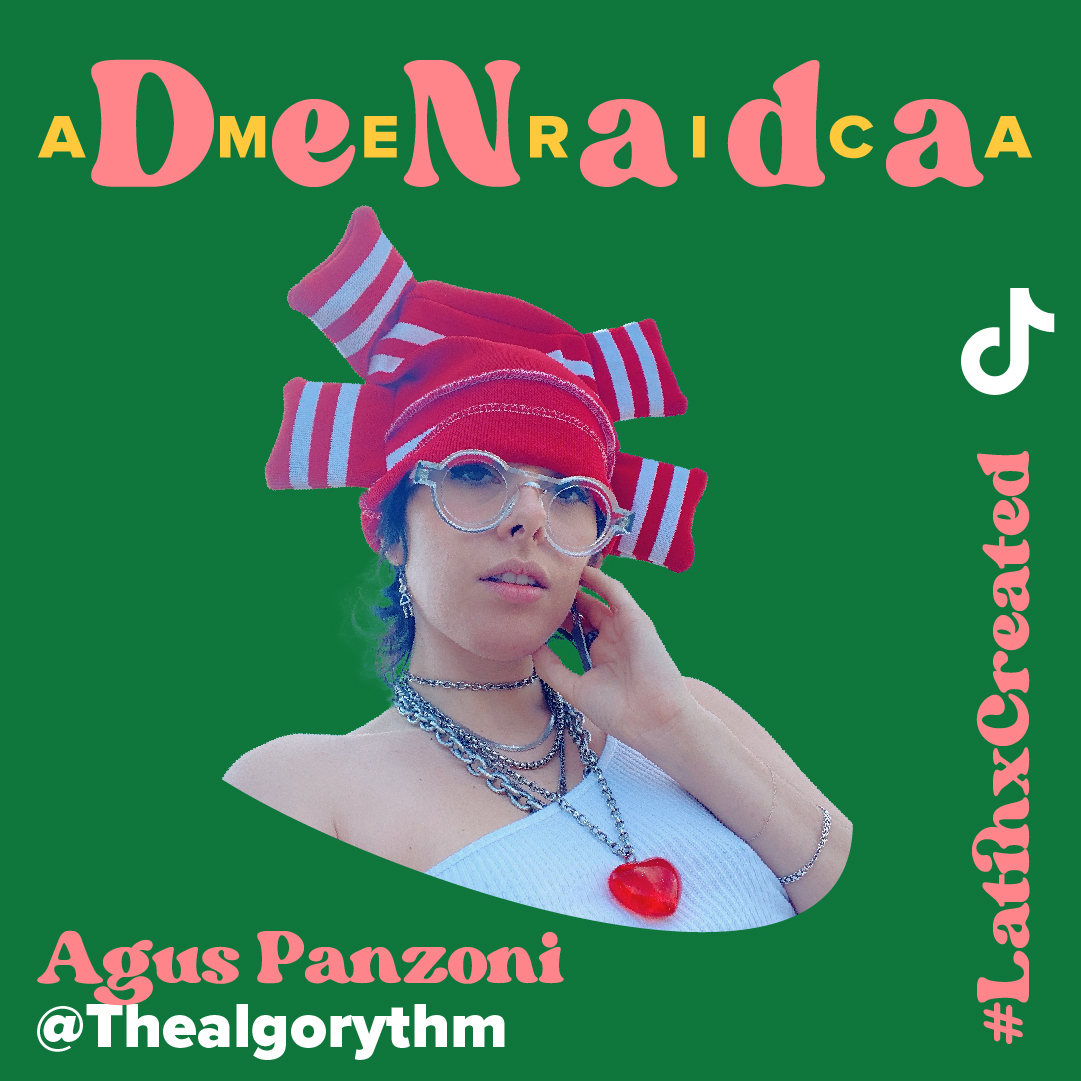 What does it mean to you to be part of the Latinx community?
It means being part of a large, diverse family that shares similar values while celebrating our cultural differences. All of us come from different places, with different foods, music, accents and customs. But there's something at our core that unifies us -- its in our values, our passions, and our experience as immigrants or children of immigrants in the U.S. One of the core values of the Latinx community is family -- we stand by each other and grow strong because of that.
How has your culture influenced or shaped you?
My culture and lived experiences helped create who I am today. Argentinian culture has shaped my values, my point of view, and the way I build relationships. My experience with immigration helped me embark on an identity-defining journey. In this journey, I surrounded myself with other Latinx immigrants and grew from learning about their cultures. My household is now Mexican-Argentinean. We eat quesadillas for breakfast and parrilladas on Sundays, I love it here.
How do you share your culture & community on and off of TikTok?
I carry my culture with me everywhere I go. It shapes my perspective and the relationships I forge. On TikTok, my culture shows in how I contextualize a trend, in my warm relationship with my followers, and when I highlight emerging Latinx designers. Off TikTok, I share my culture through music (my obsession with Soda Stereo), food (the sunday parrilladas at my place), and inviting Latino and non-Latino friends to soccer watch parties at the Cafe Argentino in Brooklyn.
How has the TikTok community inspired you?
The TikTok community has inspired me to be my most authentic self and celebrate my cultural differences and similarities. When you are an immigrant, you try to assimilate to your new home as much as possible. TikTok taught me that I shouldn't lose myself in that process. A simple example is my accent -- I used to be self- conscious of sounding different, which is why the first videos on my account have no voice. My audience started asking me for more context for each trend and I dared to speak in one video. The level of support and the amount of people saying "Omg love your accent," and "I can listen to you for hours" cured me from my fears.
What video are you most proud of creating?
The subversive basics video. I've seen a lot of articles talk about "the cutout trend," "the sheer trend," "the keyhole trend," "the deconstructed trend," and although those are all design elements I had seen trending, I kept on thinking about how that's it's not really a "trend."
In the video, I explained the cultural context behind these trending design elements and named the trend "subversive basics." I also used it as an opportunity to celebrate rising Latinx fashion design talent -- I featured Clarissa Larrazabal and she sold out in 3 days. Today, the subversive basics trend was picked up by major news publications including Hypebeast and Refinery29.
What are some content creation tips you would offer to other creators?
To not be afraid to use their voice. For fear of prosecution during the last administration, I got used to hiding and being silent. When I started my TikTok account, I was still afraid to use my voice... what if my accent gave me away?! The TikTok community helped me gain courage and realize that I have as much right to be loud as everyone else. I encourage all Latinx creators to speak up and show their light!
Who are some Latinx creators that everyone should be following/watching?
hellotefi, foreverurmuse, ricotaquito, and shiadanni.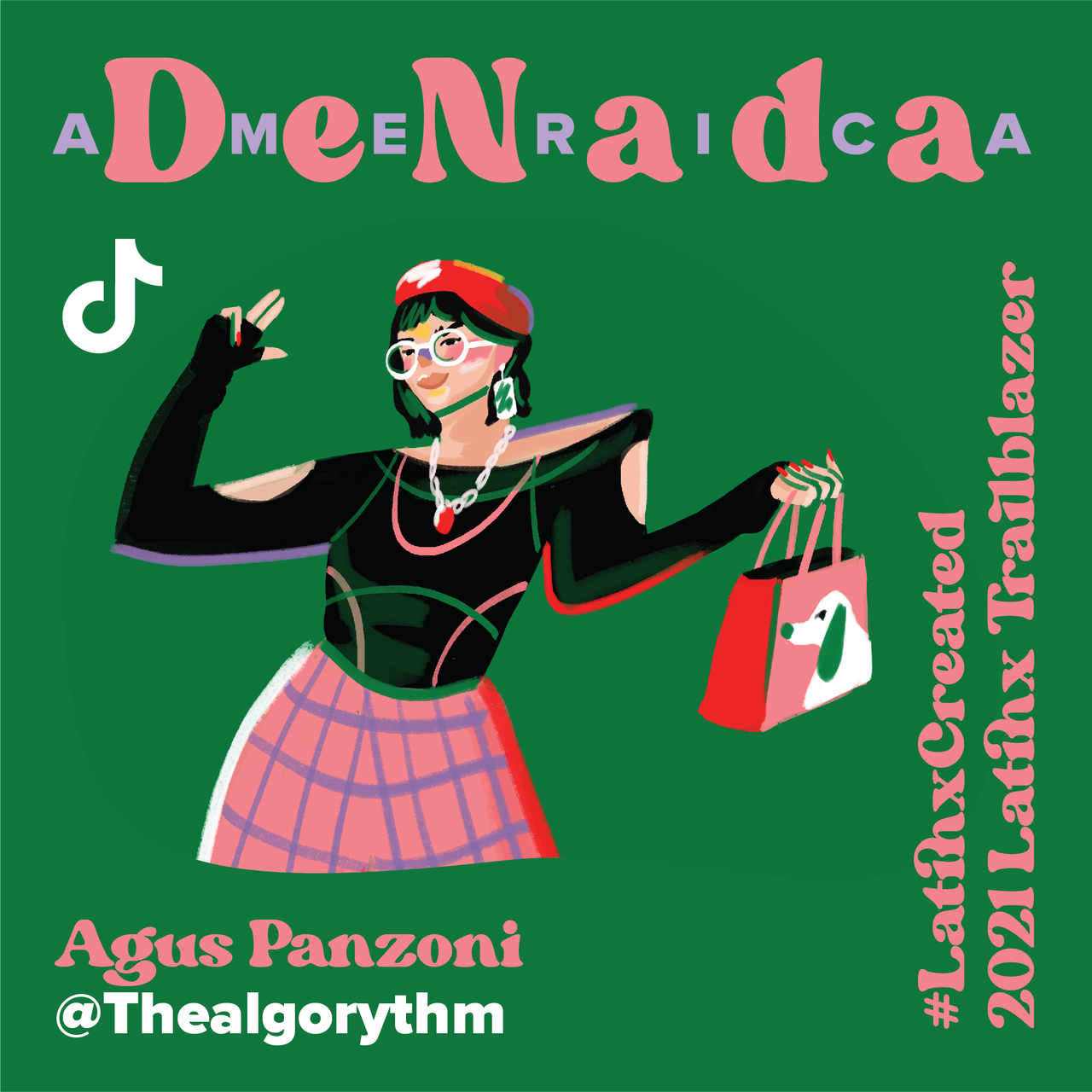 [Trailblazer illustrations created by Brazillian artist Niege Borges for TikTok's Latinx Heritage Month celebration]