At TikTok, we are always looking for opportunties to highlight the amazing creatives on our platform. That's why we're excited to kick off our Creator Spotlight Series – ongoing feature stories highlighting our amazing creators and how they're inspiring creativity and joy every day.
In honor of Black History Month, we're starting off with our Black Trailblazers, learning more about their journey on TikTok and what it means to be a Trailblazer to the community.
First up is a creator who has been taking TikTok by storm, @taylorcassidyj. The authentic changemaker is making a name for herself on TikTok with her inspiring Black culture content and creative techniques for teaching Black history.
From her educational series Fast Black History to her hype videos of other Black creators called Black Girl Magic, every day brings something new and exciting. We chatted with Taylor to learn more about her journey on TikTok – see below to read more in her own words!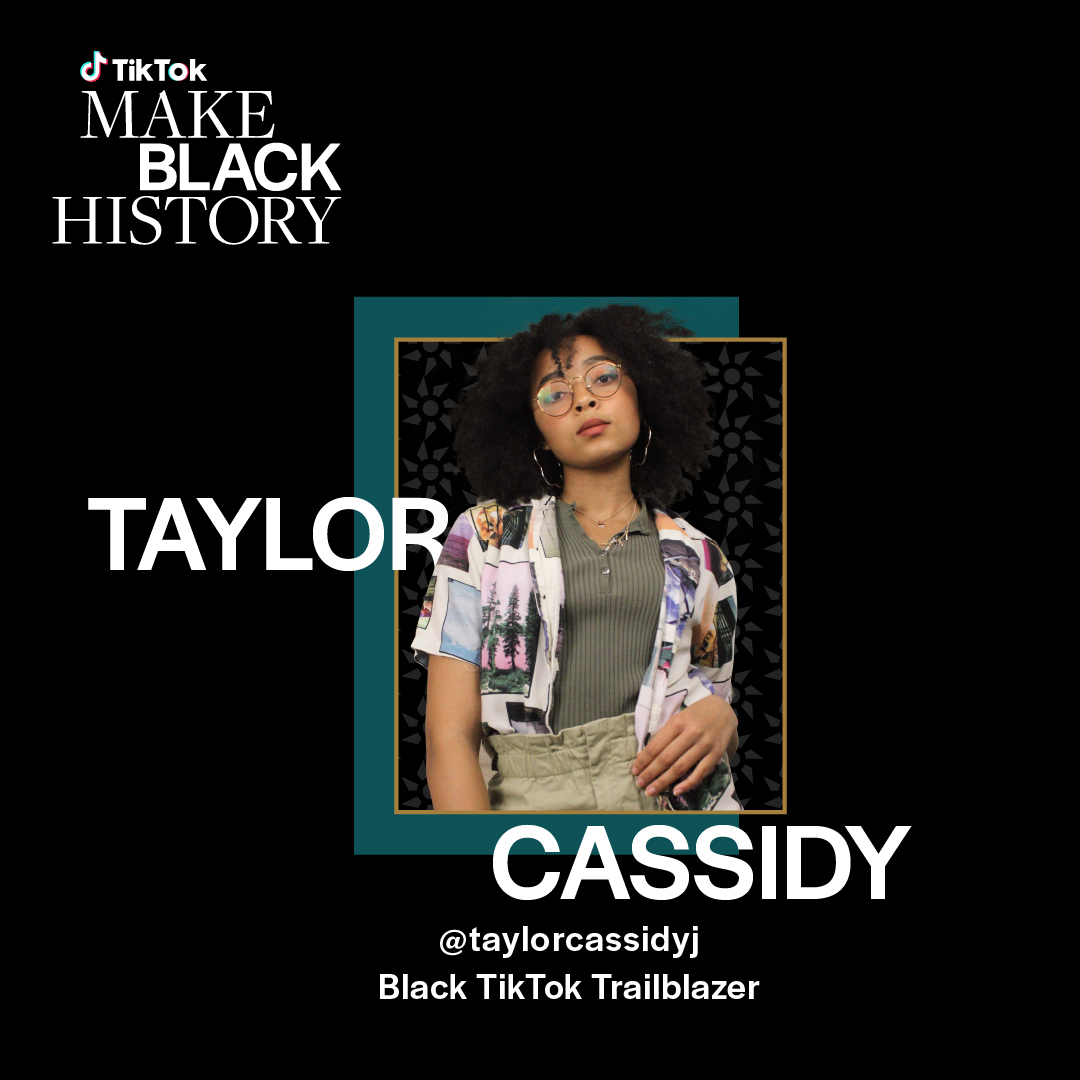 How did you get started creating on TikTok, and what was the first TikTok video you shared/published?
I started creating on TikTok after being a viewer for about month. Everytime I opened the app and saw other people's content, I couldn't help but have more and more video ideas inspired by their creativity, so I eventually started to post content. The first video I posted was with an echoing audio saying, "What are we going to do now?" I was holding a pencil pretending to take a test with the caption, "Me struggling on a test" as the audio started to echo, the caption read "everyone cheating off me". It wasn't too complex, but I was proud of it.
Why do you think TikTok is the right platform for your content or why do you continue to create and share on TikTok?
TikTok is very fast-paced. With only 60 seconds to create, it's challenged me to get creative with how much information I can deliver in a video effectively. I think my content has worked so well on TikTok, because I not only teach people something they may not have known, but I encourage them to find pride and joy in themselves and their culture. I continue to create because I want to give people the content I needed when I was younger to discover my Black identity and have confidence in it.
What is your favorite TikTok you have made to date and why?
That's a hard question! I think I'd pick a TikTok I posted this past year. It was a Black History video about Mum Bet, the first Black woman to have freedom in Massachusetts. It was the first time I took a more cinematic and creative approach to telling Black history and I ended up having so much fun.
What lights a fire in you?
Creativity lights a fire in me. Whenever I come up with a new idea to tell a story a different way with black history, I just get so excited whenever a big idea comes into my head. I get the biggest smile on my face and I'm like I" need to write this down right now". I'll will work for hours on end on one specific idea because creativity is endless, it's boundless and there are no limits. In Maya Angelou's words, the more you use your mind the more there is – the more you use your creativity the more creativity you make so thats what really lights a fire in me.
What Black historical figure inspires you?
A black historical figure that inspires me is Maya Angelou because a lot of people know her as a poet, but in reality she was a variety of different things all throughout her life time. She was a dancer, an actress, a singer as well as a poet and she was a professor. She really inspires me because not only did she do all of these things, she was multifaceted and didn't limit herself to being one thing. And that is something that I wish over my life that I accomplish everything that I'm passionate about and not just stick to one thing that I'm passionate about because I'm afraid.
Any advice for new creators?
Choose impact over popularity. No matter what your content is, make sure that it's something you love with or without the views. In the end, that view number isn't what's going to make impact, rather it will be your passion and authenticity that will make waves.
What does being a Trailblazer mean to you?
First, being a trailblazer gives me great gratitude. I am so honored to have been recognized as someone who pushed the boundaries of TikTok to make it a better place to be. It makes me look back on my younger self who was insecure in her skin color, hair texture, and way of speaking and say, "Look what you did. Look how insecurity didn't win." It also sparks vision in me to keep challenging limits and the impossible; being named a trailblazer doesn't mean I'm done paving the way. I'm still making history.
Who are some Black creators that everyone should be following/watching?
Two black creators that I think everyone should be following first is @anania00. He is hilarious and does comedy. Every time I watch one of his videos I get weak, my stomach hurts from laughing so much and he's so creative with his comedy! Also, @khimberlie is an artist, but she does photoshoots with her art and she creates the most beautiful scenes in her living room. She just goes all out with every single scene, she serves no matter what, no matter the time in every post. She is just full of creativity and she glows in just every photo shoot that she does.