TikTok has become a home for creators to be unapologetically themselves, showcasing their passions online alongside their community. Through our Creator Spotlight Series – ongoing feature stories highlighting top creatives – we are able to highlight these amazing creators and learn more about how they are inspiring creativity and joy every day.
Next up on our series is @milan.mathew, a Malayali Indian American fashion and beauty creator making waves in the industry. Through her fun-loving content, like her cultural version of the Hot Seat Challenge, Milan is combining her love for fashion and beauty with her South Asian heritage, encouraging others to embrace their cultures through fashion. Check out more from Milan below as she dives into her experience in the TikTok community and how her heritage inspires her content every day.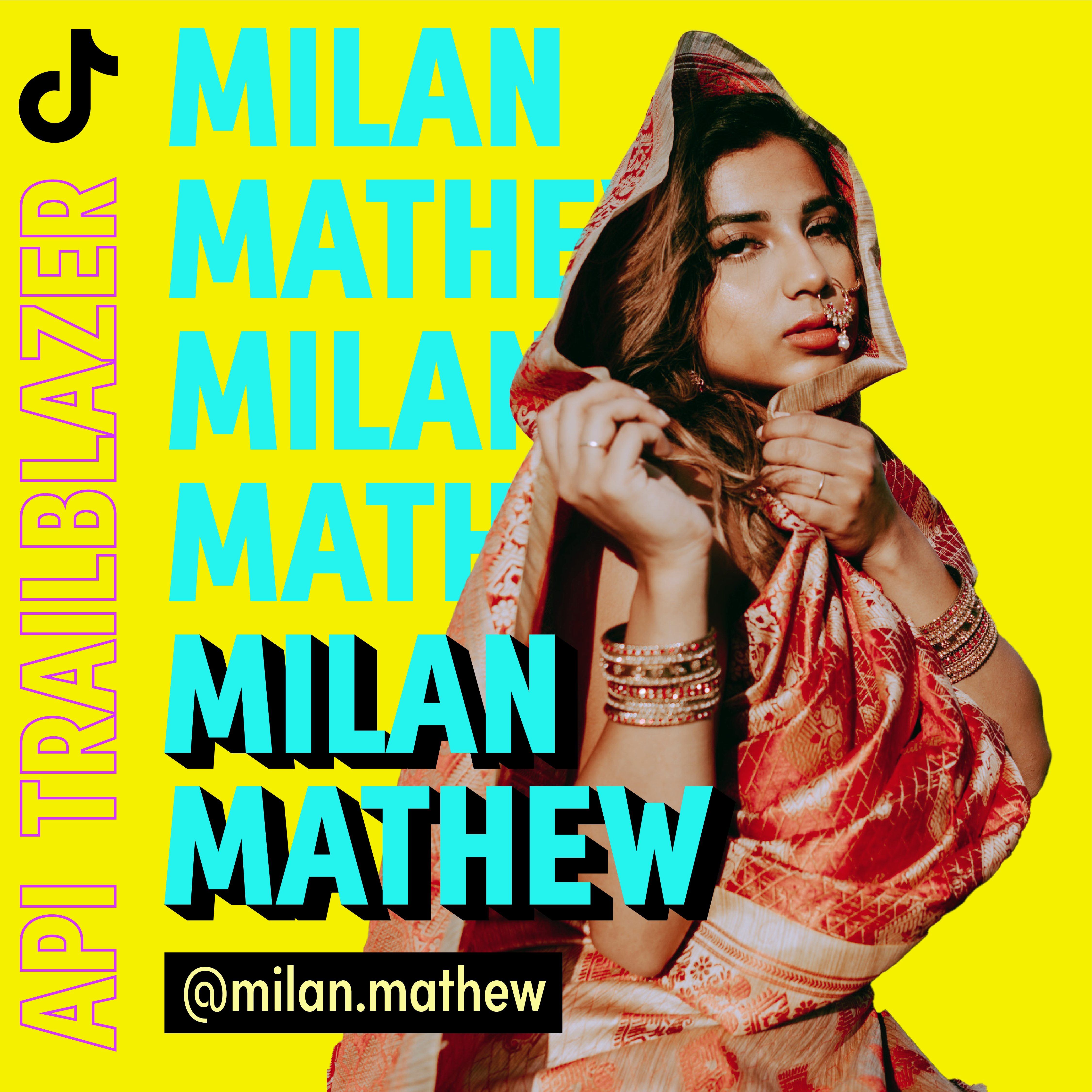 How has your culture influenced or shaped you?
It has shaped my whole life. My parents are from Kerala, India and I'm thankful that they are so proud to be Malayali Indian and that's translated to who I am today. From my meals to my outfits, there is so much story telling and history that is so beautiful and I'm happy I'm able to carry that and share on my platforms. My Indian culture makes me and my experiences unique and I wouldn't have it any other way.
How do you celebrate the diversity and strength of the API community?
I celebrate diversity by consuming and supporting the accomplishments within the API community and it could be as simple as watching a movie that celebrates my culture with my family to supporting API businesses. I also love sharing and supporting other API creators and all their vast endeavors! It's all about coming together as a community and uplifting others as well!
What Does API heritage mean to you?
API Heritage to me is just a small part of the big picture. Being a South Indian immigrant and moving to a non-diverse area as a 10 year old and this journey to grow, accept and love my culture was not the easiest journey. Over the years it's been a constant battle between assimilating and sticking to my roots but eventually I realized how important my heritage is and it translates to who I am and who my people were over centuries.
How has the TikTok community inspired you?
Tiktok has inspired me by giving me an opportunity to showcase my culture and reach people I never knew even wanted to see my content. To see people genuinely interested in other communities and cultures makes me so happy to continue creating content as well. Not a day goes by where I don't learn something new. It could be anywhere from fashion to cooking to conspiracy theories. You name it and there's a community for that niche and that's what I love the most is that you really do find your community no matter who you are. The support I've gotten from my fashion looks to makeup adventures have been very kind and immense and I'm thankful to have been a part of this community that allows me to share who I am as well.
How do you support other creators in the API community and who are some API creators that everyone should be following/watching?
I support other creators by, first off, the basics, such as simply following and showing love on their content and just being there! I also love sharing their platforms to my audience any time I can to show their amazing work as I genuinely get excited to see my favorite creators' post and need more people to dwell in the awe! Some of my favorite creators everyone should check out are @koleendz, @the.navarose, @inmyseams, @nabela, @kikirajxo, and @drisya.reghuram.