Entertainment is at the heart of TikTok. It's the go-to spot for artists, filmmakers and creatives alike to share their talents, get discovered by new audiences, and connect with others in the industry. This year, TikTok has partnered with the Academy of Motion Picture Arts and Sciences to celebrate the Oscars through an in-app effect, a special TikTok LIVE, and featured hashtags #OscarsAtHome and #Oscars. We're thrilled to have two creator hosts and pop culture experts, Emily Uribe (@emilyuuribe) and Juju Green (@straw_hat_goofy), on the red carpet at the iconic Dolby Theatre in Hollywood for the 94th Oscars!
Both TikTok creators will go behind the scenes via TikTok LIVE as they grace the red carpet to interview the talent you know and love. Make sure to tune in on Sunday, 3/27 at 2:30pm PT/5:30pm ET at @tiktok to celebrate the Oscars from home, with a TikTok twist!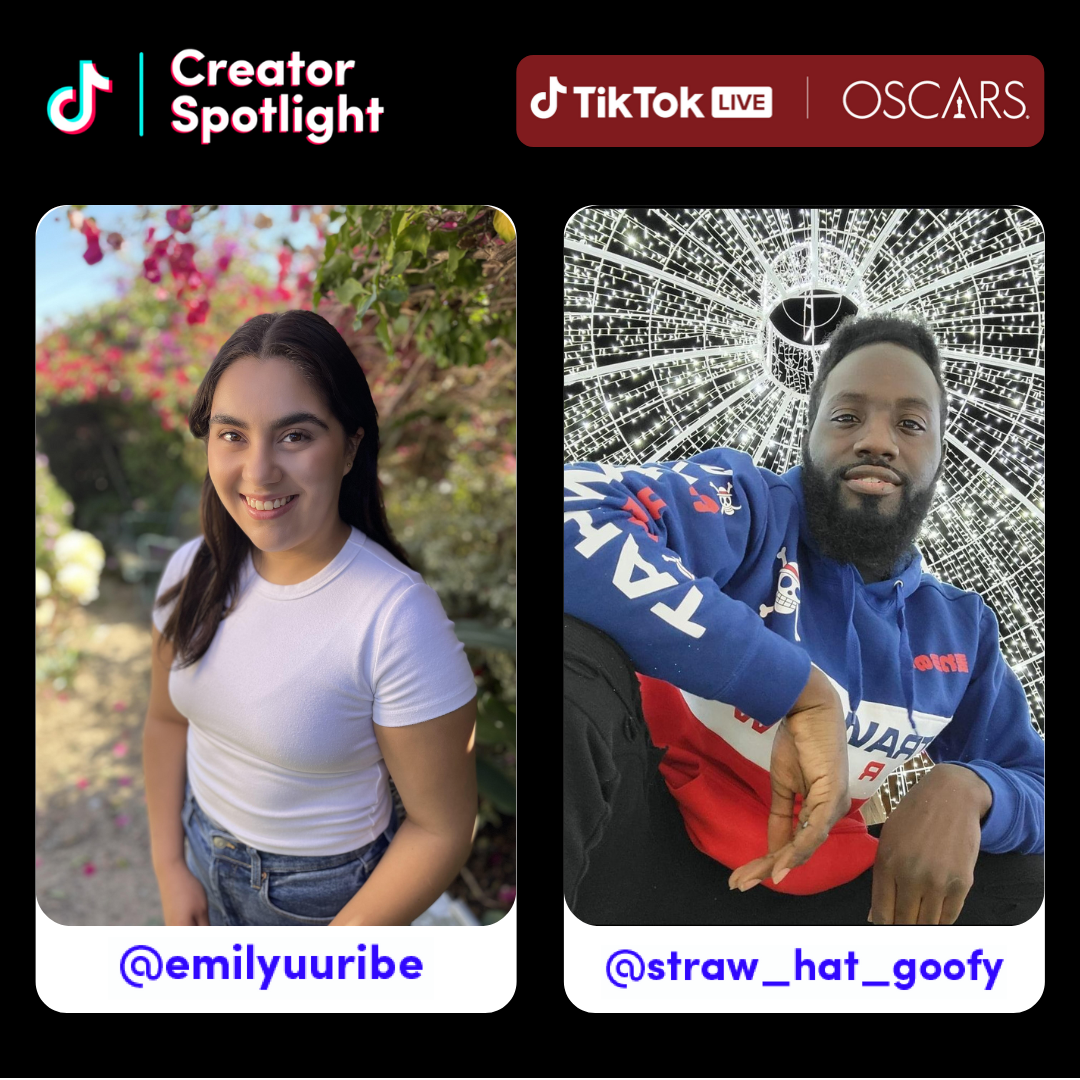 Meet the Creators
@emilyuuribe, Emily Uribe
Emily Uribe is a 22-year old content creator from Salinas, CA. She has been on TikTok for the past two years and makes a range of content — from sketch comedy to discussions about beauty, fashion, and pop culture. She is a huge fan of all things comic books and social media, and loves that TikTok has provided her with new experiences and the opportunity to meet new people.
@straw_hat_goofy, Juju Green
Juju Green AKA Straw Hat Goofy is a TikTok Superstar, Influencer and Host from Compton, CA with over 2.8 million Followers and 275 million likes built in just under 2 short years. Juju has his pulse on the latest trends in movies and television and is seen as a pundit who can provide honest and unbiased commentary and feedback. Most recently he hosted TikTok's official red carpet live stream for Sony/Marvel's "SPIDER-MAN: NO WAY HOME" where he interviewed Tom Holland, Zendaya, Kevin Feige, John Favreau and more.
Behind the Scenes with Emily and Juju
How would you describe your TikTok account to someone who has never met you before?
@emilyuuribe: My TikTok account is a representation of what I've dreamed of doing for years! It's skits with an authentic twist or inauthentic to get the tone right of the celebrity interviews.
@straw_hat_goofy: What's going on everybody it's @straw_hat_goofy your movie guy, and in case you're wondering what exactly I do here on this app — it's quite simple, I talk about movies. I point out things you normally wouldn't see, give you recommendations and talk about some of your favorite films.
How has the TikTok community inspired you?
@emilyuuribe: The TikTok community has inspired me by showing me that kindness goes a long way. It's inspiring to see other people be themselves and do it authentically. The communities built on TikTok based off of that are the coolest.
@straw_hat_goofy: About two years ago I got on this app and I saw so many people doing so many creative things but the most important thing was that they were being themselves and being authentic to what they liked, and I thought "why can't I do that with what I like?" To this day I'm still very shocked at all the opportunities I've been allowed to have, especially hosting the red carpet at the Oscars for TikTok.
We're thrilled to have you on the Oscars red carpet this year! What are you most excited for this weekend?
@emilyuuribe: I am most excited for the air of celebration. ALL the nominees and talent involved, respectively, are going to be celebrating one of the hardest years of film history due to the pandemic.
@straw_hat_goofy: If you're a movie fan like myself then you know that the Oscars are the biggest night of the year for movies, so I'm really excited to get on the red carpet and just kind of feel the energy of the crowd and the nominees, and see how they're feeling before the ceremonies kick off.
If you had to name one Oscar nominated film (past or present) that represents you, what would that be and why?
@emilyuuribe: "Once Upon a Time In Hollywood." This is a once in a lifetime opportunity in Hollywood, it doesn't get better than that (just no cult involved).
@straw_hat_goofy: Of all the Oscar-nominated films in history I think the one that represents me most is probably "Forrest Gump," because that features a character who doesn't change, but he changes everyone around him and I want to do that with everyone around me. That and "Spider-Man 2" with Tobey Maguire. Yeah, that one too.
How would you like to grow in entertainment? what do you see as your career trajectory on and off of TikTok?
@emilyuuribe: This is crazy growth within itself, as we end this cycle, I really want to flex my improv muscles more, and put in the work in the comedy space. Whether it's on or off TikTok, I can't wait to continue building my potential.
@straw_hat_goofy: As for where I see myself in the future, I see myself doing a lot more hosting and staying in the world of movies. Until then, let's go to the Oscars!
#Oscars on TikTok
Whether you're recreating a scene, making a short film, reviewing your favorite movie, or putting the spotlight on actors and actresses you love, show us how you're celebrating the #OscarsAtHome. Use the search bar on the Discover page to find the featured Oscars hashtags and the special branded effect — you can use the Oscar effect to hold your own trophy while practicing your future acceptance speech! And don't forget to tune in LIVE on Sunday, 3/27 at 2:30pm PT/5:30pm ET at @tiktok to see @emilyuuribe and @straw_hat_goofy live on the Oscars red carpet. From iconic films to legendary performances, here's to all things #Oscars!